Today will be another warm day in Winnipeg, but unsettled weather is on the way for Tuesday as showers and thunderstorms roll through the region, ushering in cooler weather for mid-week. It's a short break, though, as temperatures will climb back into the upper 20's and low 30's for the end of the week into the weekend.
Another great summer day is on tap for Winnipeg today as some mixed skies in the morning gives way to a bit more sunshine for the afternoon. Temperatures will be warm with highs up around 29°C, but a light northwest wind to around 20-25 km/h will help out with that a little bit. Heading into the evening, things begin to get interesting.
Showers and thunderstorms will spread into western Manitoba this evening, triggered by a low pressure system moving across Saskatchewan. For portions of Parkland and Southwestern Manitoba, some of these storms may still be severe as they cross the border posing threats of large hail and strong winds. While tornadoes are possible on the Saskatchewan side of the border, it's unlikely that they'll be a significant threat by the time the thunderstorms move into Manitoba.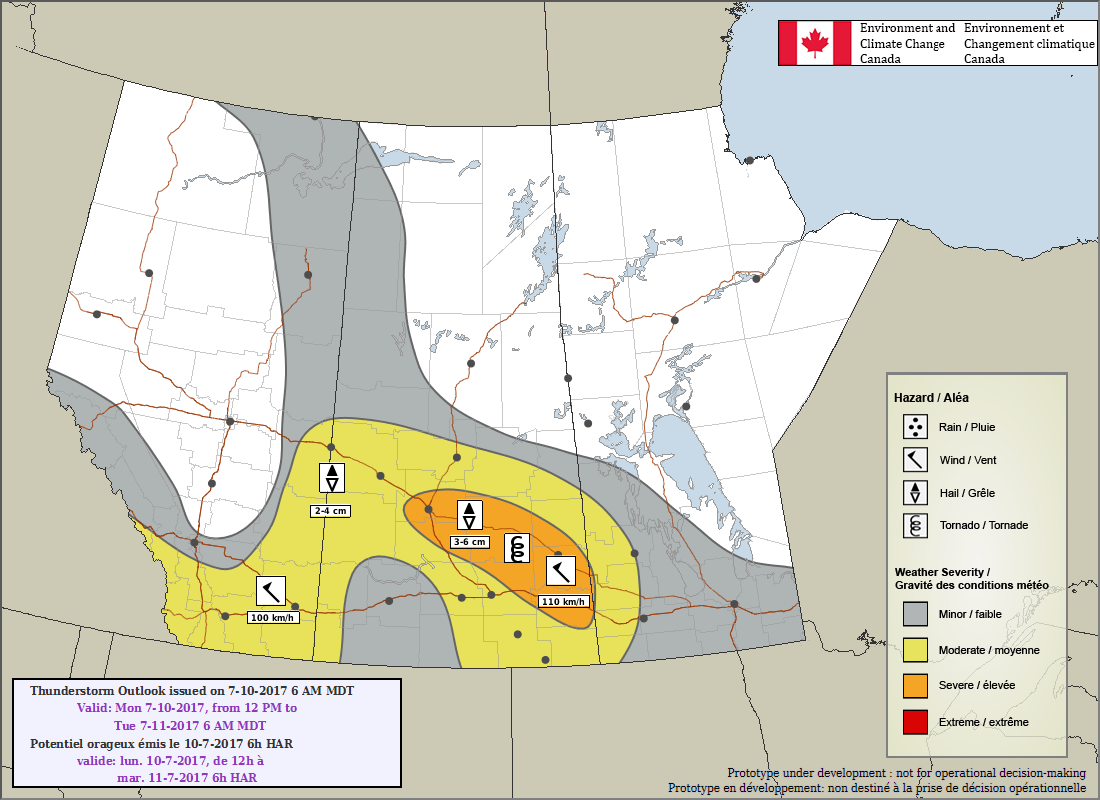 These storms will continue east-southeastwards all night, gradually weakening as they do so. They activity should reach the Red River Valley sometime between 3-6AM and while an impressive light show is likely, no severe weather is expected here.
Tuesday will continue unsettled, however there's uncertainty as to the extent. The setup for showers or thunderstorms will be good; a low pressure system tracking east-southeast will have a warm front laid out west-to-east across the southern portion of the province, likely being a focus for further surface-based thunderstorm development (which would likely be south of Winnipeg), or elevated thunderstorm development (which would likely impact the city). It seems likely that there will be showers and/or thunderstorms throughout the region on Tuesday, but it's just too early to say where exactly they'll set up. Otherwise, expect mostly cloudy skies and a high near 21°C. Skies will continue cloudy on Tuesday night as temperatures drop to a low near 14°C with a continued chance of showers.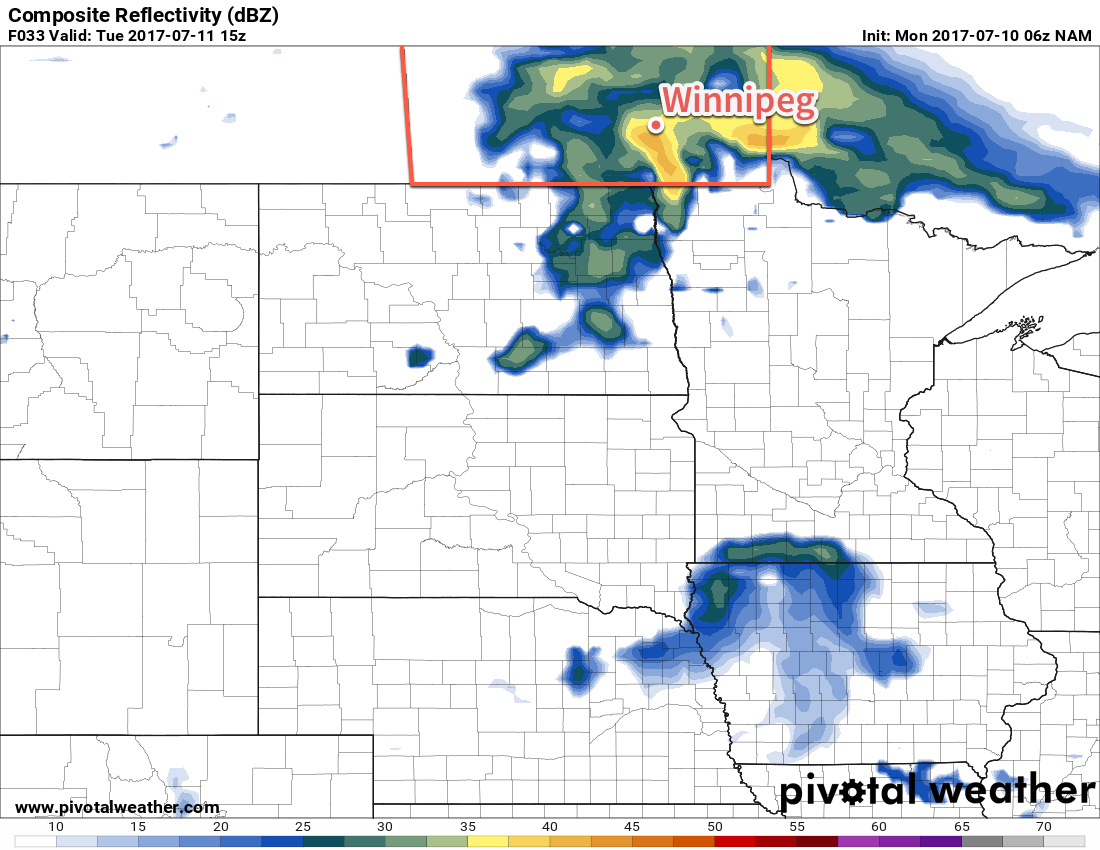 Wednesday will be cloudy and cooler, but more settled as a trough of low pressure remains in place over the region. Temperatures will reach a high near 21°C with some sunny breaks in the late afternoon or evening before dropping to a low near 15°C on Wednesday night. Some additional showers or thunderstorms may materialize as an upper-level disturbance moves through the region overnight.
Long Range
The cool weather won't last long; the heat begins to return on Thursday with seasonal temperatures building back into the region. A low passing to our northeast on Friday will bring warmer temperatures back into the region that will persist through next week. The weekend looks dry, but next week may bring a couple chances for thunderstorms amid the heat.
Winnipeg's seasonal daytime high is currently 26°C while the seasonal overnight low is 13°C.