As winds ease off, much cooler weather will establish itself over southern Manitoba and bring a distinctly "October" chill to the region for Thanksgiving. Warmer weather will quickly move back into the region, though, with above-seasonal temperatures expected to return for Tuesday!
Temperatures will take quite a slump today as a blast of cooler air spreads over southern Manitoba, brought southwards by breezy winds behind a major low pressure system that is now making its way across Hudson Bay. Breezy west-northwesterly winds will continue today in Winnipeg to around 20 to 30 km/h with temperatures climbing to a cooler-than-seasonal high of just 8°C. Fortunately, there should be a fair amount of sunshine with just partly cloudy skies.
Winds will taper off quite quickly this evening as a ridge of high pressure builds into the region. With just a few clouds, temperatures will likely dip below 0°C in many areas with frost; for Winnipeg, lows should range between -2°C to +1°C with the colder temperatures in more open areas or near the outer edges of the city. Winds will pick up slightly to near 20 km/hout of the south by early Tuesday morning.
Tuesday will bring warmer temperatures back to the region as the colder temperatures associated with the ridge of high pressure move off to the east. Unfortunately, some of that warming will be offset by breezy winds once again, this time out of the south to southwest.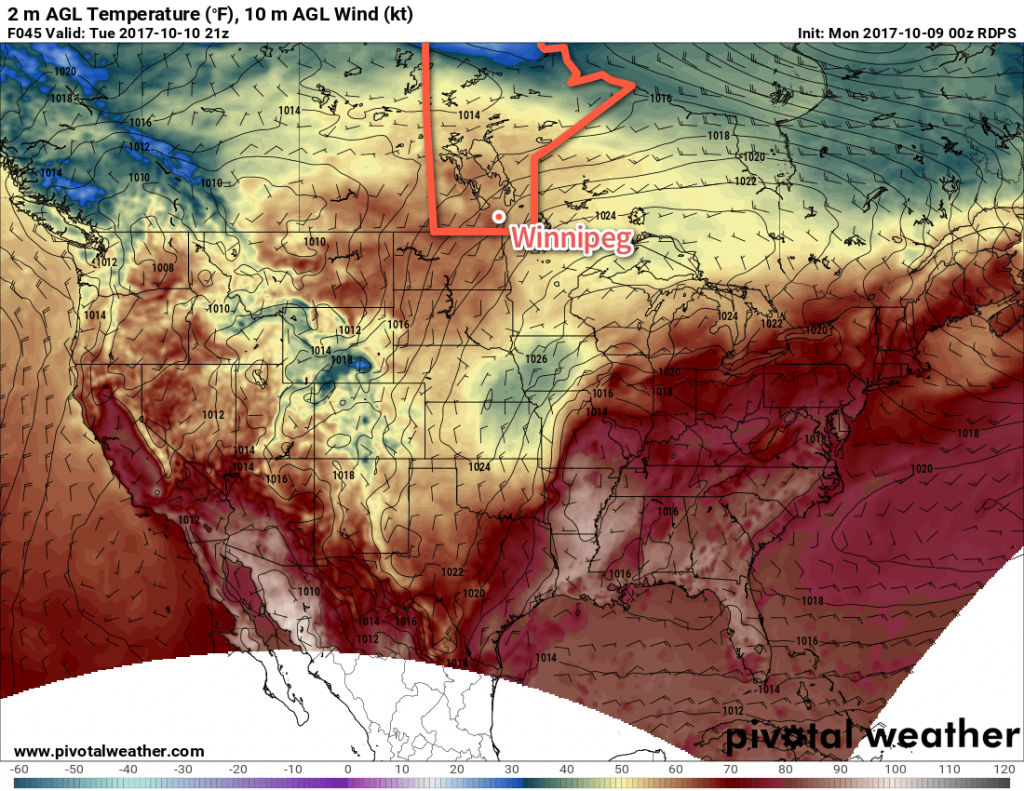 Under sunny skies, temperatures will climb to a high near 16°C — slightly above-seasonal for this time of year — but winds will strengthen to 30 km/h out of the south ahead of a developing low pressure system in Alberta. Expect a bit of cloudiness to build in late in the day, although with sunset marching earlier and earlier, they may hold off until dark. Winds will continue out of the south on Tuesday night out of the south at around 20-30 km/h with more clouds pushing into the region. Temperatures should drop to a low near 5°C.
Wednesday will bring mixed skies to the region as the Alberta low exits the province and begins tracking eastwards across Saskatchewan. No rain is expected for our region, more likely remaining confined to the warm front extending across central Manitoba associated with the disturbance. Temperatures in Winnipeg will be a bit cooler than Tuesday due to the cloud cover, but temperature should still reach an above-seasonal 15°C or so for the daytime high. Winds will again be a prominent aspect of the daily weather as they continue out of the south to southeast at around 30 km/h.
Temperatures will then dip to a low near 8°C under mixed skies on Wednesday night with winds easing off a bit.
Long Range
The remainder of the week looks like a mixed bag; skies will see variable cloudiness with temperatures returning to below-seasonal values after the Saskatchewan low passes through on Thursday. Friday may be breezy with gusty westerlies moving in behind the low, but after that it at least appears that winds should ease off for the weekend.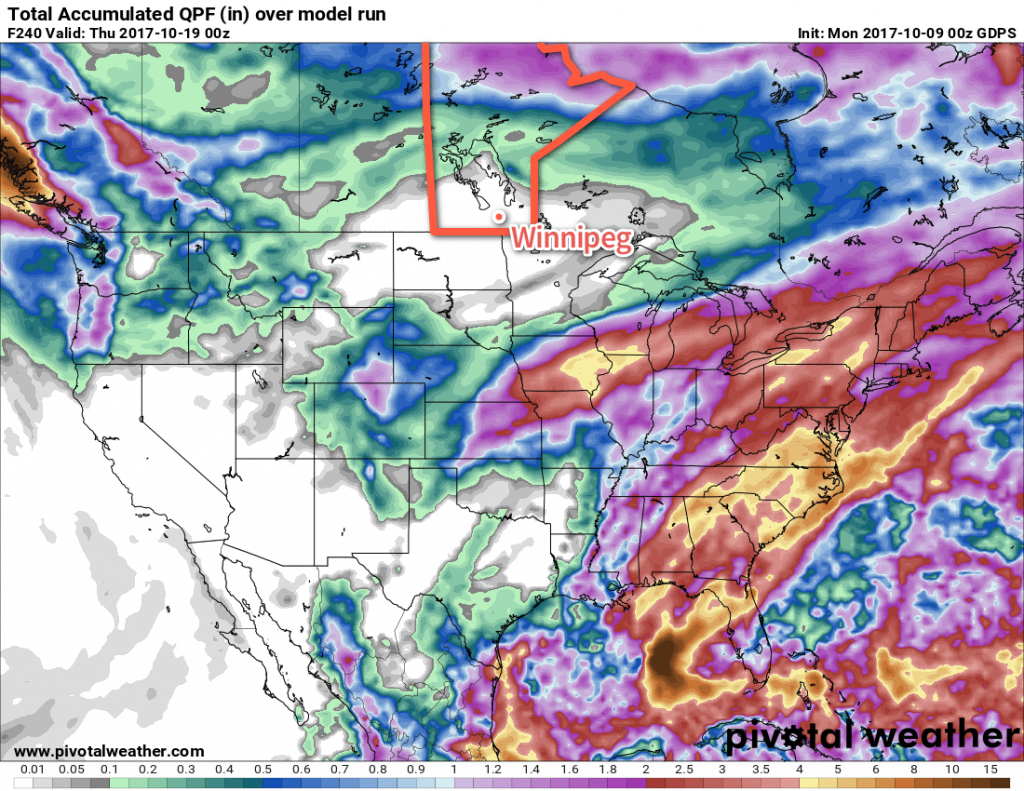 Conditions look fairly dry, however, with little, if any, precipitation expected between now and the start of next week; the main storm track will remain across the central and northern Prairies, keeping the bulk of the rainfall well north of Winnipeg. Overall, the next 10 days looks to be quite dry across southeastern Saskatchewan across southern Manitoba and into the Lake of the Woods.
Aside from the wind, though, it's relatively pleasant as far as fall weather goes!
Winnipeg's seasonal daytime high is currently 12°C while the seasonal overnight low is 1°C.