A low pressure system approaching from the west will bring windy conditions today and keep above-seasonal temperatures in Winnipeg and the Red River Valley for a couple more days. Cooler temperatures will return for the weekend, however, as Arctic air floods southwards across the Prairies on the back-side of this disturbance.
Temperatures will climb to a seasonally balmy 16°C today under partly cloudy skies as mild air moves northwards into the province ahead of an approaching low pressure system in Saskatchewan. While there will be a fair amount of sun today with just partly cloudy skies, the wind may make things a bit unpleasant as it ramps up out of the south to 40 gusting 60 km/h this afternoon. Skies will cloud up for the evening with winds continuing to be breezy out of the south at 20-30 km/h. Temperatures look to drop to a low near 7°C.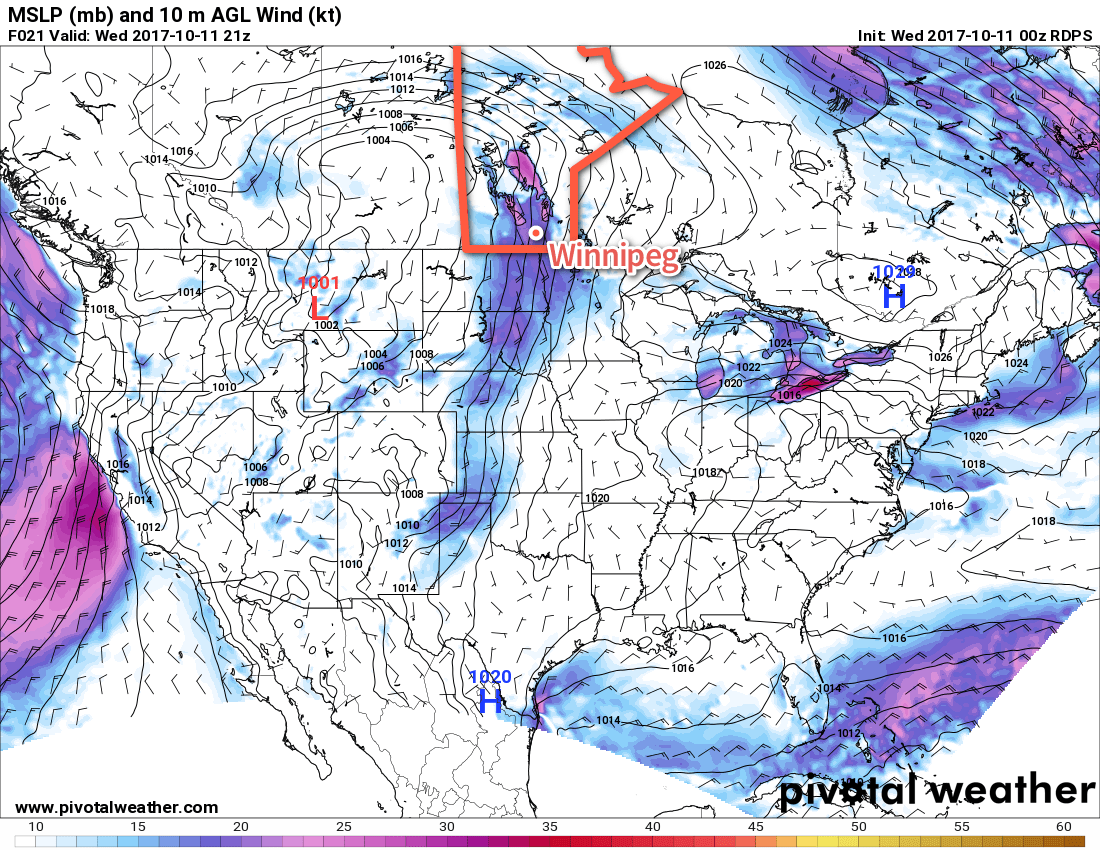 Thursday will bring mainly cloudy skies to the region with winds diminishing to 15-25 km/h, first out of the south then switching to the west after a trough of low pressure moves through in the afternoon. Temperatures will reach a high near 16°C, but clearing skies in the evening will allow temperatures to dip to a chilly +3°C overnight.
Cooler temperatures return to the region on Friday as Arctic air spreads across the Prairies. Temperatures will reach a high of just 10 or 11°C with breezy westerly winds to around 30 km/h that will taper off on Friday evening. The cool temperatures and breezy winds will make it feel rather chilly, but at least the sun will be out in full force with mainly sunny conditions expected throughout the Red River Valley. Winnipeg will then likely see another freeze on Friday night with temperatures dipping into the -2 to 0°C range.
Long Range
The weekend looks like it will bring variable cloudiness and below to near-seasonal temperatures with highs in the upper single digits or low teens and overnight lows dipping down near the freezing mark. Conditions continue to look dry with no significant chances for precipitation on the horizon.
Heading into next week, temperatures look to be near to slightly above-seasonal, however the chances for precipitation will begin to return as a slightly more unsettled pattern develops.
Winnipeg's seasonal daytime high is currently 12°C while the seasonal overnight low is 1°C.