A low pressure system tracking along the U.S. border will bring a mix of rain and snow to southern Manitoba on Saturday, and while the Red River Valley may see a few slushy centimetres, higher accumulations of 5 to 10 cm will be possible over the southwest corner of the province. The snow will be short-lived, however, as above-seasonal temperatures are set to return next week!
Models took a quick turn after our Wednesday forecast with a dry weekend quickly turning…not so dry as they picked up on a disturbance that will track along the US border and likely bring rain and snow to southern Manitoba on Saturday. Before that, though…
Today will be a cool but beautiful day! Winnipeg will see sunny skies and westerly winds at around 15 to 25 km/h as temperatures climb to a high near 10°C. Cloud will begin pushing into the Red River Valley tonight, bringing a chance for some rain showers to Winnipeg before morning. Winds will be calm as temperatures dip to a low near 2°C.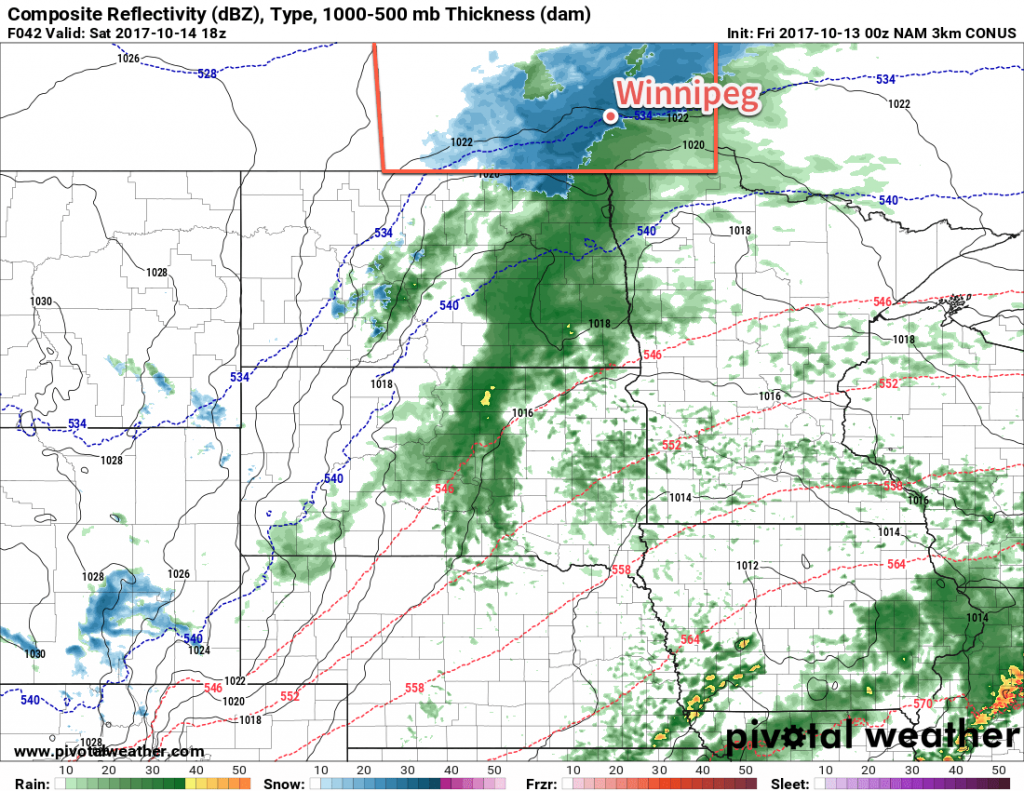 Southern Manitoba will see a mix of precipitation through the day on Saturday. The biggest question of the day will be where the rain/snow line will set up, and right now it appears that Winnipeg will straddle that line, with a few morning showers either mixing with or changing over to snow midday. Fortunately, with near-zero temperatures, any snow will be unlikely to accumulate too much through the city, with just a slushy couple centimetres possible. Further to the west and north, more substantial snowfall is possible, with 5-10 cm possible along a line from around Estevan, SK to Virden, MB to Lake Manitoba.
We'll definitely post an update later tonight with a revised snow/rain forecast for Saturday.
Aside from the precipitation, expect to see temperatures climb to a high just near 5°C with northeasterly winds of 15 to 25 km/h. Temperatures will dip down to around -2°C with some clear breaks overnight.
Sunday will see conditions improve, with mixed skies and a light west-southwest wind as temperatures climb to a high near 10°C. Temperatures will drop to a low slightly above freezing.
Long Range
Next week is looking fantastic for those who aren't quite ready for the latter parts of fall. Warmer air is expected to spread eastwards across the Prairies, and while there may be a disturbance or two with a brief cool-down associated with it that moves through, temperatures will tend to remain above-seasonal.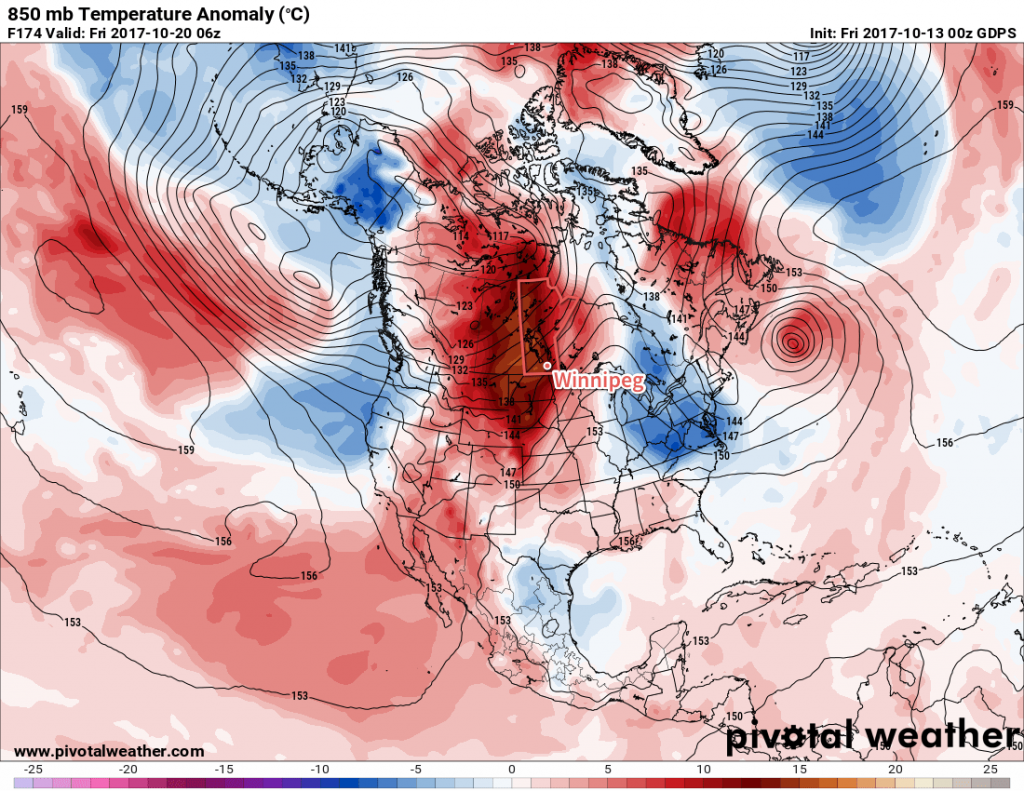 Daytime highs in the mid- to upper-teens will be common through the week, alongside variable cloudiness and few chances for rain as the main storm track appears to remain in the central and northern Prairies.
So make it through a bit of an unpleasant Saturday, and a beautiful mid-October week lies ahead.
Winnipeg's seasonal daytime high is currently 11°C while the seasonal overnight low is 0°C.