September brought mild weather to Winnipeg with above normal temperatures on about two-thirds of the days in the month. The month also started off extremely dry, but a change to a more unsettled pattern mid-way through the month ended up producing measurable rain on 9 of 13 days, including 25 mm of rain on September 22.
September is typically a month that brings a lot of cooling to the region; the daily mean temperature drops from 15.6°C at the start of the month to 9.3°C at the end of the month, a drop of 6.3°C. So while the average daytime high did drop considerably through the month in line with this trend, temperatures still remained generally above normal, with cool spells few and fair between. The warmest day of the month came on September 12, when Winnipeg set a new daily record high temperature of 34.8°C, beating the old record of 33.3°C set in 1952. That day was also the most "warmer than normal" day of the month with a daily mean temperature of 24.3°C, a full 11.3°C warmer than the normal daily mean of 13.0°C.
The coldest temperature of the month came on September 29th, where the temperature dipped to a chilly -1.2°C in the morning, 4.6°C below the normal seasonal low of 3.4°C.
September had a monthly mean temperature of 14.2°C, which was 1.9°C above the seasonal normal of 12.3°C. The mean daily high temperature was 20.1°C, which was 1.6°C above normal. Warmer than normal daily highs occurred on 20 out of 30 days. The mean daily low temperature was 8.2°C, which was 2.2°C above normal. Warmer than normal daily low temperatures occurred on 21 of 30 days.
The monthly temperature range was 36°C; from a maximum temperature of 34.8°C on September 12 to a minimum temperature of -1.2°C on September 29.
The longest stretch of above-seasonal days was 8, from September 7 to September 14. The longest stretch of below-seasonal daily mean temperatures was 3, which occurred on September 4-6, 15-17, and 24-26.
An Abrupt Mid-Month Change Brought Rainy Conditions
September begin with very dry conditions, continuing the trend from August, which saw dramatically lower than normal rainfall. Mid-month, however, a significant shift occurred which brought disturbance after disturbance across southern Manitoba, producing much rainier conditions.
As can be seen above, very little rain fell between September 1 to September 14, with just 1.8 mm over two rainfall events. Beginning September 15, however, came rain on 9 of 13 days, producing the wettest 10-day stretch of 2017. Between September 17-26, 61.5 mm of rain fell in Winnipeg, eclipsing the 60.8 mm of rain that fell between July 15-24. The largest rainfall event occurred on September 22, when 25.2 mm of rain fell. This was followed quickly by another 18.3 mm on September 24. These two events combined to make the highest 3-day rainfall total of 2017 as well at 43.5 mm, beating 32.2 mm between July 11-13 by 11.3 mm.
With a monthly total of 67.1 mm, Winnipeg exceeded the seasonal normal of 45.8 mm by 21.3 mm.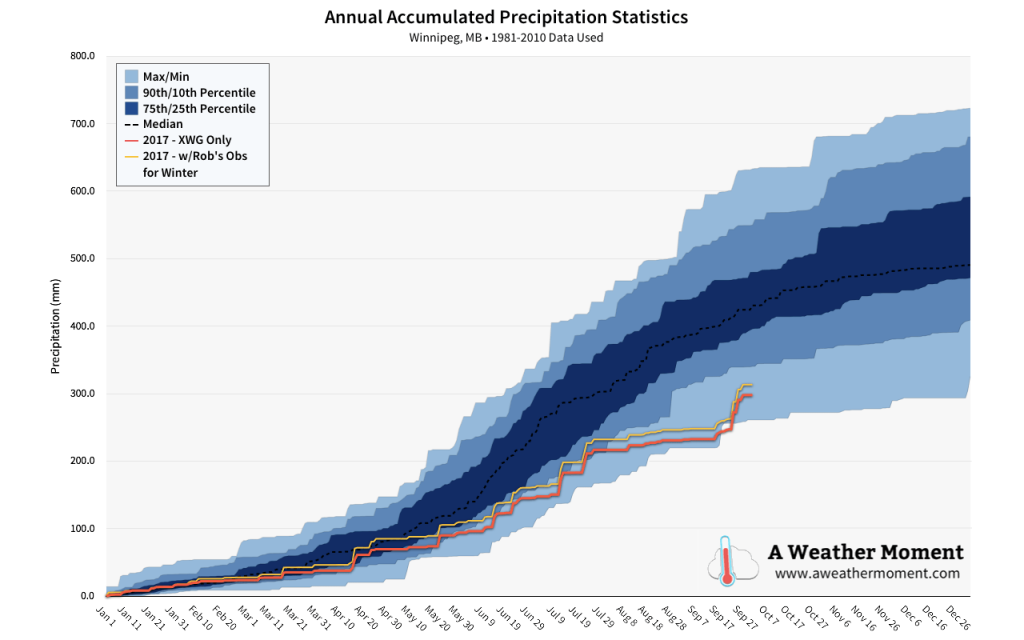 By mid-September, Winnipeg had crept into having the driest year since 1980, however the rainfall through the second half of the month has eliminated that potential by raising our annual precipitation amounts above the driest on record. Winnipeg still remains well below-normal, outside 2 standard deviations from the 1981-2010 normal amounts.
---
All in all, September was a beautiful month. Exceptional warmth through the first half gave way to near-seasonal temperatures in the second half, but overnight lows that remained well above-normal through much of the month helped keep that fall chill away until near the very end. The rainfall through the second half of the moth helped alleviate some of the drought that the region has seen, although Winnipeg still sits in a significant precipitation deficit for the year.
October has continued September's trend so far with most of the days bringing above-normal temperatures to the region. Precipitation has been sparse, though, and little is on the horizon. Although Winnipeg saw its first snowfall of the year on October 14, temperatures will rebound well above-normal with unseasonably warm temperatures expected to build into the region later this week. With daytime highs nearly 10°C above normal and mild overnight lows, it looks poised to offer one last stretch of summer-ish weather before jacket weather arrives for good.