Temperature will trend towards the milder side over the coming few days in Winnipeg as an upper-level ridge builds into the eastern Prairies. The warmer weather will come at a cost, though, with sunshine becoming somewhat of a scarce commodity in the second half of the work week.
Today will start off with skies clouding over quite early as an upper-level disturbance slides southeastwards from Dauphin into the southern Red River Valley. As it moves through, it will spread an area of light snow through the Parkland, across southwestern Manitoba, and into the southern Red River Valley. Winnipeg will be on the northeastern edge of the main area of snow and will see some non-accumulating light snow. Under the main snow track, snow will still be fairly light, with just 1 to 2 cm expected to fall. The snow will taper off in the afternoon as temperatures reach a high near -7°C, then skies will clear out in the evening as temperatures head to a low near -14 or -15°C.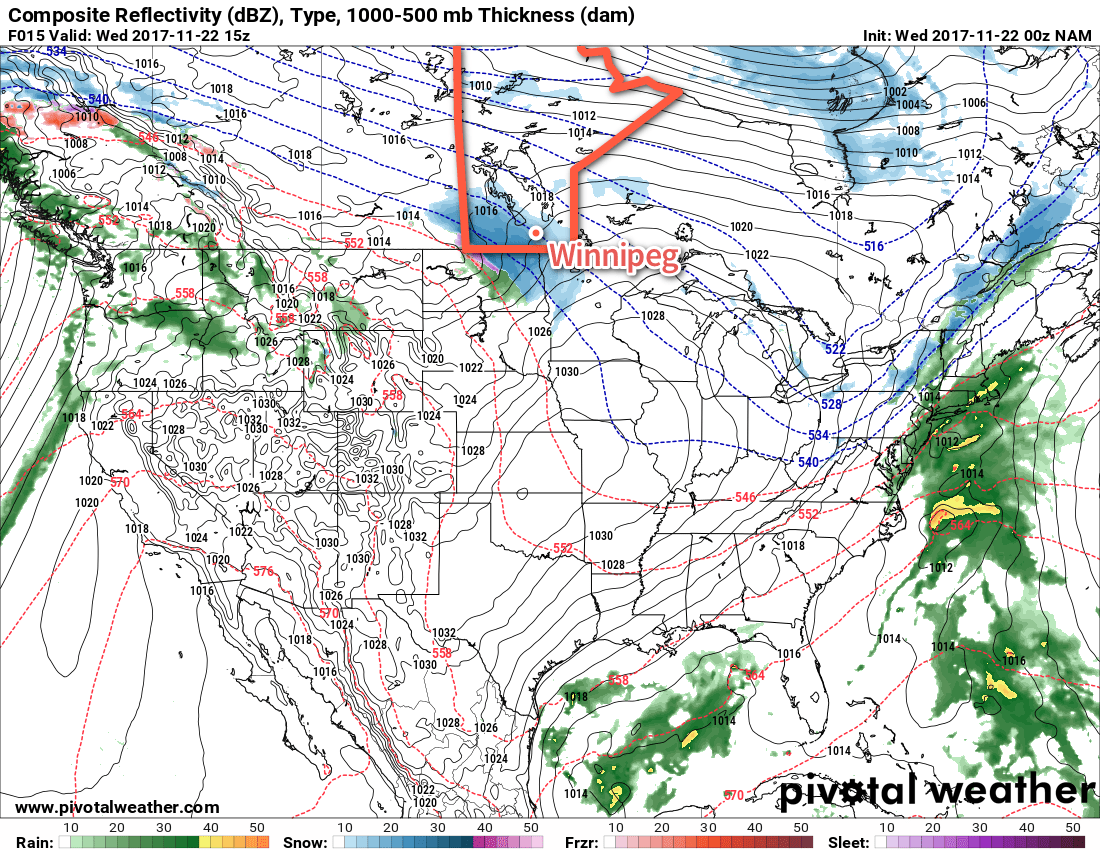 Thursday will see cloudy skies move into the Red River Valley early in the morning as a warm front pushes eastwards into the province. Temperatures will climb back to near-seasonal values through the day, reaching near -3°C by late afternoon. Those warmer temperatures will also come with increasing southerly winds increasing to 20 to 30 km/h in the afternoon. Skies will remain cloudy overnight with temperatures continue to rise, reaching +1°C or so by Friday morning. Winds will ease slightly to around 20 km/h for the night after the warm front passes through.
Friday will be very mild in Winnipeg with temperatures reaching a high near +3 or +4°C. Showers will be possible as a cold front sweeps through in the morning, ushering in breezier westerlies of 30 to 40 km/h. The chance of showers will continue into to the afternoon, then switch to light snow as a second trough of low pressure swings through. After that, winds will switch to the northwest at around 40 gusting 60 km/h and temperatures will begin falling back below freezing to a low near -8°C with flurries and breezy northwesterlies continuing.
Long Range Outlook
Taking a quick look ahead to the weekend, it looks like Winnipeg will see near-seasonal temperatures with variable cloudiness. Saturday should see some sunshine while Sunday may see more of a mixed to mainly cloudy sky. All in all, relatively pleasant for late November!
Winnipeg's seasonal daytime high is currently -4°C while the seasonal overnight low is -12°C.