While today will start off with some showers as cold fronts usher the above-freezing temperatures out of the region, conditions will remain generally mild with near-seasonal to above-seasonal temperatures expected over the coming week.
Winnipeg will see a mild start to the day with temperatures near +3°C, but that warmth will be short-lived. A cold front sweeping through early this morning will bring a band of showers across southern Manitoba. This front will usher in breezy westerly winds near 30 km/h with gusts up to around 50 km/h. The showers should taper off behind the front, but a second cold front will then drop southwards in the afternoon, bringing with it flurries as the winds shift northwesterly and temperatures drop further to around -1°C by the evening. The flurries will taper off in the evening as the breaks up a bit, leaving mixed skies for the night. Winds will taper off as temperatures drop to a low near -9°C.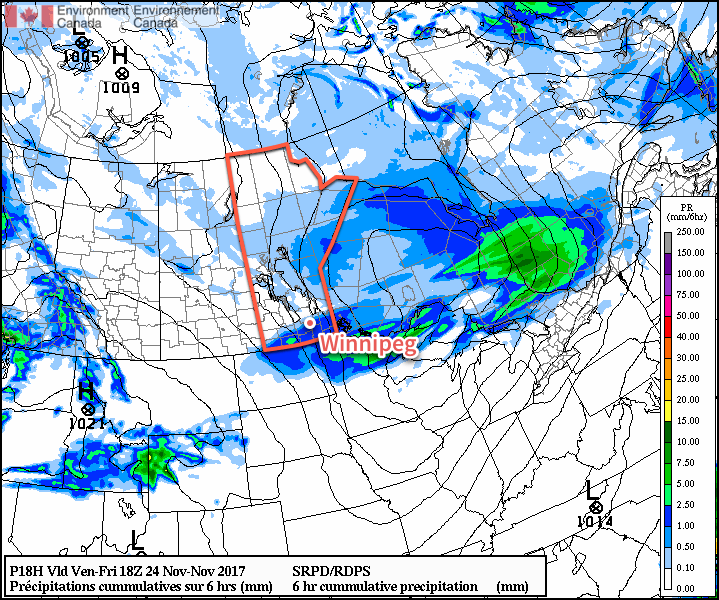 Saturday will bring light winds as a ridge of high pressure moves across the Red River Valley, likely with a bit of morning sunshine. Cloud will build back eastwards into Winnipeg in the afternoon though, as the front that dipped southwards through the Red River Valley rebounds to the west and begins pushing back into the Red River Valley again. No snow or rain is expected in the Red River Valley; any precipitation will be further north, close to a low pressure system crossing through central Manitoba. Temperatures will climb towards a high near -2°C as the cloud moves into the region, and winds will pick up out of the south to around 20 km/h. Expect skies to remain mostly cloudy on Saturday night with temperatures remaining near -2 or -1°C for much of the evening, then dropping to a low near -5°C overnight as a weak cold front slumps through, shifting winds northwesterly and bringing in cooler air.
Sunday will bring mostly cloudy skies to the region yet again as temperatures remain steady near -4°C for much of the day. Another ridge of high pressure will be moving across the province, so winds will remain light throughout the day. Skies will remain cloudy on Sunday night as another warm front approaches from the west. Temperatures will climb towards -1°C by Monday morning with increasing southerly winds to 20 to 30 km/h.
Long Range Outlook
Looking ahead, Monday looks mild but may bring rain or snow to the region as another significant low pressure system crosses through the central Prairies. Afterwards, a zonal flow persists over the Prairies bringing multiple disturbances through the week that will bring occasional chances for flurries. Temperatures will remain near-seasonal to above normal, with relatively mild temperatures expected to remain in place for much of next week!
Winnipeg's seasonal daytime high is currently -5°C while the seasonal overnight low is -13°C.