Temperatures will soar into the upper 20's in Winnipeg today, bringing the first taste of summer for fans heading downtown to cheer on the Jets!
Winnipeg will see light southerly winds with temperatures soaring to a high near 29°C today. Skies will remain sunny with southwesterly winds of 10 to 20 km/h for much of the day, but a cold front slumping southwards will move through Winnipeg this evening, bringing northerly winds near 30 km/h, slightly cooler temperatures, and some cloud cover.
Winnipeg Jets Whiteout Party!

If you're heading downtown for the Jets game tonight, you'll be in for some great conditions. Starting around 6PM, temperatures downtown will be near 26°C with light winds. The cold front will push through around 7 or 8PM, bringing northerly winds of 15-25
km/h
and cooling temperatures to around 18°C by 10PM. A bit of cloud cover will move in through the evening, producing mixed to mostly cloudy skies by late in the evening. It looks like everything should remain dry with the cold front not likely bringing any rain to the city.
This warm weather will come with a risk, though. Extremely dry conditions continue, and as yesterday's fire on Wilkes showed, it doesn't take much to start a blaze.1 Relative humidity values will be under 20% today, continuing to present a significant fire hazard.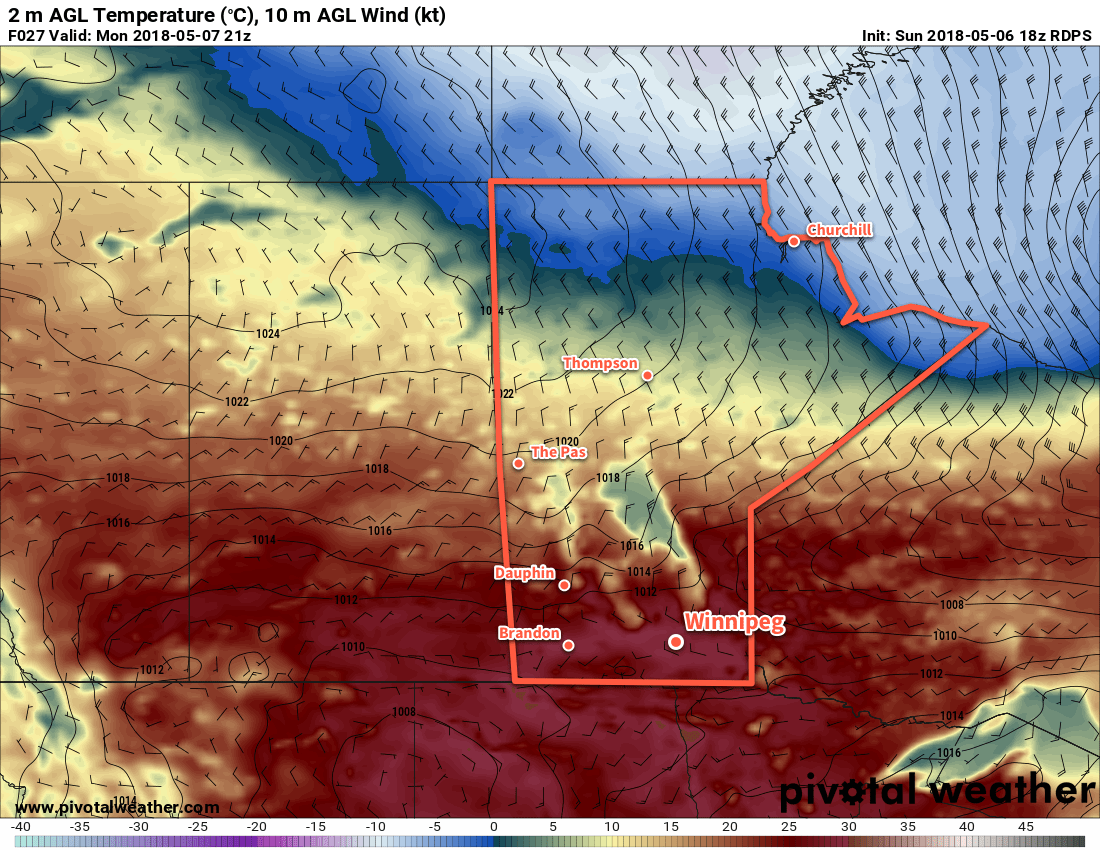 The latter half of tonight will bring cloudy skies to the city with temperatures dipping to a low near 12°C.
Tuesday will bring mixed to mostly cloudy skies to Winnipeg. Temperatures will be much cooler than Monday, but still quite pleasant with a high near 19°C. Winds will remain breezy out of the northeast at 20 to 30 km/h. Beginning in early evening, a chance for showers or thunderstorms will develop through the Red River Valley that will persist through the night. Activity isn't necessarily expected to be significant or widespread, but a little activity is possible as a low pressure system moves through the province. Winnipeg should see a low near 12°C on Tuesday night.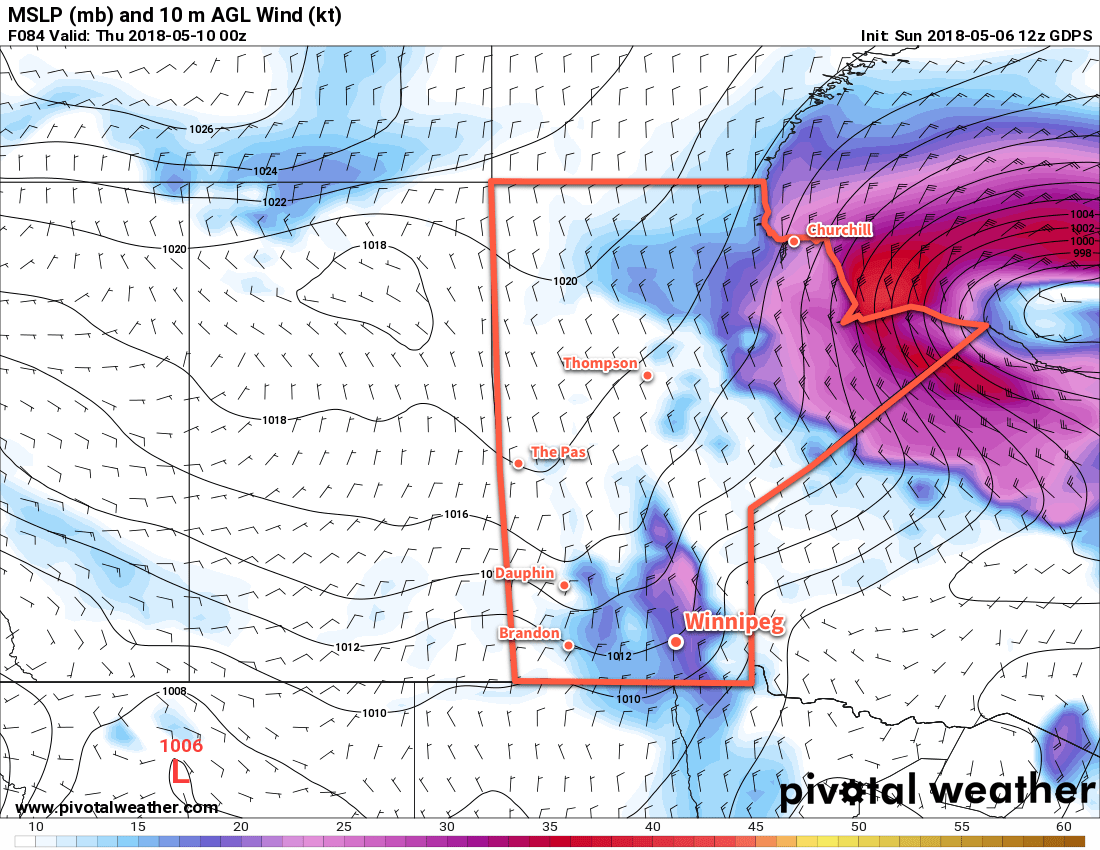 Wednesday will marked by breezy northerly winds in the wake of a cold front that moves through early in the afternoon. Temperatures will climb to a high near 18°C before the front moves through, then cool to the low-teens through the afternoon. Winds will pick up out of the north behind the front, strengthening to 30 to 40 km/h. On the bright side, the northerly winds will clear out the cloud in the Red River Valley, bringing mainly clear skies for Wednesday night with a low near +3°C.
Long Range Outlook
The remainder of the week will bring cooler temperatures and variable cloudiness. Unfortunately, no significant rain is on the horizon, so the dry weather continues.
Winnipeg's seasonal daytime high is currently 18°C while the seasonal overnight low is 4°C.
Numerous witnesses on scene reported sparks from a passing train as the igniter for the fires. No formal announcement had been made yet at the time of writing. ↩