Winnipeg will see nothing but sunshine give way to unsettled conditions to start the week as a low pressure system moves into the region on Tuesday.
Thanks to a ridge of high pressure over the Red River Valley, today will be a beautiful day in Winnipeg. With nothing but sunshine and light winds, temperatures will climb to a seasonably cool high near 19°C. A low pressure system extending from central Saskatchewan into the Dakotas will being moving into the region tonight, bringing increasing cloud cover. Winds will remain light, though, gradually shifting from the north to the southeast. Temperatures will dip to a low near 9°C.
Tuesday will bring cloudier, unsettled conditions back to Winnipeg and the Red River Valley. The southeasterly winds will pick up to around 30 km/h, drawing in warmer air from the south and sending temperatures towards a high near 25°C. Winnipeg will see mixed skies and the chance for some shower or thunderstorm activity. The best chances for precipitation will occur near the beginning and the end of the day:
In the morning, but this will be highly dependent on overnight activity surviving as it moves eastwards. This looks unlikely for the Red River Valley, but north of Winnipeg may see some activity move across the southern Interlake.
In the mid- to late-afternoon as a trough of low pressure moves across southern Manitoba. This looks more likely.
The thunderstorms will have limited energy to work with, but strong shear will make an isolated severe thunderstorm possible. The chance for showers or thunderstorms will continue into the evening, tapering off at the latest somewhere between 10PM and midnight. Winds will be light overnight with temperatures dipping to a low near 14°C.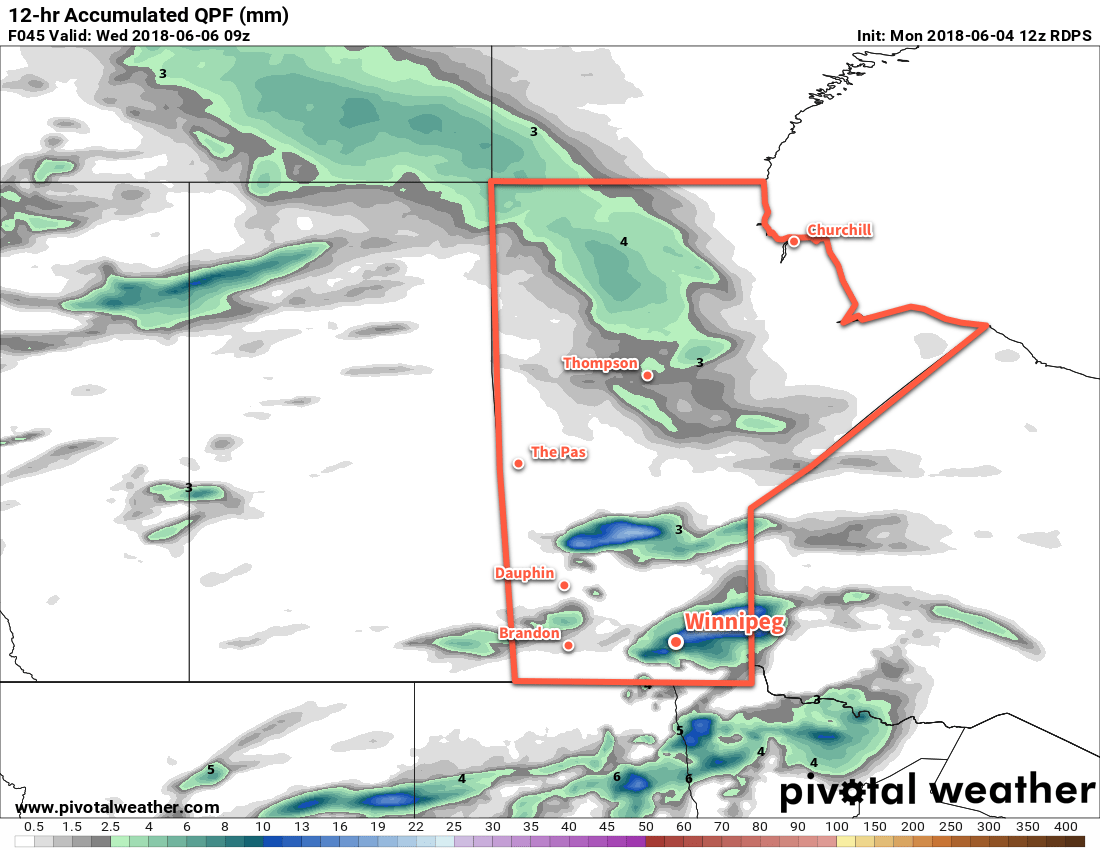 Wednesday will start off with some lingering cloudiness from Tuesday's system. Northwesterly winds picking back up to 20-30 km/h will help clear it out for a mainly sunny afternoon. Once that sun does appear, it'll allow temperatures to climb to a high near 21°C. Winnipeg will see clear skies and light winds on Wednesday night and a low near 11°C.
Long Range Outlook
The remainder of the week in Winnipeg looks increasingly summer-y. An upper ridge is forecast to develop over the eastern Prairies through the latter half of the week. This will bring warmer conditions back to the region alongside variable cloudiness. Some humidity may build back into the region this weekend too, with dew point values possibly reaching 17 or 18°C by Sunday. This would be just high enough to make it begin to feel muggy, but not be overwhelmingly humid.
Conditions will deteriorate to start next week as an upper trough replaces the upper ridge and the chance for showers or thunderstorms returns to the region.
Winnipeg's seasonal daytime high is currently 22°C while the seasonal overnight low is 9°C.