Warmer temperatures are on the way back to Winnipeg, but will come with variable cloudiness and the potential for more shower and thunderstorm activity.
Today will bring sunny skies and cool temperatures to Winnipeg as a ridge of high pressure moves through the region. As the ridge moves in, northwesterly winds near 30 km/h this morning will taper off to light in the afternoon. Winnipeg should see a high temperature near 21°C. Temperatures will dip to a low near 11°C under clear skies tonight.
Thursday will see the heat begin to build back into Manitoba as southerly winds of 20 to 30 km/h draw warmer air northwards. An upper-level disturbance will spread showers and thunderstorms through North Dakota, and while Manitoba should escape most of the precipitation, many areas will see mixed skies or cloudy periods. Winnipeg will likely end up with mixed skies as temperatures head to a high near 26°C. Winds will diminish Thursday evening as temperatures dip to a low near 13°C under mixed skies.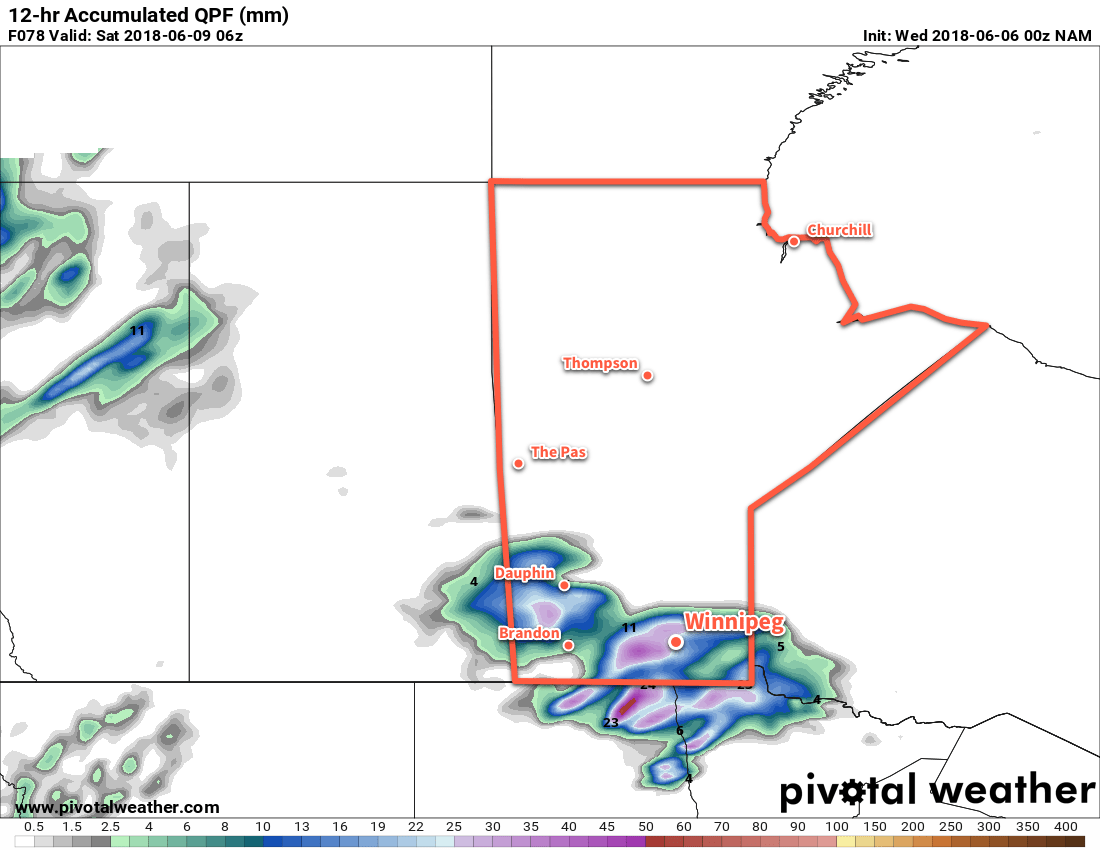 On Friday, a low pressure system sliding eastwards along the international border will bring cloudy skies and along with a good chance of showers or thunderstorms to the Red River Valley. The cloud cover will keep things cooler with Winnipeg likely seeing a high near 23°C. Skies will begin to clear overnight as the low moves off to the east. Winnipeg will see a low near 15°C on Friday night.
Long Range Outlook
Heading into the weekend, conditions look great with plenty of sunshine and daytime highs in the upper 20s. Humidity should remain low, making for comfortable days. Winds will be a bit breezy on Sunday out of the southeast, picking up ahead of the next low moving towards the region.
At this point, Monday looks to bring a return to unsettled conditions with the chance for showers and thunderstorms. This will clear up rather quickly, returning to variable cloudiness and seasonal temperatures into mid-week.
Winnipeg's seasonal daytime high is currently 23°C while the seasonal overnight low is 10°C.