Winnipeg will see warm weather and sunny skies on Monday before cloud begins building into the region and unsettled weather returns for Tuesday and Wednesday.
Under the influence of a weak ridge of high pressure, Winnipeg will see mainly sunny skies today and a seasonal high near 26°C. A warm front lifting through North Dakota will spread a few clouds into southern Manitoba later this afternoon. The wind will be a bit breezy out of the west near 30 km/h. Later in the day there's a small risk for an isolated thunderstorm or two, primarily south of the Trans-Canada Highway corridor and through the evening hours. Skies in Winnipeg should remain fairly clear overnight as temperatures dips to a low near 15°C with winds becoming light.
Elevated convection spreading into Manitoba from North Dakota will spread cloud cover into the Red River Valley early Tuesday morning. There will be some shower and thunderstorm activity moving through the province as well, but at this point it looks quite likely that Winnipeg remains dry with the activity remaining to the west and south. After the morning impulse moves through, skies will become mixed and Winnipeg will climb to a high near 26°C again.
By Tuesday afternoon, a warm front is forecast to run from a low pressure centre in southern North Dakota northeastwards across southeastern Manitoba, arcing eastwards into Lake of the Woods. By late afternoon into the evening, there's a risk of thunderstorms developing along this frontal boundary. With moderate amounts of energy available to the thunderstorms, very good shear, and an organized trigger, there will also be a risk of severe thunderstorms. The primary threat posed by any severe thunderstorms would be large hail and torrential downpours.
The thunderstorm threat should move out of the region later Tuesday evening, then Winnipeg will head to a low near 16°C under mostly cloudy skies.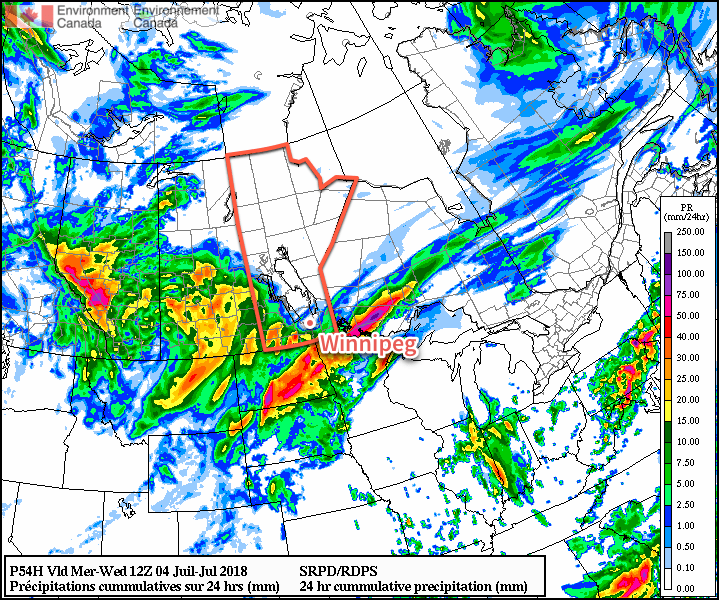 Wednesday will bring yet more unsettled conditions to the region as a low pressure system moves out of North Dakota into the Interlake before heading eastwards into Ontario. This system will bring the chance of showers or thunderstorms in the morning as it lifts north and then again in the afternoon when the cold front pushes through. There will likely be a slight risk of a severe thunderstorm as well with primary threats of large hail and damaging winds. Winnipeg should see a high near 26°C again.
The cold front will push through in the afternoon, followed by breezy westerly winds near 30 gusting 50 km/h diminishing to 10 to 20 km/h overnight. Skies will clear out with temperatures dropping to a low near 14°C on Wednesday night.
Long Range Outlook
Things look to settle down for the second half of the week into the weekend as an upper-level ridge builds into the region. Heat and humidity will begin to build into the region late in the week, pushing temperatures over the 30°C mark and humidex values close to 40. Forecasts show the seasonably warm weather lasting into next week.
Winnipeg's seasonal daytime high is currently 26°C while the seasonal overnight low is 13°C.