After an unsettled morning, Winnipeg will see calmer weather and warming temperatures as an upper ridge builds across the Prairies.
Winnipeg will be starting the day with some unsettled weather as a line of thunderstorms moves through the Red River Valley. The stormy weather should clear out a bit later in the morning, leaving behind mostly cloudy skies and humid conditions. Dew points near 20°C will make temperatures in the low 20s feel more like 30 this morning. A cold front will pass through near lunch, bringing westerly winds to around 30 km/h. Along with the wind, markedly drier air will move into the the Red River Valley. Thanks to that, Winnipeg's high near 25°C should feel comfortable by mid-afternoon. Under clear skies and a light west wind, Winnipeg will head to a low near 15°C tonight.
Conditions will settle quickly in the wake of Wednesday's cold front. Hot on its heels, an upper-level ridge will begin building into the Prairies and bring sunny skies and increasingly warm weather. Winnipeg will see mainly sunny skies on Thursday with a seasonal high near 25°C. Winds will remain out of the northwest at around 20 km/h.
A ridge of high pressure will move through on Thursday night, bringing light winds, clear skies, and a low near 15°C.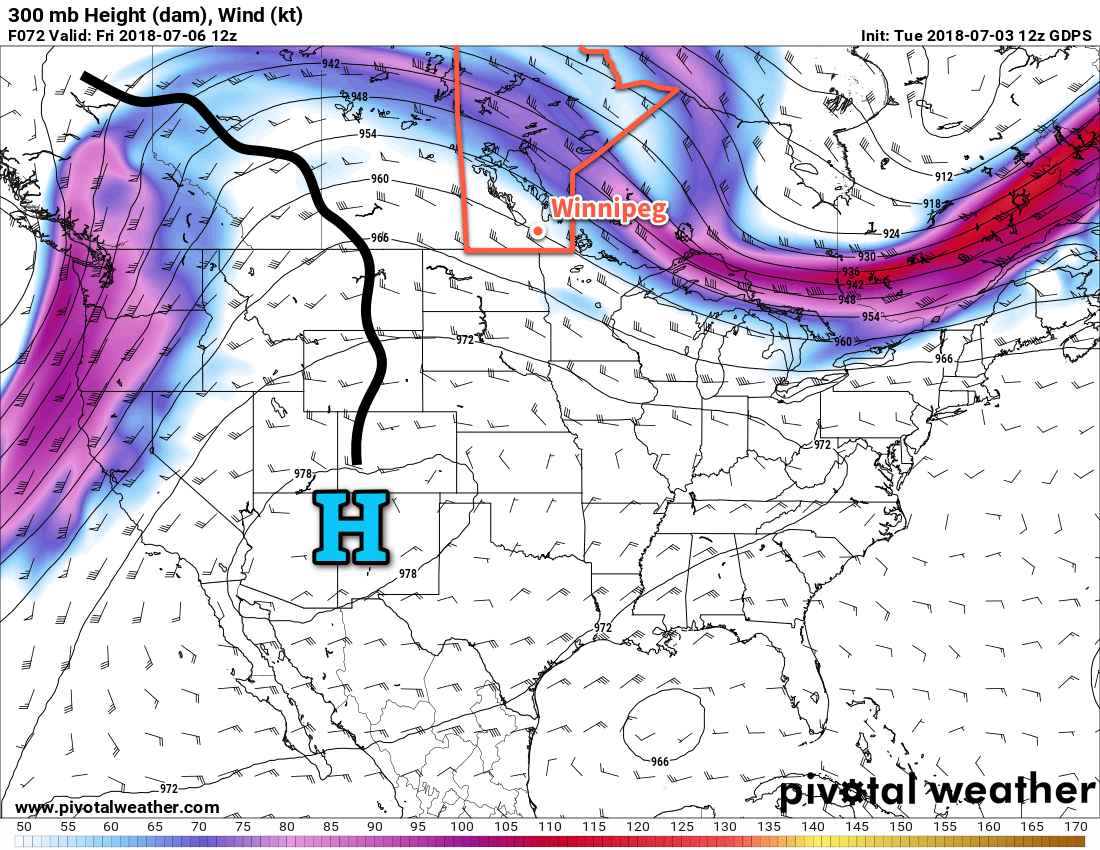 Friday will mark the start of the warm-up as a southerly return flow develops behind the high. Winds will be light out of the south with sunny skies and a high near 27°C with comfortable humidity. Warmer air will continue to build into the region on Friday night, resulting in a mild low near 19°C.
Long Range Outlook
The weekend will be a scorcher as heat and humidity surge northwards into the region. Saturday will see temperatures climb into the low 30's with dew points climbing into the upper teens. Humidex values on Saturday will climb towards 40. With all the heat and humidity, it does look like there will be a chance for thunderstorms. A "cool" front sweeping across the province on Saturday evening will bring the threat of severe weather back to Winnipeg. Sunday will still be warm with a high of 28 or 29°C, but the humidity will be much lower making for a comfortable summer day.
The warm weather will continue into next week with daytime highs expected to remain in the upper 20s with overnight lows near 18 or 19°C.
Winnipeg's seasonal daytime high is currently 25°C while the seasonal overnight low is 13°C.