A cold, Arctic air mass moving into southern Manitoba will turn the Manitoba Lakes into snowfall generators.
Winnipeg may have missed out on most of yesterday's snow, but it won't escape the Arctic air moving through the province. Today will mark the first day of below-seasonal temperatures with a meagre recovery to a high near -4°C. Skies will remain mostly cloudy with a slight chance of flurries. Winds will persist out of the northwest at 20 to 30 km/h and be the guide for the weather of the day: snow squalls.
With the cold temperatures in place and northwest winds, intense bands of snow will be streaming off of the Manitoba Lakes. These bands may produce as much as 2 to 3 cm of snow per hour underneath them at times, with the heaviest rates closer to the lakes. The squall coming off of Lake Manitoba should remain west of Winnipeg during the day. As winds become a little more westerly this evening, the band may shift into the city bringing a chance of some moderate to heavy snow.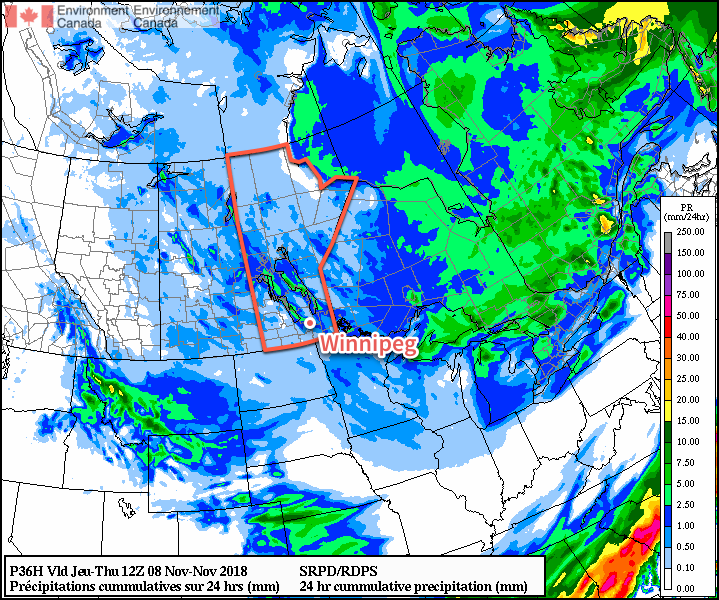 Winds will shift more to the west-northwest overnight as temperatures drop to a low near -10°C.
Thursday will continue to bring more cloud as a weak trough slumps southwards through the province. There will be a continued chance for flurries through the day and winds will be light. Temperatures will climb to a high near -5°C and then drop to a low near -10°C again on Thursday night.
Friday will bring mixed skies to the city. In the morning, more snow squalls will likely be coming off of the lakes. It looks like Winnipeg will sit between them and escape mostly unscathed. Temperatures will continue to be cool with a high of just -6°C with northwesterly winds of 10 to 20 km/h. The city should see some clearing on Friday night with a low near -12°C.
Long Range Outlook
The weekend will bring thicker cloud cover back into southern Manitoba with a chance of flurries on Sunday. Temperatures will remain below-seasonal with daytime highs near -4°C and overnight lows near -10°C.
Winnipeg's seasonal daytime high is currently +1°C while the seasonal overnight low is -7°C.