Temperatures will cool to seasonably cool values in Winnipeg after the passage of a low pressure system on Monday. An accumulating mid-week snowfall will then lead to even colder temperatures heading into the weekend.
Winnipeg will enjoy sunny conditions for much of today with temperatures climbing to a high near -2°C. Winds will pick up out of the south-southwest to around 30 km/h midday, then shift west-northwest by the evening to 40 gusting 60 km/h. This wind shift will bring more cloud into the region along with flurries that will persist for much of the night. A cold front passing through overnight will shift the winds solidly northwest and send temperatures to a low near -18°C Tuesday morning. The flurries will taper off sometime late overnight or early Tuesday.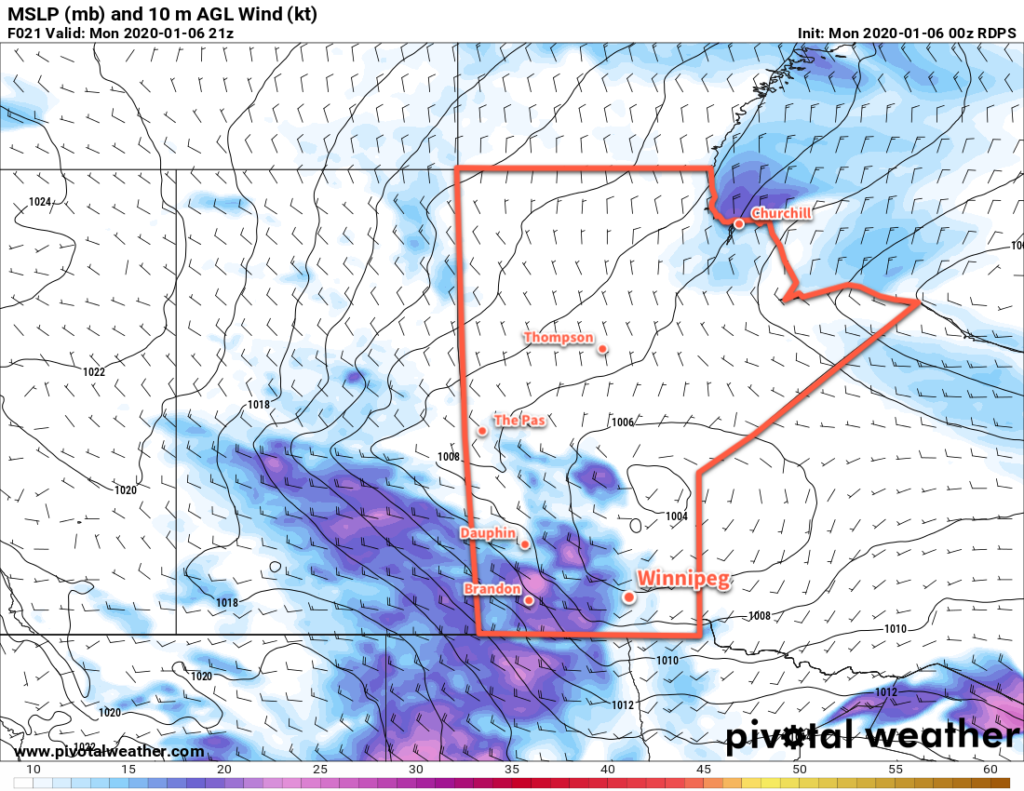 Through the day on Tuesday, a sprawling Arctic high will build into the eastern Prairies. The northwest winds near 30 gusting 50 km/h will continue into the afternoon before gradually diminishing as the high arrives. Temperatures will be much cooler in Winnipeg than the values seen lately with a high near -16°C. Temperatures will dip to a low near -26°C on Tuesday night with light winds under mainly clear skies.
On Wednesday, a sunny start to the day will bring increasing cloudiness through the afternoon. A low pressure system moving into the U.S. will push an inverted trough across southern Manitoba on Wednesday night. As it approaches on Wednesday afternoon, winds will pick up out of the southeast to 30 to 40 km/h as temperatures climb to a high near -16°C. The windy conditions, combined with fairly cold temperatures, will result in some blowing snow through the Red River Valley, but the severity will be significantly limited by minimal snow cover in some areas. Snow will begin late in the afternoon and continue for most of the night.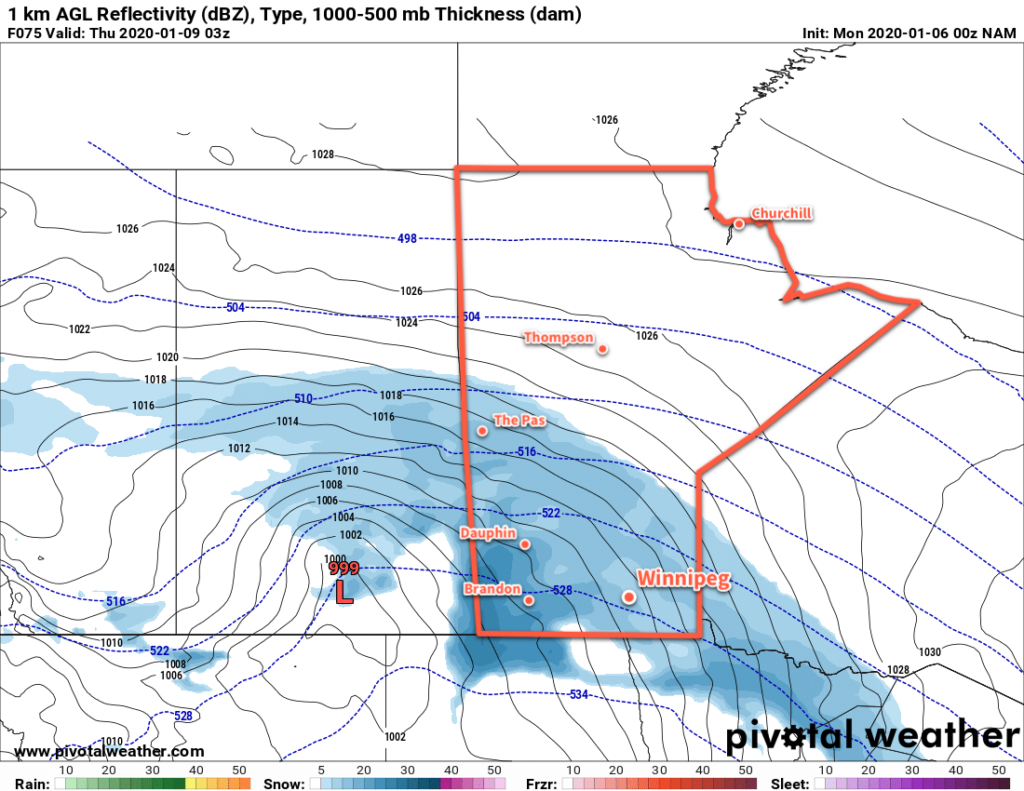 Accumulations over an 18 hour period or so will reach up to 10–15 cm in the Red River Valley and 10–20 cm to the west-northwest over southwest and western Manitoba. Blowing snow may produce poor visibilities overnight as the moderate snow combines with the windy conditions.
Long Range Outlook
Seasonal temperatures will stick around for Thursday with a continued chance of flurries and cloudy skies. Clearing will begin pushing into the region on Thursday night, marking the arrival of a colder air mass. Daytime highs will drop into the -15 to -20°C range on Friday and stay there right into next week. Overnight lows will drop as well, varying through the -20 to -30°C range.
Today's seasonal daytime high in Winnipeg is -13°C while the seasonal overnight low is -23°C.