Temperatures will soar in Winnipeg over the coming days as an early-season blast of summer heat moves through.
Temperatures will soar this afternoon in Winnipeg as southerly winds of 30 gusting 50 km/h continue to push heat out of the United States. Before it warms up, though, the city may end up seeing some cloudy periods this morning as an area of stratus cloud clips by the region. Once that leaves the region, temperatures will climb to a high near 28°C this afternoon. Temperatures will dip back down to mild low near 18°C tonight with southerly winds of 20 to 30 km/h.
Thursday will bring mixed skies to the city with continued southerly winds near 30 gusting 50 km/h. Temperatures will continue to be seasonably mild with ah high near 26°C. Late in the day, more cloud cover will move into the region bringing with it a slight chance of showers. Temperatures will head to a low near 16°C with mostly cloudy skies.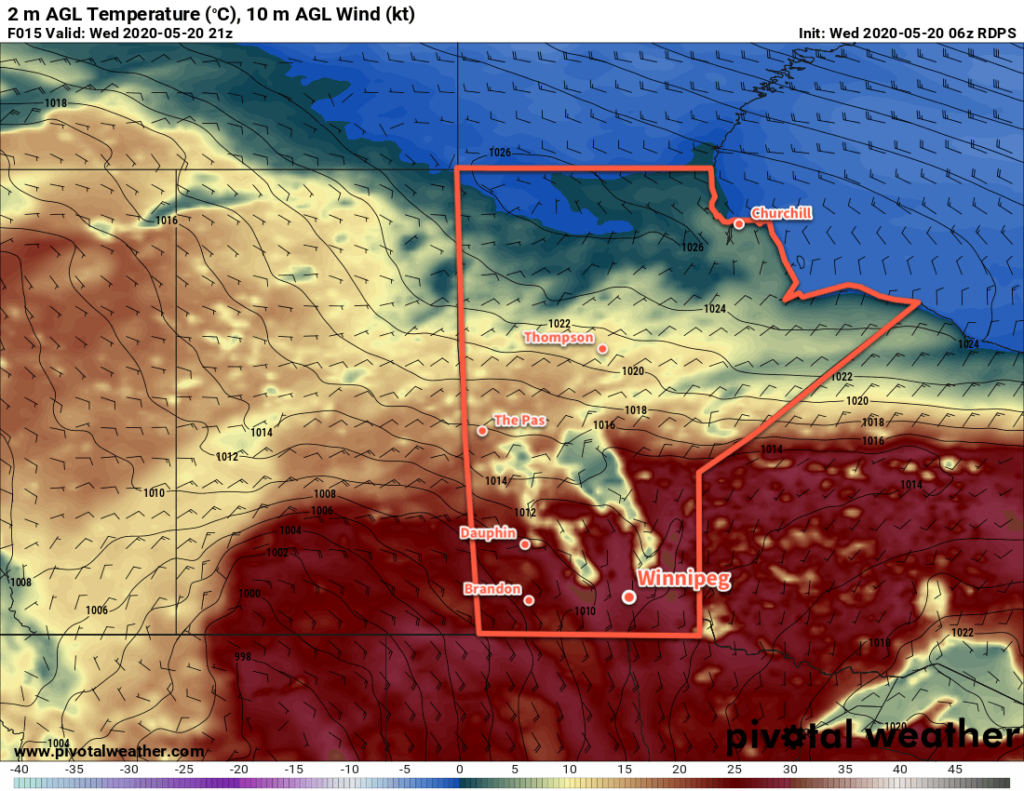 Slightly unsettled conditions will continue over the region on Friday. Skies will stay on the cloudier side as temperatures climb to a high in the mid-20's. Friday will bring the first organized thunderstorm risk to the Red River Valley, although it may end up staying to the west near the escarpment and into the southwestern corner of the province. The city will likely see a chance of showers or thunderstorms through the day, though. Those unsettled conditions may end up persisting through Friday night as well. Temperature should dip to a low near 14°C.
We'll end up taking a closer look at Friday's thunderstorm potential in our next forecast post!
Long Range Outlook
Saturday should bring another day of warm temperatures, then a push of cooler air will move in for Sunday. The latter half of the weekend will see highs head back to the teens with a good chance of rain. Things rebound nicely for Monday and Tuesday, then more unsettled weather is possible mid-week.
Today's seasonal daytime high in Winnipeg is 21°C while the seasonal overnight low is 6°C.