The warm summer temperatures will gradually cool back to seasonal values this weekend as a cold front pushing east brings unsettled conditions to the region.
Today will be a beautiful day in Winnipeg as temperatures head to a high near 27°C under partly cloudy skies. Winds will continue as they have the past several days, strengthening out of the south to 30 gusting 50 km/h. By late in the day, a chance of thunderstorms will develop over the southwestern corner of the province into the Interlake. Winnipeg may have a chance of seeing some activity, but it looks likely that it will stay west and north of the city. Temperatures will head to a low near 16°C tonight with southeast winds near 20 km/h and partly cloudy skies.
Saturday will bring mixed skies to the region with a good chance of showers and a chance of thunderstorms. Temperatures will climb to a high near 26°C with southerly winds of 20 to 30 km/h. In the evening, a cold front will begin moving across the Red River Valley. Moderate instability will develop ahead of the front, likely triggering a line of showers and thunderstorms as it moves through. The rain will move northeastwards along the front as it slowly crosses the Red River Valley. Lows will dip a bit cooler to around 13°C behind the front on Saturday night.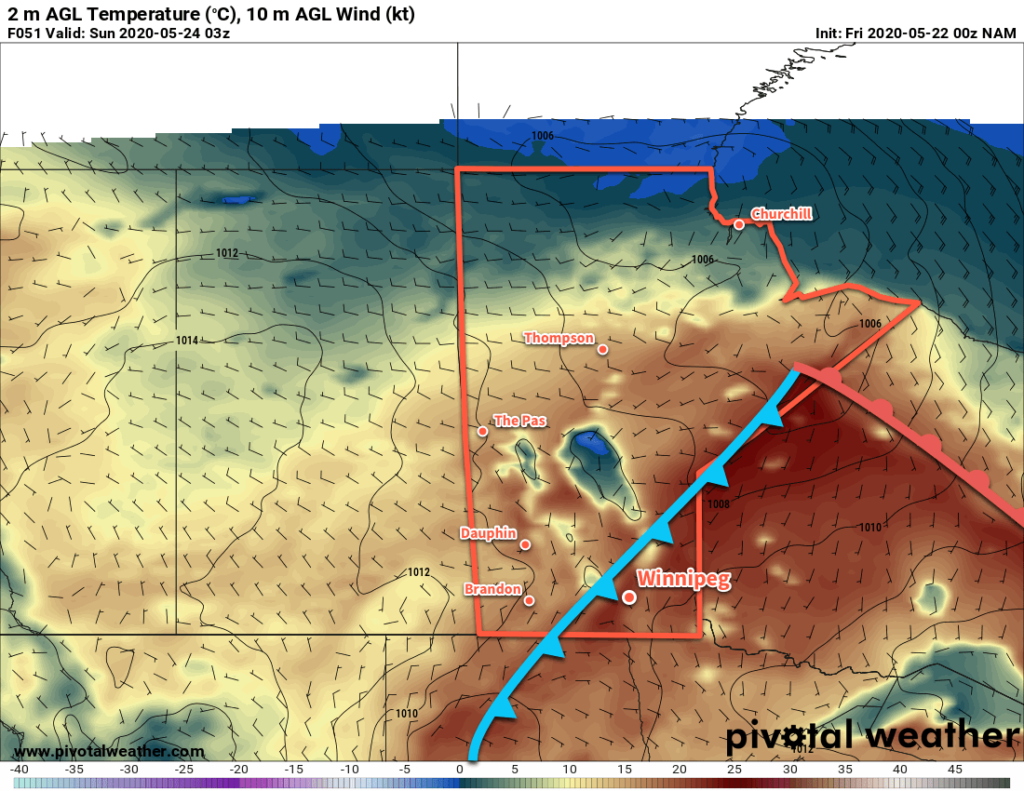 On Sunday, a disturbance lifting northeastwards across North Dakota will spread cloud and showers into southern Manitoba. While the southern Red River Valley will see some rain, it's less likely here in Winnipeg. Most guidance suggests that the rain will remain just south of the city with a chance of a few showers as it passes by. While there is good agreement on the current track, if the disturbance ends up a bit further north then it could be a rainy day for the city. Temperatures will climb to a near-seasonal high of 20°C with northerly winds of 20 to 30 km/h. Temperatures will head to a low near 11°C on Sunday night with cloud cover breaking up and winds easing.
Long Range Outlook
Next week is looking pleasant with seasonal to slightly above-seasonal temperatures. Winnipeg should see plenty of sunshine, but some unsettled weather may be possible midweek with a chance of showers or thunderstorms.
Today's seasonal daytime high in Winnipeg is 21°C while the seasonal overnight low is 7°C.