Winnipeg will see slightly cooler temperatures today, but the sweltering heat will build right back into the region.
Temperatures will be a few degrees cooler in Winnipeg today behind a cold front that moved through overnight. Rather than the highs in the low 30s seen over the past few days, the city will "only" reach around 28°C. One notable difference will be that the humidity will ease into the mid-teens making things a little bit more comfortable. The city will see a bit of lingering cloud this morning with a chance of a shower or two, then skies will clear in the afternoon. It won't be too windy, either, with southerlies near 20 km/h.
Unfortunately, there won't be much relief for in the overnight lows. Warmer air will already be building back into the region tonight as the upper ridge begins rebounding into the region. The city will see a low near 17°C.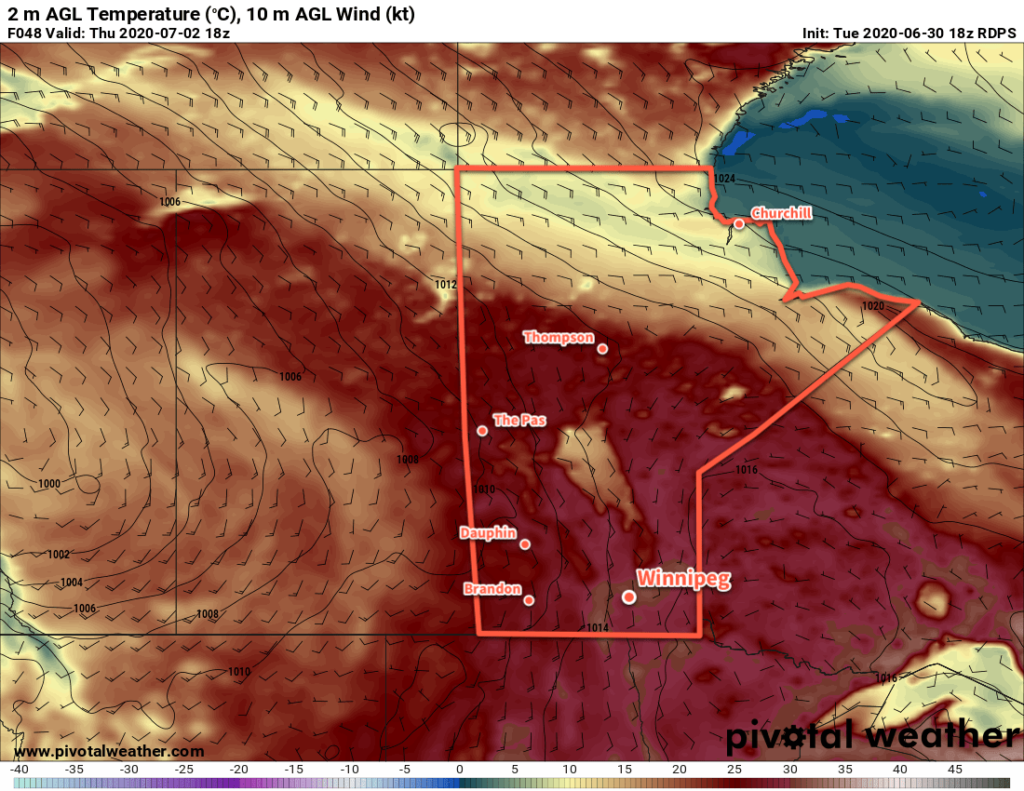 Thursday and Friday will bring plenty of sunshine to the region with temperatures climbing back into the low 30s. The humidity will surge back as well, sending humidex values back into the upper 30s. The wind will be more prominent on Thursday out of the south at 30 gusting 50 km/h, but Friday should bring calmer conditions with light southerlies.
For both nights, lows will head back into the 20 to 23°C range. The risk of thunderstorms – with severe weather possible given the hot and humid air mass – will return on Friday night for much of southern Manitoba.
Long Range Outlook
The upper ridge will begin to collapse on the weekend, replaced by a west-southwest flow aloft. This will continue to keep temperatures warm, but it's likely the region will end up seeing a bit more cloud with occasional chances for showers or thunderstorms. Conditions will settle next week with generally sunny conditions.
No notable break in the heat is in the forecast. The humidity levels are forecast to ease slightly for next week, but the city will continue to see daytime highs in the 28 to 31°C range and overnight lows of 18 to 20°C.
Today's seasonal daytime high in Winnipeg is 25°C while the seasonal overnight low is 13°C.