Warm and humid conditions will turn unsettled this weekend as an upper trough moves towards the region.
Winnipeg will continue to see seasonably warm and humid weather through the weekend. The biggest difference, though, will be increasingly unsettled conditions developing over the coming days. An advancing upper trough and several disturbances rippling through the region ahead of it will be responsible for ushering in the change.
Today, temperatures will quickly climb back up into the 30s with a high near 32°C this afternoon. Dew points will continue to hover near 20°C, producing humidex values of 38 to 40. The city will see increasing cloud this evening, but thunderstorm activity this evening will likely stay to east and south. Temperatures will head to a low near 20°C tonight.
Saturday will be a rather unsettled day across the region as an upper trough moves in. Skies will be mostly cloudy through the day and showers and thunderstorms will blossom across the region in the morning. Winnipeg will most likely see at least some of this activity, if not much of this activity. With the humid air mass still in place, the thunderstorms may be severe with the primary threats of localized flooding due to torrential rains and damaging hail. It won't be stormy all day, but the potential for thunderstorms will persist right into the night before settling down early Sunday morning.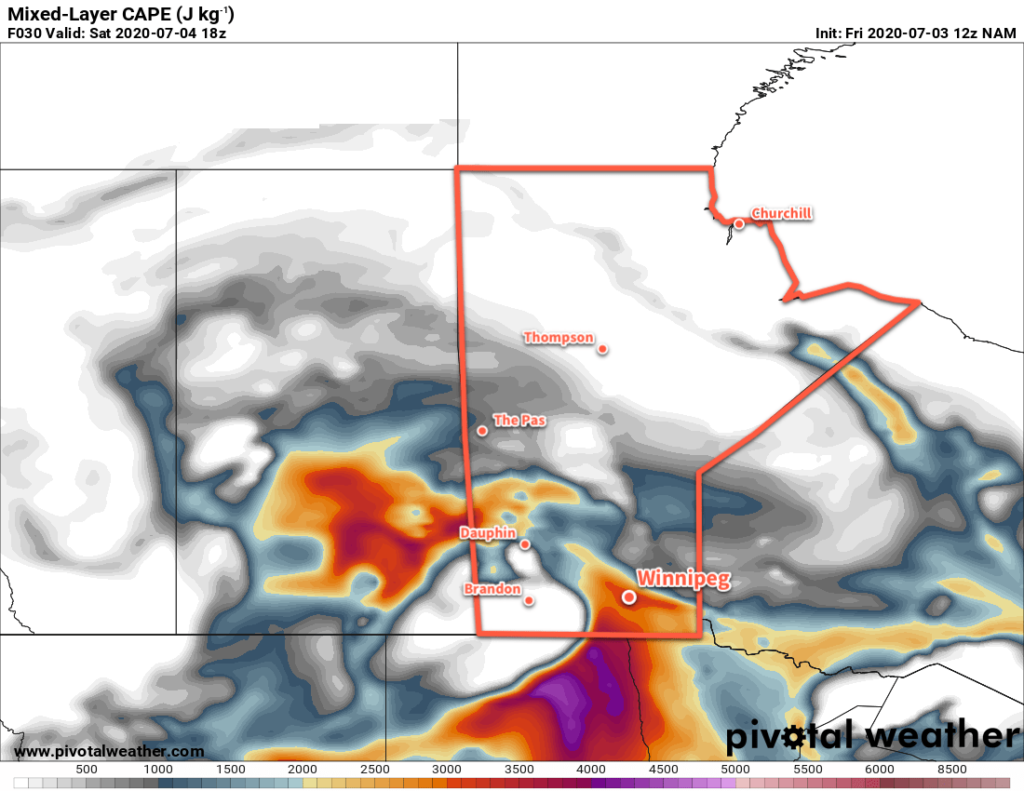 Mostly cloudy skies will continue on Sunday with fairly benign weather over the region. It will still be warm and humid, and calm winds will make it feel rather sticky. A cool front pushing through in the evening will again bring the risk of (severe) thunderstorms to the region. Conditions will settle down overnight with pleasant weather returning for the start of next week.
Long Range Outlook
Next week will kick off with a nice break from the heat. Highs will still climb into the upper 20s, but the humidity will drop off to much more comfortable values. Unsettled conditions will redevelop mid-week with increasing humidity as a low pressure system moves through the region.
Today's seasonal daytime high in Winnipeg is 25°C while the seasonal overnight low is 13°C.