A cold front pushing through southern Manitoba will bring unsettled conditions today, but a high pressure system will usher in beautiful summer conditions for the long weekend.
Today's main weather-maker will be a cold front will pushing across the Red River Valley. Winnipeg will start the day with remnant cloud cover from the night's thunderstorms. Skies will become mixed later this morning as showers and thunderstorms develop ahead of the advancing front. Temperatures should reach a high around 26 °C this afternoon with dew points climbing to a muggy 19 °C.
The unsettled weather will move through in the afternoon, then push off to the southeast in the evening. We do not any severe weather in Winnipeg, but high dew points will likely result in locally heavy rainfall. To the south and east, there's a chance for isolated severe thunderstorms that could produce large hail alongside heavy rain.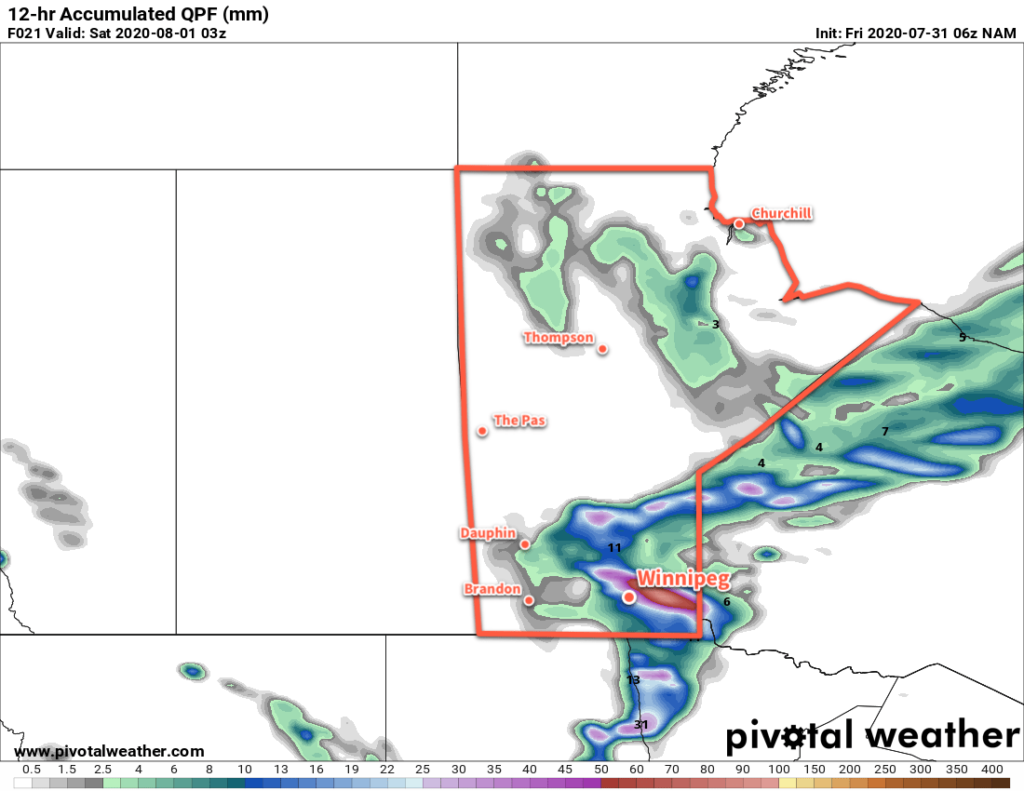 Northerly winds up to 30 km/h will develop this evening behind the cold front, ushering in a drier air mass. Temperatures will dip to a low near 14°C under mainly clear skies.
Behind today's instability comes a beautiful long weekend. A sprawling area of high pressure will gradually build into the province this weekend, bringing plenty of sunshine and seasonal temperatures. The wind will continue to be breezy out of the north on Saturday, but will ease into the 15–25 km/h range for Sunday.
Long Range Outlook
There's nothing but beautiful summer weather in the long-range forecast, with mainly sunny skies and seasonal temperatures persisting right into the middle of next week. The second half of the week may bring gradual warming with variable cloudiness.
Today's seasonal daytime high in Winnipeg is 26°C while the seasonal overnight low is 13°C.