A long-awaited warm-up will finally arrive in the Red River Valley this weekend!
A series of Pacific lows crossing western Canada will shunt Arctic air eastwards and push milder temperatures across the Prairies over the next few days. The first is beginning its eastward trek across the southern Northwest Territories today. While that will mean warmer weather for the western Prairies, southern Manitoba will stay under the influence of a weak Arctic ridge. It will keep highs to around -13 °C in Winnipeg with sunny skies and light southerly winds.
Temperatures in Winnipeg will dip to a low near -18 °C tonight with a few clouds moving in. Southerly winds will increase into the 20–30 km/h range by Saturday morning.
On Saturday, the Arctic low will push from Nunavut into Hudson Bay and drag a warm front eastwards across Manitoba. Brisk southerly winds of 30–40 km/h will persist Saturday morning and then gradually ease in the afternoon. Skies will cloud over as the warm front moves in and while some flurries are possible, the dry southerly wind should keep the snow out of the Red River Valley. Temperatures will climb to a high near -7 °C in Winnipeg.
The city will see mixed skies on Saturday night with a low near -9 °C. The wind will keep up out of the south at 15–25 km/h.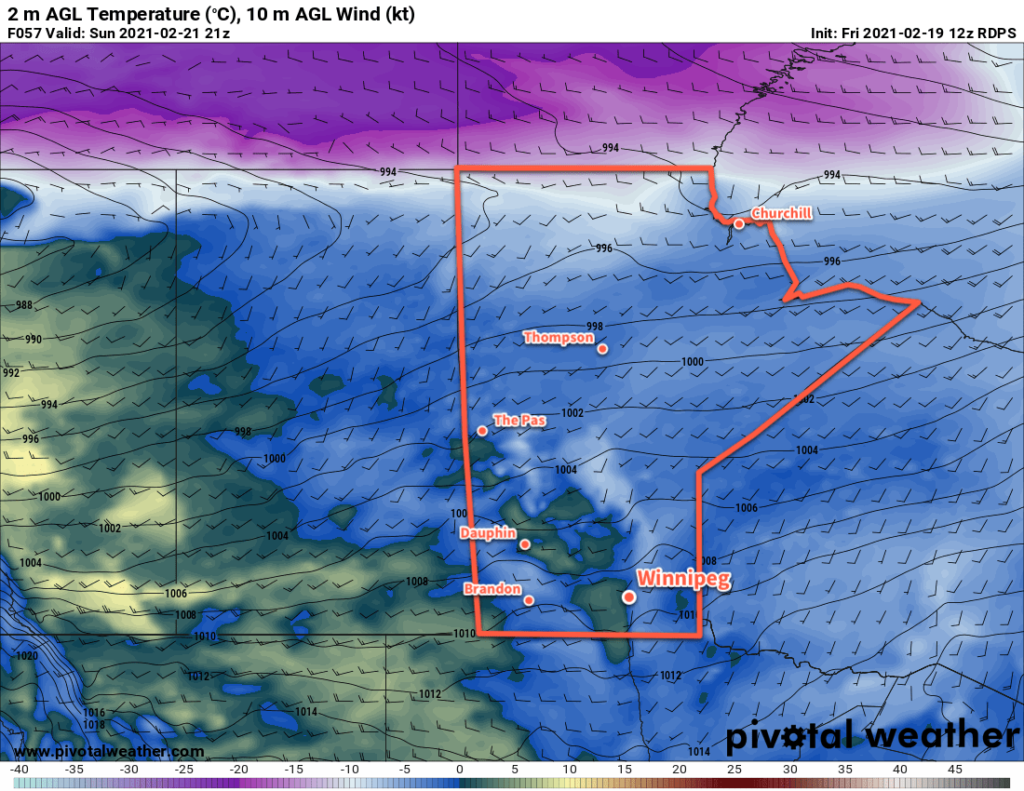 On Sunday, another Pacific low will begin to push eastwards across the Prairies. It will push warmer air eastwards across the Prairies and bring widespread above-freezing temperatures to parts of Alberta and Saskatchewan. Here in Manitoba, temperatures should climb to around the freezing mark with southerly winds of 20–30 km/h. The city should see plenty of sun, giving a chance that some areas with darker surfaces (less snow, more concrete) might climb above the 0 °C mark.
The winds will keep up on Sunday night with increasing cloud. Temperatures will fall to a low near -7 °C early then gradually climb through the night.
Long Range Outlook
The Pacific low will cross Manitoba on Monday, bringing a wave of mild Pacific air with it. Temperatures will climb above freezing across much of southern Manitoba with brisk westerly winds and mixed skies. The mild weather will continue on Tuesday with temperatures returning to around freezing. The rest of the week will be a bit of a temperature roller coaster, alternating between near-seasonal and below seasonal warmth.
There will also be several chances for a wintery mix of precipitation as a series of impulses slide southeastwards across the Prairies.
Today's seasonal daytime high in Winnipeg is -7 °C while the seasonal overnight low is -17 °C.