A Pacific low will bring breezy westerly winds and temperatures well above freezing to southern Manitoba today.
A Pacific low crossing the province has pushed a warm front through overnight, bringing breezy westerly winds near 30 km/h and a mild air mass to the region. Temperatures will climb to a high near 6 °C this afternoon in Winnipeg with even gustier winds as high as 40 gusting 60 km/h developing. A weak cold front will push through this afternoon, bringing more cloud cover and a chance of a few showers turning to flurries this evening.
The wind will shift northwestwards overnight as it eases and temperatures will dip to a low near -6 °C. Skies will stay partly cloudy.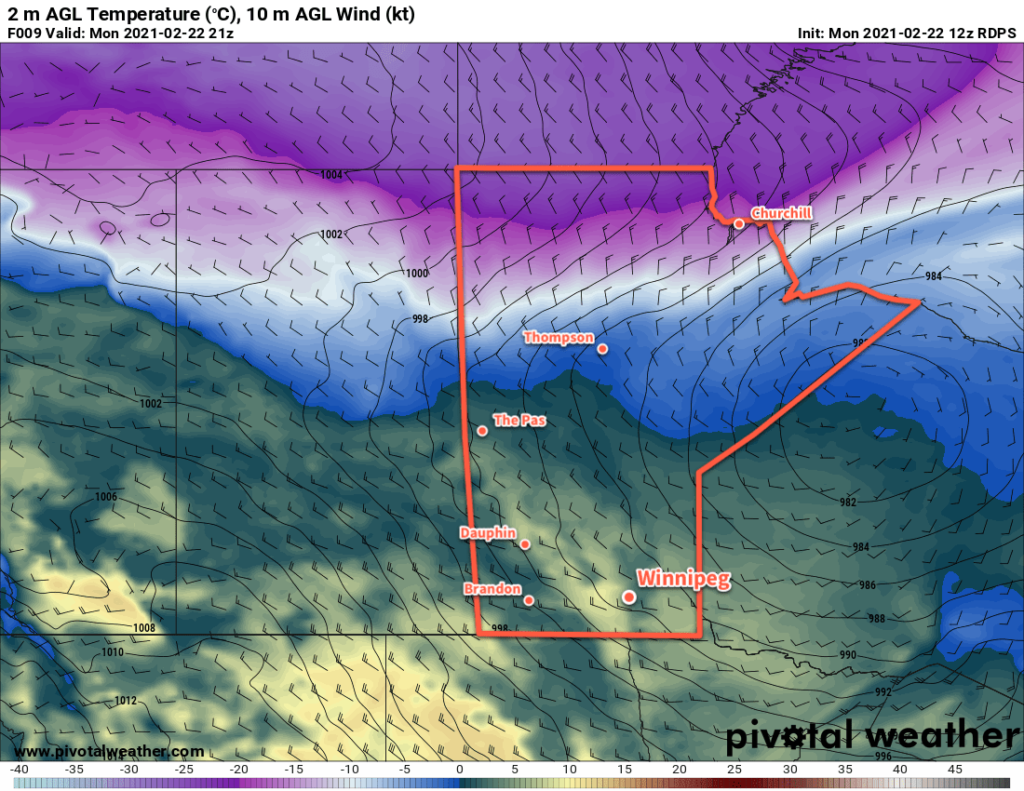 On Tuesday, Winnipeg will see mostly cloudy skies as an Alberta Clipper drops from Saskatchewan into the Dakotas. Winnipeg shouldn't see any snow from this system, but areas over the southwest corner of the province may receive as much as 5–10 cm of snow with amounts diminishing heading eastwards into the Red River Valley. Temperatures will warm back up to a high near -2 °C with a light north wind. The cloud cover will break up a bit on Tuesday night as temperatures dip to around -15 °C.
A ridge will move across the province on Wednesday bringing quiet weather to the region. Temperatures will climb to a high near -8 °C with light northwest winds and mixed skies.
Long Range Outlook
Another strong Pacific low will move across the Prairies in the second half of the week, bringing warm and windy weather back to southern Manitoba on Thursday. Heading into Friday, some rain or snow is possible, followed by a strong cold front on Friday night. Colder temperatures will move back in for the weekend with lows potentially dipping back into the mid-minus twenties. The cold weather will be short-lived, though, with near-freezing highs forecast to return early next week.
Today's seasonal daytime high in Winnipeg is -6 °C while the seasonal overnight low is -17 °C.