Winnipeg will continue to see seasonably mild temperatures until a strong cold front pushes through on Friday.
Winnipeg will see increasing cloud today as a weak low moves into the region. With a high near -4 °C, the city will see a some light snow through the afternoon hours as the low passes. Winds will stay light today, and the snow will taper off tonight as the cloud cover gradually breaks up. Temperatures will dip to a near-seasonal low of -11 °C tonight. Winnipeg and area will likely see around 2 cm of snow by the time it tapers off.
On Thursday, another strong Pacific low will begin moving into the western Prairies. In southern Manitoba, a moderate southerly wind of 30–40 km/h will develop ahead of this approaching low. These winds will tap into milder air and send temperatures back up above freezing for the afternoon. Cloud will move in for Thursday night, which will combine with the breezy southerly winds to keep temperatures mild. Winnipeg should see a low near -2 °C. A few flurries are possible through the second half of the night as this system's warm-sector trough moves through.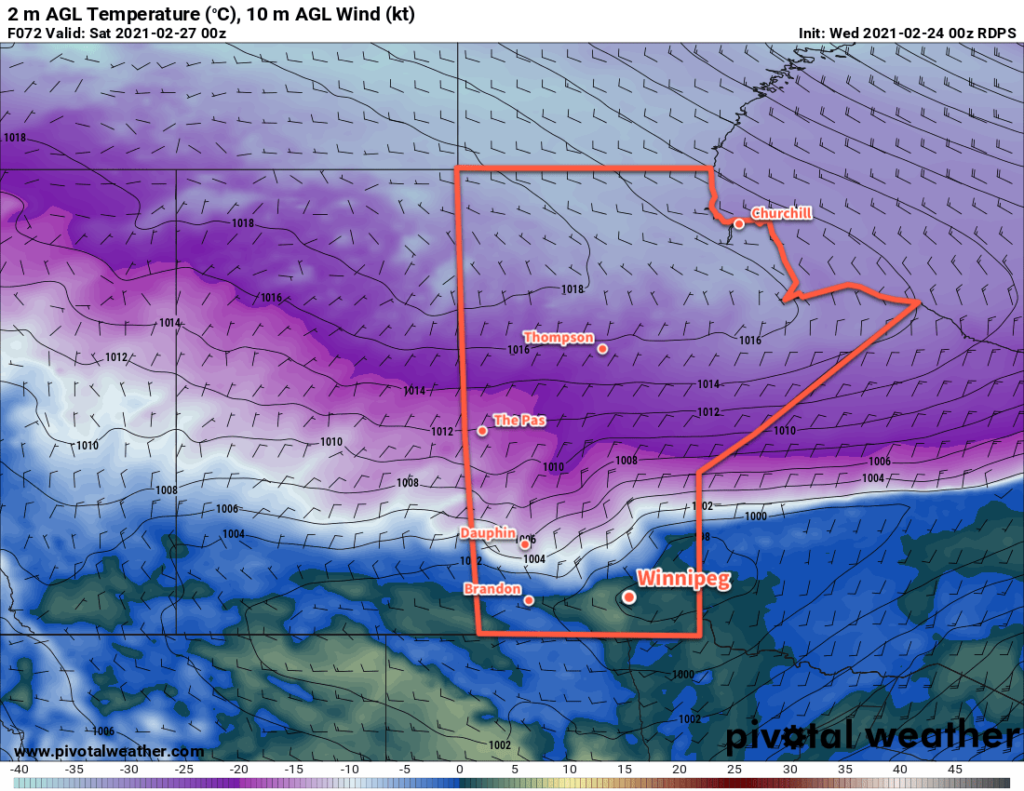 Friday will bring a marked change in the weather as a potent cold front surges southwards behind this low. Temperatures will quickly climb to around +1 °C by midday, but then strong northwest winds will move in as the cold front pushes through. Temperatures will drop to around -10 °C by the evening, then down to -20 °C overnight. Skies will stay mostly cloudy through the day with a chance for flurries once the cold front pushes through for the afternoon.
Long Range Outlook
Temperatures will fall below seasonal values for the weekend with highs in the minus teens and overnight lows dipping down into the mid-minus twenties. After that, warmer weather returns next week with what looks like a prolonged stretch of mild temperatures with highs near the freezing mark.
Today's seasonal daytime high in Winnipeg is -6 °C while the seasonal overnight low is -16 °C.