Many in Winnipeg will remember February for the brutal cold that began the month. March will start on a very different note as spring-like warmth arrives!
After a rather cold night where lows in Winnipeg bottomed out in the low minus 20s, temperatures will climb through the next 36 hours. A Pacific low crossing the central Prairies will push a warm front eastwards, first through Alberta and Saskatchewan today, then Manitoba tonight. In Winnipeg, winds ahead of the front will pick up out of the south to 40 gusting 60 km/h for the afternoon and evening.
Temperatures will climb to a high near -12 °C today, although that wind chill will make it feel rather unpleasant. A sunny start to the day will turn cloudier for the afternoon/evening cloud ahead of the front. There will be a slight chance for some flurries, but the dry southerly ridge outflow winds will likely keep things mostly dry through a majority of the Red River Valley.
Skies will stay mixed to cloudy tonight with winds easing to 30 gusting 50 km/h for most of the night. The warm front will push through overnight, bringing temperatures up to around -2 °C by Tuesday morning.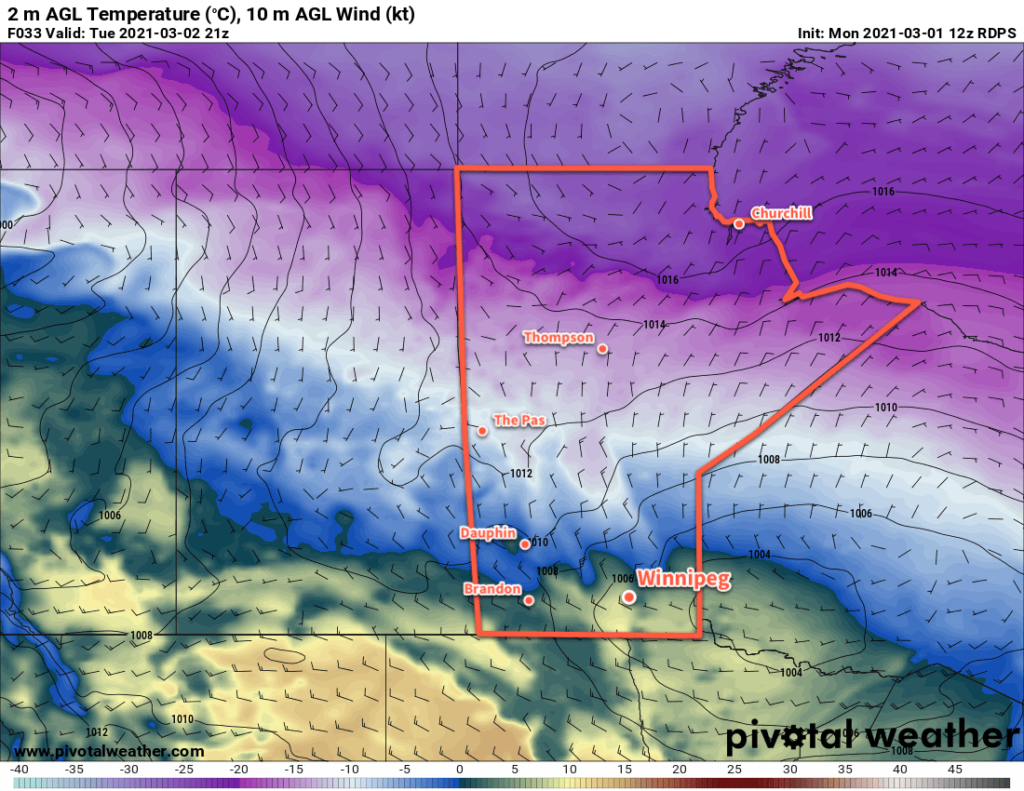 On Tuesday, Winnipeg will see temperatures climb above 0 °C to a high near +4 °C, although warmer highs of 5–10 °C will materialize over the western Red River Valley. Winds will ease in the morning, then gradually veer to the northwest for the afternoon as they strengthen back to 30 gusting 50 km/h. The city will see partly cloudy skies through the day. Winds will drop off quickly on Tuesday evening with skies clearing and temperatures heading to a low near -11 °C.
Mixed to cloudy skies will move in for Wednesday with a light southeast wind. Temperatures will climb back up to a high near the freezing mark. Temperatures will dip to a low near -12 °C on Wednesday night.
Long Range Outlook
More warm air is on the way through the second half of the week as an upper ridge builds across the Prairies. Highs will climb above freezing — perhaps even into the upper single digits — through the second half of the week and into the weekend. The upper ridge should keep any precipitation at bay until next week, where some snow may be possible as the ridge moves off to the east.
Today's seasonal daytime high in Winnipeg is -5 °C while the seasonal overnight low is -15 °C.