Winnipeg will see a blast of April snow as a spring storm stalls over the region.
A slow-moving upper-level vortex will slump into the northern Plains of the United States today and stall over the area. This feature will support a deep and persistent stream of moisture from eastern North America into southern Manitoba for the next couple days. As a result, Winnipeg and region will see waves of snow spread westwards across the region today and tomorrow.
Winnipeg will see snow through the day today with accumulations of 5–10 cm by the evening. Moderate northerly winds near 40 gusting 60 km/h will accompany the snow, but the relatively warm conditions should limit the severity of any blowing snow that may develop. That said, visibilities may deteriorate rapidly at times in pockets of heavier snow. Temperatures will hover around -1 °C through the day.
The snow will continue tonight with winds of 30–40 km/h. Blowing snow might become a bit more of an issue overnight as temperatures drop a bit more to a low near -5 °C. Another 5–10 cm of snow is possible overnight.
Periods of snow will continue on Tuesday with temperatures climbing back to a high near -1 °C. Another 4–8 cm of snow is possible through the day. The snow will taper off Tuesday night, but skies will stay cloudy. The wind will ease into the 20–30 km/h range by Wednesday morning with temperatures dropping to around -5 °C again.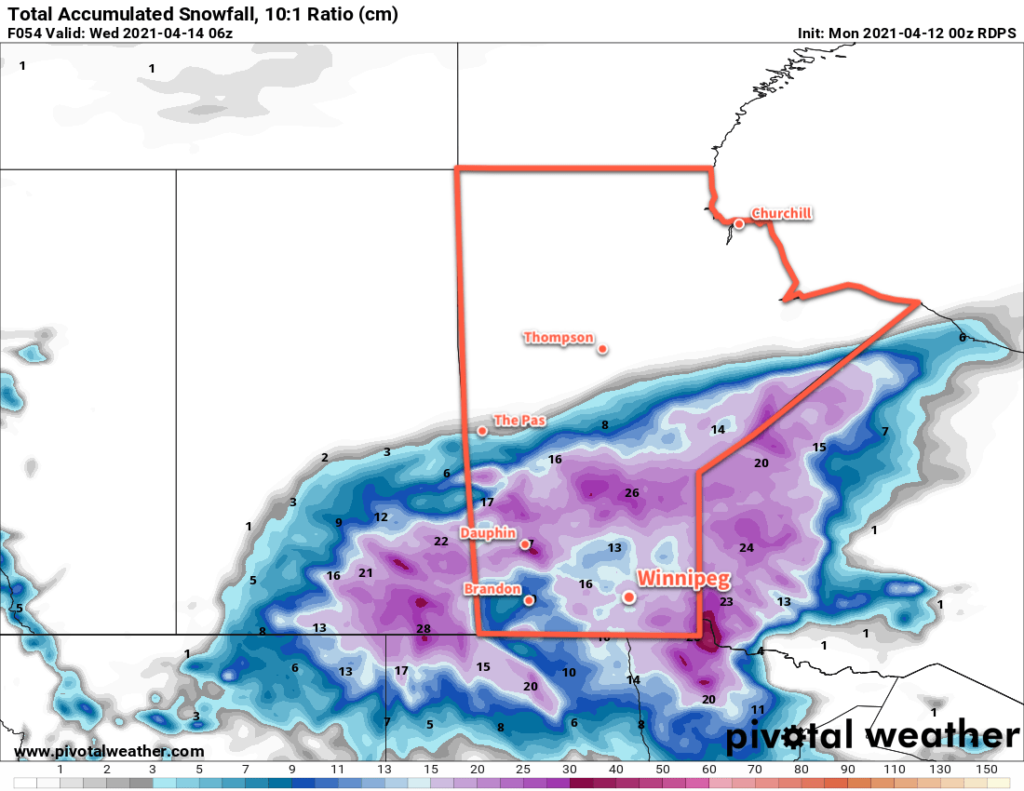 On Wednesday, the whole vortex will push off into eastern Canada, leaving the region with mostly cloudy skies and a chance of flurries. Temperatures will climb back above freezing with a north wind near 20 km/h.
By the time the snow tapers off, this system will have the potential to produce as much as 15–25 cm of snow for the Winnipeg area. The final total, though, will likely end up less than that; a combination of melting early in the event and compaction as it progresses should reduce the total accumulation somewhat. That said, it will likely still be enough to produce poor travel conditions and bring the region a short return to winter.
Long Range Outlook
The sun will return to the region by the end of the week, but seasonably cool conditions will persist. Winnipeg will see highs of 2–5 °C on Thursday and Friday, then climb into the 5–10 °C on the weekend. To start next week, the region will likely see variable cloudiness with near-seasonal temperatures.
Today's seasonal daytime high in Winnipeg is 9 °C while the seasonal overnight low is -3 °C.