Seasonably cool conditions will continue for a couple more days in Winnipeg as Arctic air spills southwards.
A strong northerly flow aloft will continue over the Prairies for another couple more days. Supported by a strong upper ridge over British Columbia and a stalled vortex over Hudson Bay. This will push an Arctic high southwards through the Prairies over the next 48 hours and bring well below-seasonal temperatures.
In Winnipeg, the city will see a sunny start to the day, then temperatures will climb to a high near +3 °C with northerly winds picking up to around 30 km/h. A disturbance slumping southwards will bring cloud into the region this afternoon, bringing mostly cloudy conditions and a slight chance of flurries. The cloud cover will break up tonight with temperatures heading to a low near -6 °C with light northerly winds.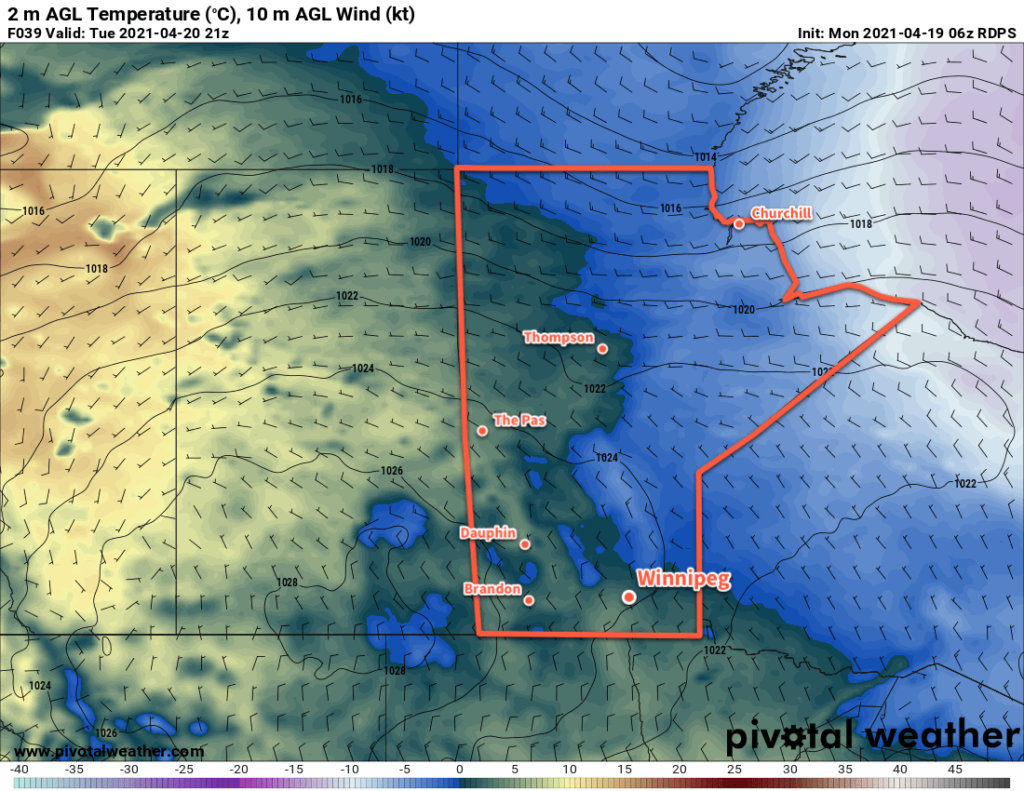 The city will see mixed skies on Tuesday as the Arctic high moves from the southern Prairies into the United States. It will be another cool day with a high near +2 °C and again there might be a few isolated flurries with the cloud cover. The northerly winds won't be as strong as Monday as they pick up to around 20 km/h. The cloud cover will clear out overnight with a low near -5 °C with light winds.
With the Arctic well to the south for Wednesday, westerly winds will move back into the region. This will spread seasonal temperatures back into the Red River Valley with highs reaching 11 or 12 °C. Winnipeg should see plenty of sun with those westerly winds in the 20–30 km/h range. Skies will clear for Wednesday night with a low near +1 °C.
Long Range Outlook
Mild temperatures will move into the region on Thursday as an area of low pressure moves through the province. Highs will climb into the upper teens with breezy westerly winds. A cold front will sweep through the region on Thursday night, bringing cloud, a chance of showers or flurries, and below-seasonal temperatures back to the region for Friday. The sun should reappear for the weekend with temperatures gradually climbing back towards seasonal values.
Next week looks to be on the cloudier side as more unsettled conditions develop across the eastern Prairies.
Today's seasonal daytime high in Winnipeg is 12 °C while the seasonal overnight low is 0 °C.