After a cool and windy Friday, temperatures will gradually return towards seasonal values in Winnipeg.
Today will start with moderate northerly winds behind a cold front that moved through overnight. Winnipeg will start off cloudy with north winds near 30 gusting 50 km/h. There will be a chance of flurries early followed by the cloud cover breaking up and clearing through the afternoon. Temperatures will climb to a high near 5 °C. A ridge draped across the region will bring mainly clear skies tonight with a low near -7 °C
The ridge will slide off to the southeast on Saturday, bringing mainly sunny skies to the region. Temperatures will recover a bit with a high near 8 °C and light winds. A few clouds will move in overnight with temperatures falling to a low near -1 °C.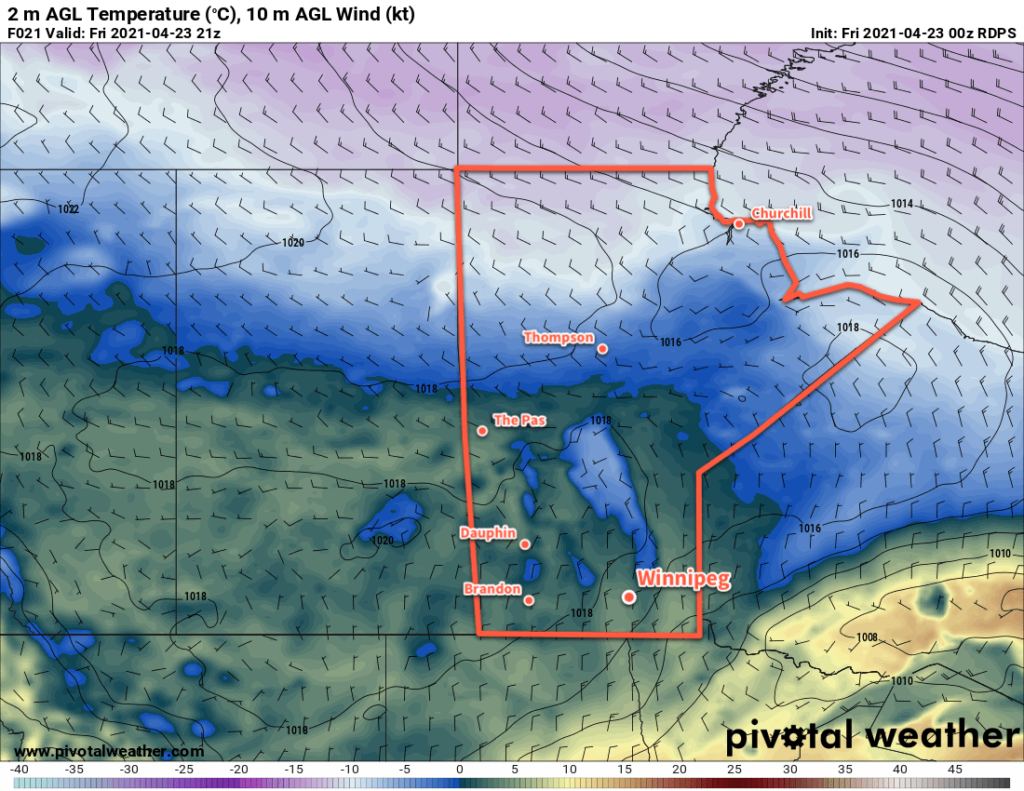 Sunday will bring increasing cloud to the region as a long-wave upper trough begins to dig over western North America. Temperatures will nudge closer to seasonal values with a high near 11 °C as southerly winds strengthen to around 30 km/h. Skies should be cloudy by the afternoon and will stay so right through the night. A low pressure system moving into the region will bring a chance of rain to the region late overnight, but the main chance for organized rainfall will wait until Monday. Winnipeg will see a low near +2 °C on Sunday night.
Long Range Outlook
The new work week will start with cloudy skies and a chance of rain with a high in the upper single digits. After the low pressure system moves through, the forecast shows variable cloudiness with temperatures warming into the mid- to upper teens.
Today's seasonal daytime high in Winnipeg is 13 °C while the seasonal overnight low is 1 °C.