It will be a windy transition day in Winnipeg today as a warm front pushes across the region. Heading through the weekend, a mild Saturday will give way to unsettled conditions on Sunday.
A warm front will push eastwards across the province today, bringing afternoon cloud and breezy southerlies to Winnipeg. Temperatures will climb to a high near 13 °C with south winds increasing to 40 gusting 60 km/h midday. The city will see a sunny start to the day, but clouds will move in for the afternoon ahead of the warm front. There may be a slight chance of a rain shower in the evening as the front moves through, then skies will clear up for the night. The city will see a low near 5 °C with easing winds.
An upper ridge over the region will bring mild weather to Winnipeg on Saturday. Under partly cloudy skies, the city will see a high near 21 °C with northerly winds up to 20 km/h. More organized cloud cover will begin to move into the region late in the day as an upper trough approaches. There will be a chance of showers overnight with a low near 6 °C.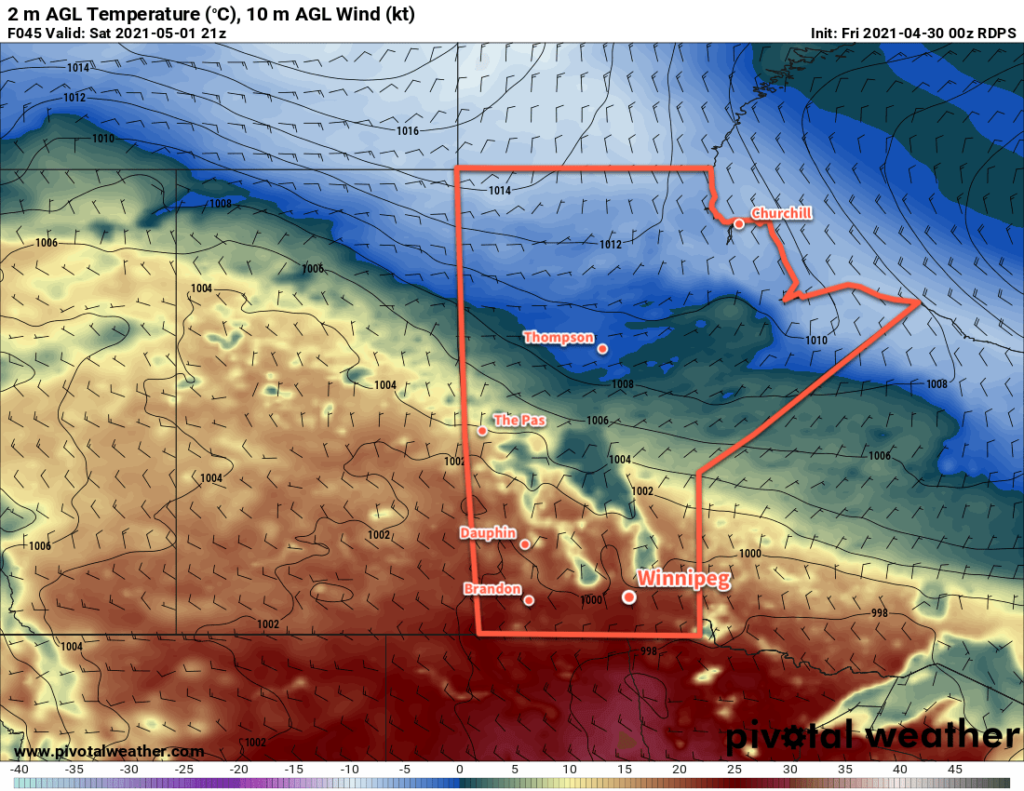 On Sunday, skies will stay on the cloudier side as the upper trough slowly moves through the region. Some sunny breaks are likely, but the region will also see a good chance of showers. Winds will stay out of the north at 20–30 km/h and highs will be cooler at around 13 °C. The chance for showers will taper off Sunday night with a low near +1 °C.
Long Range Outlook
Forecasts show a fairly stable pattern next week with daytime highs in the low to mid-teens and overnight lows in the 0–4 °C range. The start of the week is forecast to be fairly sunny, though mid-week might be a bit cloudier. The forecast shows no notable chances for rain.
Today's seasonal daytime high in Winnipeg is 16 °C while the seasonal overnight low is 2 °C.