The seasonably cool temperatures entrenched over the Winnipeg area the past week are finally on the way out! Warmer weather will return to the region this week under sunny skies.
An upper high moving across the region will dominate the weather pattern over the coming days and bring Winnipeg plenty of sunshine. As it slides eastwards, the upper trough that had been suppling the region with cooler temperatures will shift off as well. This will allow milder Pacific air to push into the eastern Prairies.
In Winnipeg, this will mean nothing but sun and warming temperatures. The city will see ample sun over the next 3 days with daytime highs climbing from a seasonably cool 13 °C today up to 21 °C by Wednesday. Lows will also climb from around the freezing mark tonight to the upper single digits by Wednesday night.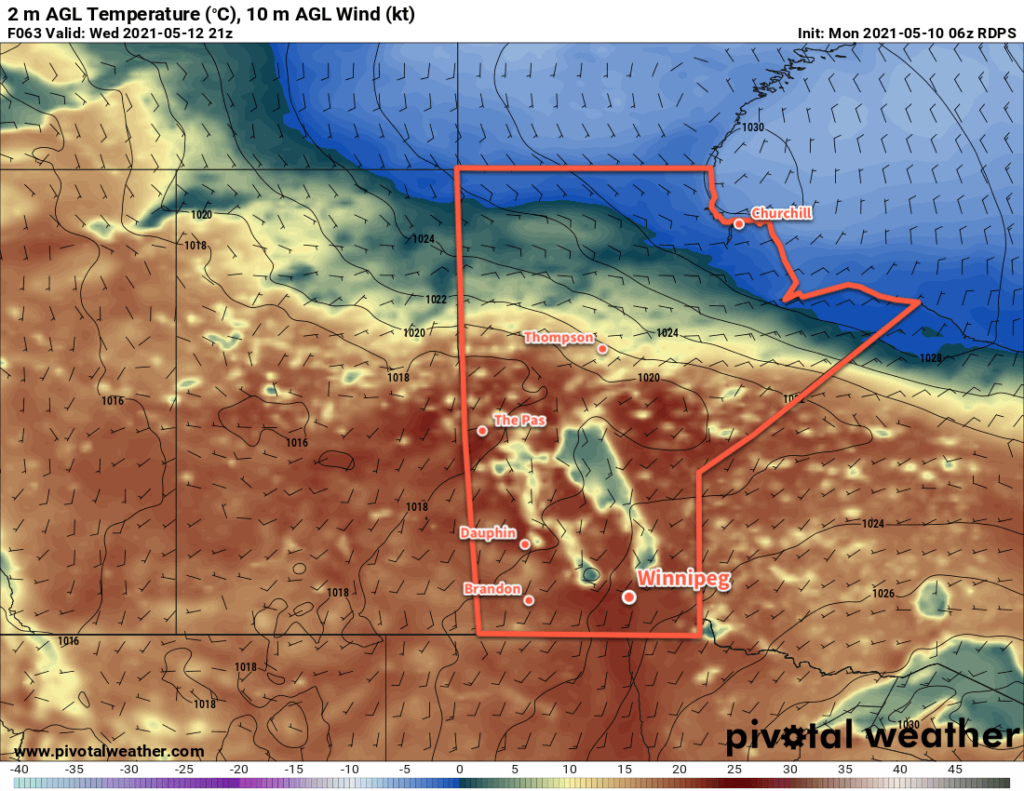 Winds will gradually shift over the coming days. Today will bring northeast winds around 20 km/h today ahead of last Arctic ridge moving through the province. On Tuesday, winds will be light out of the south as the high slumps off to the southeast. On Wednesday, winds will pick up out of the south to around 30 gusting 50 km/h as warmer temperatures arrive.
Long Range Outlook
The rest of the work week will bring highs in the low 20s and lows of 5–10 °C. Fire conditions will deteriorate through the week as the increasing warmth combines with wind and low daytime relative humidities. A few daytime showers might be possible later in the week, but they wouldn't amount to anything that would make any noticeable impact on the worsening drought over the region.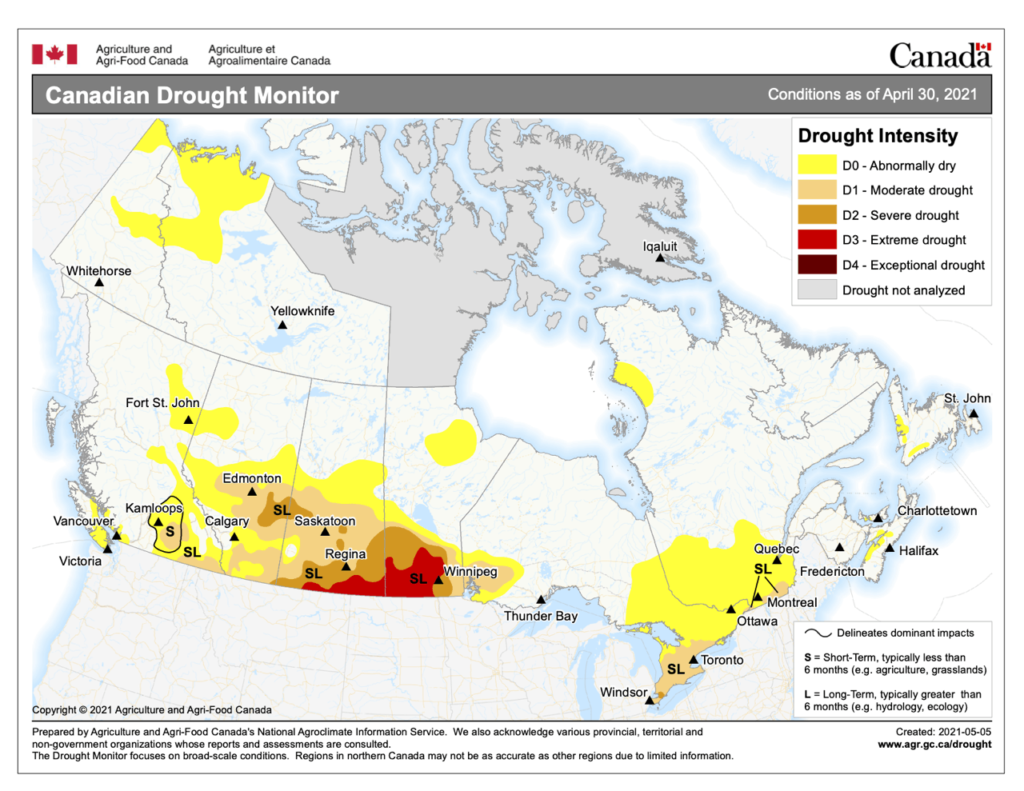 While conditions at specific locations may be a bit better than depicted here, the impacts of the drought are showing. The City of Morden has implemented water use restrictions due to severe drought conditions, the City of Winnipeg had to deal with numerous grass fires over the weekend, and Sandilands Provincial Forest now has one of the first out of control forest fires of the season. With the dry conditions continuing through the week, Municipal Burning Restrictions and Provincial Burning Restrictions may expand.
Fortunately, a pattern change this weekend will bring several days of cloudier, more unsettled conditions. Southern Manitoba will likely see accumulating rainfall from Saturday into the middle of next week. At least 5 mm of rain is likely for most areas over that period, but more than 10 mm may be possible. The exact nature and distribution of the rainfall will become more clear later in the week as the disturbances develop.
Today's seasonal daytime high in Winnipeg is 19 °C while the seasonal overnight low is 5 °C.