Temperatures will soar in Winnipeg through the second half of the week as a potent upper ridge builds across the Prairies.
The heat will be remarkable for early June as temperatures climb through the 30s over the next few days. The heat will likely challenge records for the Winnipeg area, particularly on Thursday and Friday. Thursday's high of 33 °C will challenge the existing record of 32.8 °C set in 1968. Friday's intense push of heat will send highs into the upper 30s and likely break the existing record high of 35.6 °C set in 1988. The overnight lows may even challenge record warm minimum temperatures which sit at 18.3 °C for both June 4th and 5th, set in 1976.
Environment and Climate Change Canada has issued a heat warning for much of southern Manitoba. Tips to beat the heat can be found on the City of Winnipeg's emergency preparedness page.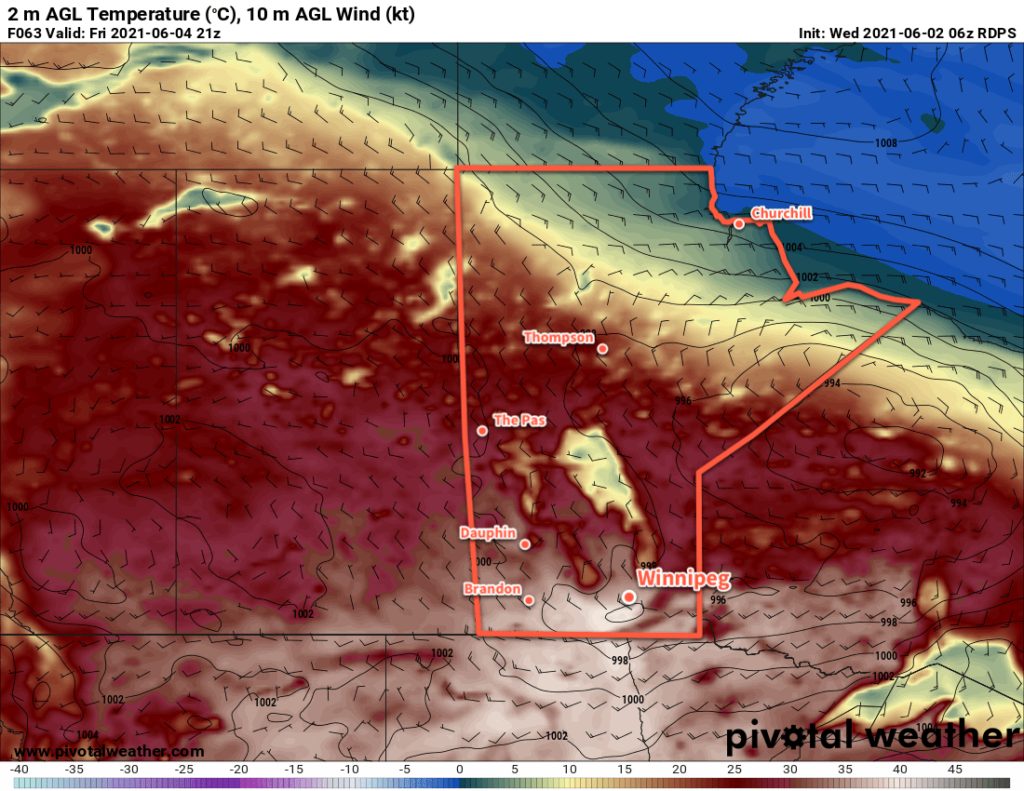 The city will see plenty of sun throughout the next few days. The most notable non-heat element of the weather will occur overnight into early Thursday morning. A strong upper-level jet will generate some showers and/or thunderstorms over the northern Prairies on Wednesday afternoon. This cluster of instability will move southwards into southern Manitoba through the evening and overnight hours. Winnipeg will see a chance of showers or thunderstorms overnight with the highest chance after midnight. These storms won't have any organized risk of severe weather, but dry low-levels mean that some moderate to strong wind gusts will be possible with them as they move through.
Some lingering cloud from these systems will stick around on Thursday morning, then skies should clear for the afternoon.
Long Range Outlook
The heat will continue with daytime highs in the 30s on Saturday, then highs will ease back into the upper 20s Sunday into next week. Conditions will also turn more unstable this weekend, with an increasing chance of showers or thunderstorms beginning Sunday night and persisting into next week. The above-seasonal warmth will persist right through next week with highs in the mid- to upper-20s and lows of 15–20 °C.
Today's seasonal daytime high in Winnipeg is 22 °C while the seasonal overnight low is 9 °C.