A cold front sweeping across the Prairies will bring seasonal temperatures back to southern Manitoba after one more mild day.
It will be another mild day today in Winnipeg with a high near 21 °C as southerly winds continue to push warmer air north. Those winds will be breezy at around 30 gusting 50 km/h midday into the afternoon. The upper ridging over the region will continue to keep skies mainly sunny.
Things will change tonight, though, as a low crosses the province. A cold front will sweep southeastwards across the region overnight, ushering in a more seasonal air mass. Winnipeg will see the cloud cover increase overnight with temperatures dipping to around 6 °C. Those southerly winds will taper off overnight, then pick up out of the north to 30 km/h by Tuesday morning.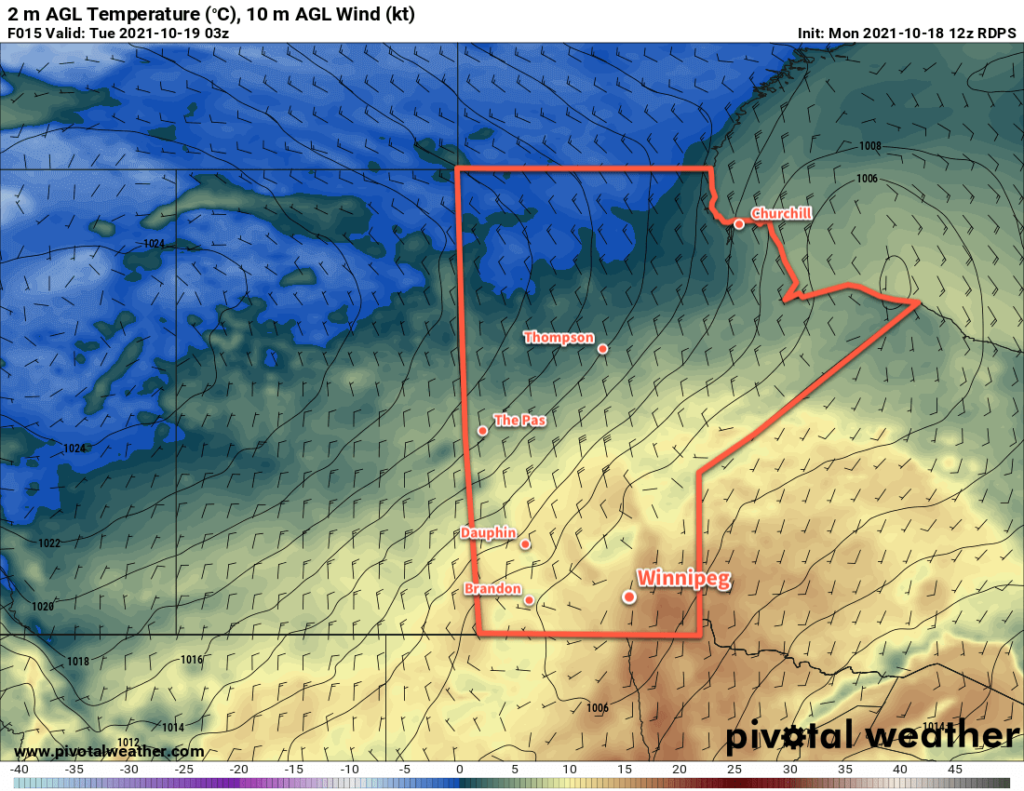 For the rest of the week, a broad area of high pressure will slowly settle into Manitoba. For Tuesday and Wednesday, it will bring northerly winds to the region and send temperatures back to near-seasonal values. It will be quite windy on Tuesday with northerly winds up to 40 gusting 60 km/h, but Wednesday will see those winds ease into the 20–30 km/h range. A cloudier start on Tuesday will see clearing later in the day. Wednesday should bring fairly sunny conditions save for any low cloud that streams off of Lake Manitoba and Lake Winnipeg.
Winnipeg will likely see frost and/or hard freezes beginning Tuesday night for the rest of the week. That's not unusually with a seasonal low near -2 °C, but the city has managed to avoid it often so far this fall.
Long Range Outlook
Temperatures will cool to slightly below seasonal temperatures for the second half of the week with highs in the mid-single digits. Overnight lows will have at or just below seasonal values as well. Conditions will stay dry, but there is a chance for some lake-effect precipitation at the end of the week.
Today's seasonal daytime high in Winnipeg is 9 °C while the seasonal overnight low is -2 °C.