Winnipeg will see a blustery return to warmer weather today as more snow moves into the region.
A low pressure system moving towards the region has brought strong southerly winds to the Red River Valley this morning. Like on Tuesday, the blowing snow will hamper visibilities on area highways this morning. Fortunately, the winds will ease through the morning and bring an end to the blowing snow.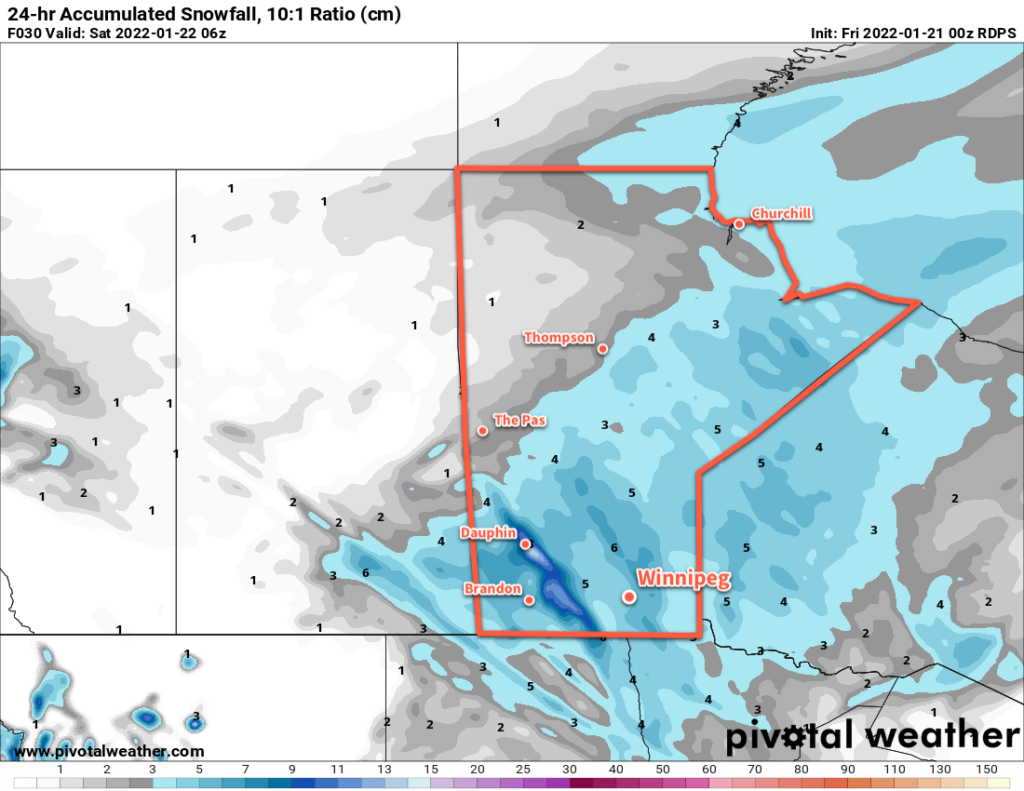 A frontal wave slumping through the province this morning will bring more snow to the region as well. Snow should begin early this morning with close to 5 cm of accumulation by the time it tapers off in the afternoon. A strong cold front will sweep through the region in the afternoon ushering in strong northwest winds with a few flurries. These northwesterly winds will bring some more blowing snow to the Red River Valley through Friday evening.
The frontal wave moving through the province today will bring mild temperatures to the Red River Valley. Winnipeg should see a high this afternoon near -5 °C. That warmth will be short-lived, though, as another Arctic air mass slumps in behind the cold front. Temperatures will head down to the -20 to -25 °C range tonight.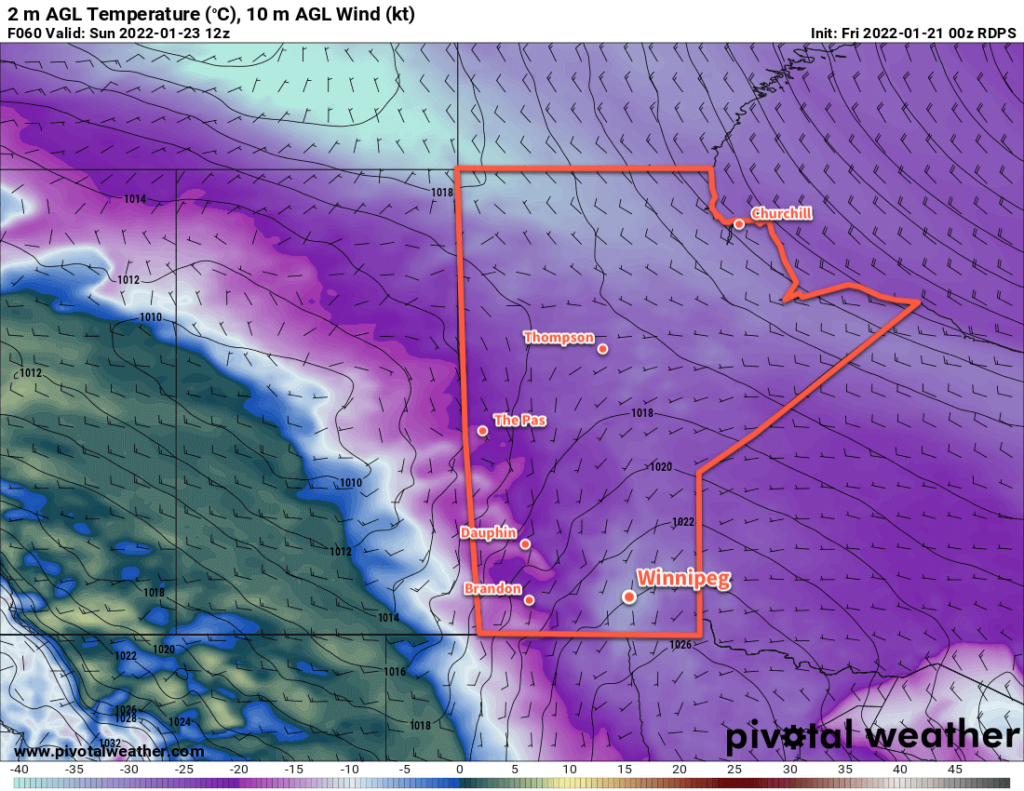 Behind this system, Winnipeg will see cooler conditions for the weekend, but not quite as bad as some of the other cold snaps lately. Highs this weekend will be in the -15 to -20 °C range both Saturday and Sunday. Saturday night will be quite cold with lows possibly dipping back below -30 °C again.
More cloud will move into the region on Sunday as a warm front pushes in from the west. Some light snow is possible in the afternoon, but it won't be much more than a dusting. With the cloud cover and the nearby warm front, temperatures will be a bit warmer on Sunday night with a low in the -20 to -25 °C range.
Long Range Outlook
Next week will start off with colder temperatures again as another Arctic high slumps through the Prairies. Monday and Tuesday will bring daytime highs of -20 to -25 °C and and lows in the again dipping close to -30 °C.
The good news, though, is that the Polar Vortex is forecast to collapse northwards from the Baffin Island region. Its movement back toward the pole will bring a broader pattern change to Prairies. The Arctic air will be locked up further north, allowing Pacific air to spread over the region. Winnipeg will see temperatures climb to seasonably mild values for the second half of next week. The city will see highs generally in the -5 to -10 °C range.
There will likely be a fair amount of cloud around and frequent chances for some light snow, but perhaps that's a small price to pay for some more prolonged relief from the cold.
Today's seasonal daytime high in Winnipeg is -13 °C while the seasonal overnight low is -23 °C.