An Alberta clipper is bringing heavy snow to the province, but the worst conditions will arrive upon its exit. Blizzard conditions will develop Tuesday afternoon, followed by bitterly cold temperatures mid-week.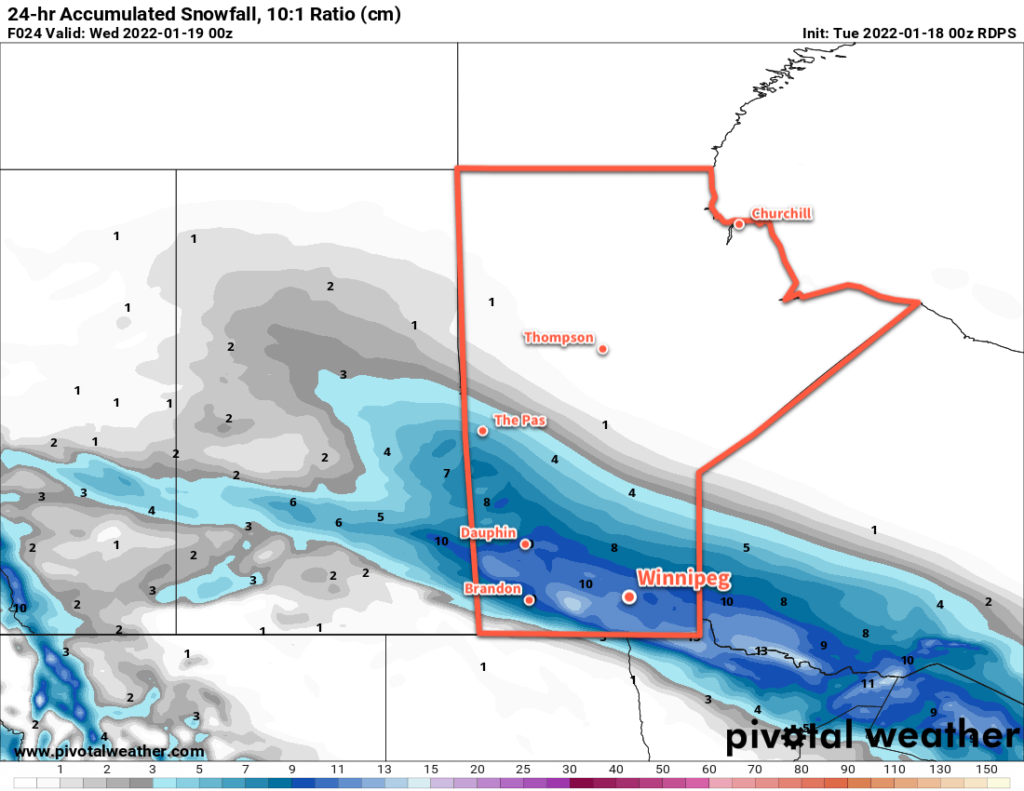 The heavy snow has arrived in the Red River Valley and will continue until around midday. The heaviest snow will exit to the east with the clipper itself, but a few flurries will continue through the day. Conditions will continue to deteriorate behind the low as northerly winds increasing to 50 gusting 70 km/h.
Widespread blowing snow will develop on Tuesday afternoon from the Parkland region into the Red River Valley. The worst visibilities will occur in the Red River Valley Tuesday evening through the night. Ample quantities of fresh snow combined with howling northwesterly winds and falling temperatures will produce [near-]blizzard conditions. It will be a unpleasant and dangerous night out in the open.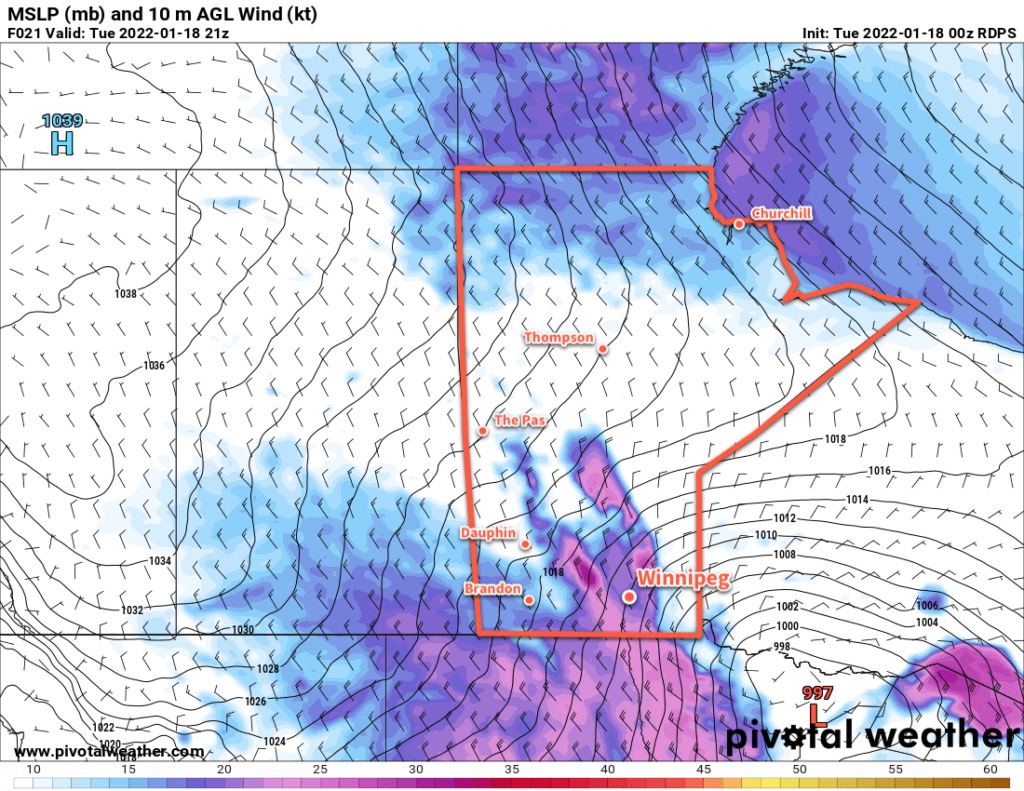 Temperatures will reach a high in the -5 to -10 °C range early Tuesday, then fall through the rest of the day. The region will see lows into the -20 to -25 °C range by Wednesday morning.
The winds will begin to ease Wednesday morning, bringing an end to the blowing snow. It will be cold on Wednesday with temperatures barely recovering a few degrees from the overnight low as skies clear. Temperatures will plummet down below -30 °C on Wednesday night. Extreme cold warnings are likely across much of southern Manitoba on Wednesday night as wind chill values of -40 to -45 will be widespread.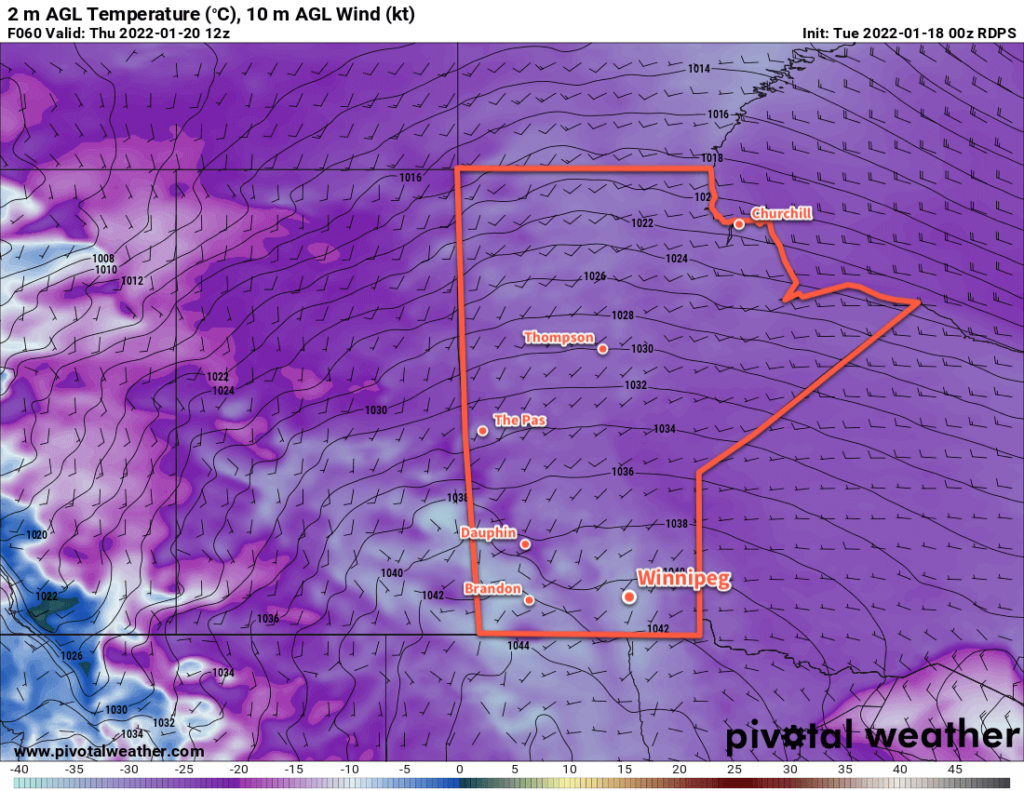 Thursday will also be cold with highs in the -20 to -25 °C range and light southerly winds. A warm front pushing across the Prairies will bring cloud to the region on Thursday night with temperatures rising close to -10 °C by Friday morning. That warmer weather won't come without a cost, though. As it moves into the region on Thursday night, southerly winds will strengthen into the 40–50 km/h range.
Long Range Outlook
The winds will ease on Friday with a high in the -5 to -10 °C range. Some snow will move through southern Manitoba — perhaps close to 5 cm — followed by a cold front later in the day. Northwest winds near 30 gusting 50 km/h will move in behind the front, sending lows back into the -20 to -25 °C range overnight.
The weekend will bring seasonably cool conditions with highs in the -15 to 20 °C range and overnight lows near the -20 to -25 °C range. Saturday should bring sunshine, but some flurries may be possible on Sunday as another disturbance brushes by the region.
Today's seasonal daytime high in Winnipeg is -13 °C while the seasonal overnight low is -23 °C.