Southern Manitoba will see a mix of weather this week with more rain on Thursday.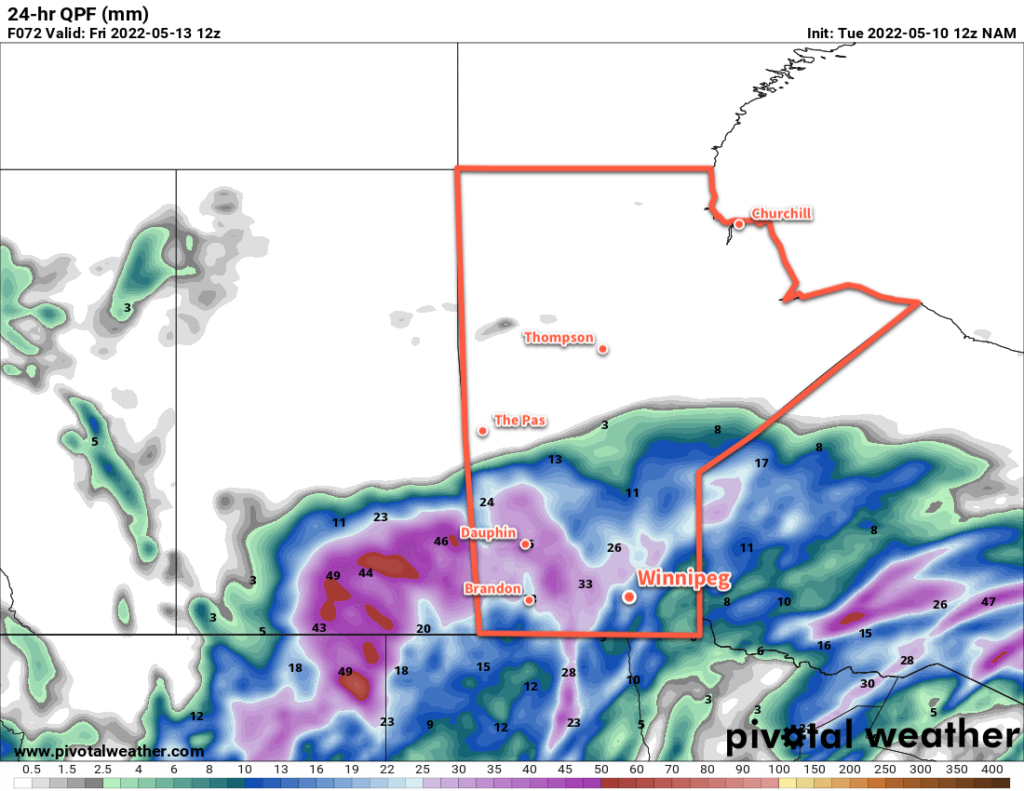 The region will get a bit of a chance to dry out today, a welcome change after the 15–25 mm of rain seen across most of the region yesterday. Sunnier skies will send highs near 20 °C, but it will be windy this afternoon. Southwest winds will pick up into the 40–50 km/h range this afternoon.
The winds will taper off this evening as a ridge moves across the region. Lows will dip into the upper single digits. More cloud will push into the region early Wednesday morning as a push of warmer air begins moving in aloft from the Dakotas.
Wednesday will bring cloudy skies to the region with a chance of showers a warm front slowly continues northwards towards southern Manitoba. Temperatures should climb into the upper teens with northeast winds picking up to 20–30 km/h through the afternoon. A few sunny breaks might materialize later in the day, but skies will cloud back over in the evening.
The next storm system to impact the region will begin its approach on Thursday night. It will spread showers and thunderstorms into the Dakotas as it moves northwards, reaching the Manitoba border by Thursday morning. A broad area of rain will move through the region on Thursday, bringing another 15–30 mm of rain to the Red River Valley. A few embedded thunderstorms will be possible and could result in locally higher rainfall accumulations. A more organized thunderstorm threat will develop late in the day, but will highly likely be for southeastern Manitoba into MN/ND. The rain will taper off by Thursday evening with just a few lingering showers hanging around until Friday morning. Temperatures will sit in the mid-teens on Thursday with breezy northeast winds.
Some sunshine will poke through later on Friday with temperatures climbing back towards the 20 °C mark. Moderate southwesterlies will develop through the day, climbing into the 40–50 km/h range.
Long Range Outlook
Cooler temperatures will build into the region for the weekend in the wake of this next storm system. Highs will fall into the 10–15 °C range with mixed skies over the weekend. Warmer weather will begin building back into the region near the middle of next week. Fortunately, it doesn't look like any frost is in the forecast; overnight lows should drop only to the mid-single digits.
Today's seasonal daytime high in Winnipeg is 18 °C while the seasonal overnight low is 4 °C.