After a windy day today, conditions will settle down with a stretch of cooler and drier weather ahead.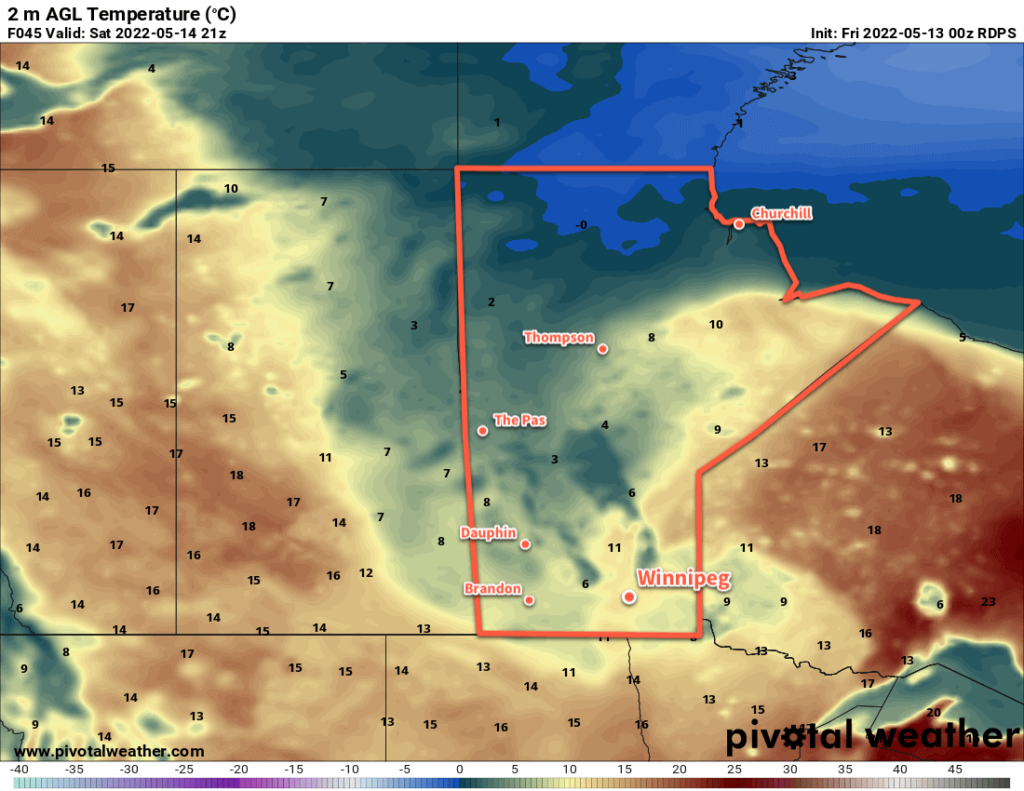 With the overnight rain now well to the north, the weather in Winnipeg today will be marked by the passage of a strong low pressure system to the west. As it lifts northwards, southerly winds will strengthen over the Red River Valley. Most areas will see winds as high as 50–60 km/h this afternoon with gusts up to 80 km/h possible. Skies will stay mostly cloudy through the morning, with more breaks in the cloud developing this afternoon. Conditions should be drier though, with just a chance of some scattered afternoon showers. Temperatures will hover in the low teens through the day today.
The low will push off into northern Manitoba tonight, bringing a bit of clearing into the region as the winds ease to around 30 gusting 50 km/h. Temperatures will dip down to the upper single digits. Some more cloud will push back into the region later on Saturday as an upper-level disturbance skirts along the border. This will also bring a few showers to the region that taper off in the evening. It will be another breezy day with southwesterly winds of 30–40 km/h.
Temperatures will be cool on Saturday and for several days after that. A northwesterly flow will usher in a high pressure system from the Arctic over the next few days. Daytime highs will be well below seasonal, particularly on Sunday and Monday. Daytime highs will struggle to climb much higher than 10 °C on either of those days. Overnight lows will also dip into the low single digits, with even a chance that we might dip below freezing on Monday night. The upside to the cooler conditions is that it will also bring drier weather. No significant rain is in the forecast for the next several days.
Long Range Outlook
Temperatures will begin to creep back towards seasonal values in Winnipeg towards the middle of next week. Showers will be possible through the second half of the week, but at this point it doesn't look like they'll produce very significant amounts of rain for the region.
Today's seasonal daytime high in Winnipeg is 19 °C while the seasonal overnight low is 5 °C.