The heat will gradually amplify across southern Manitoba over the coming days as a hot and humid air mass builds into the province.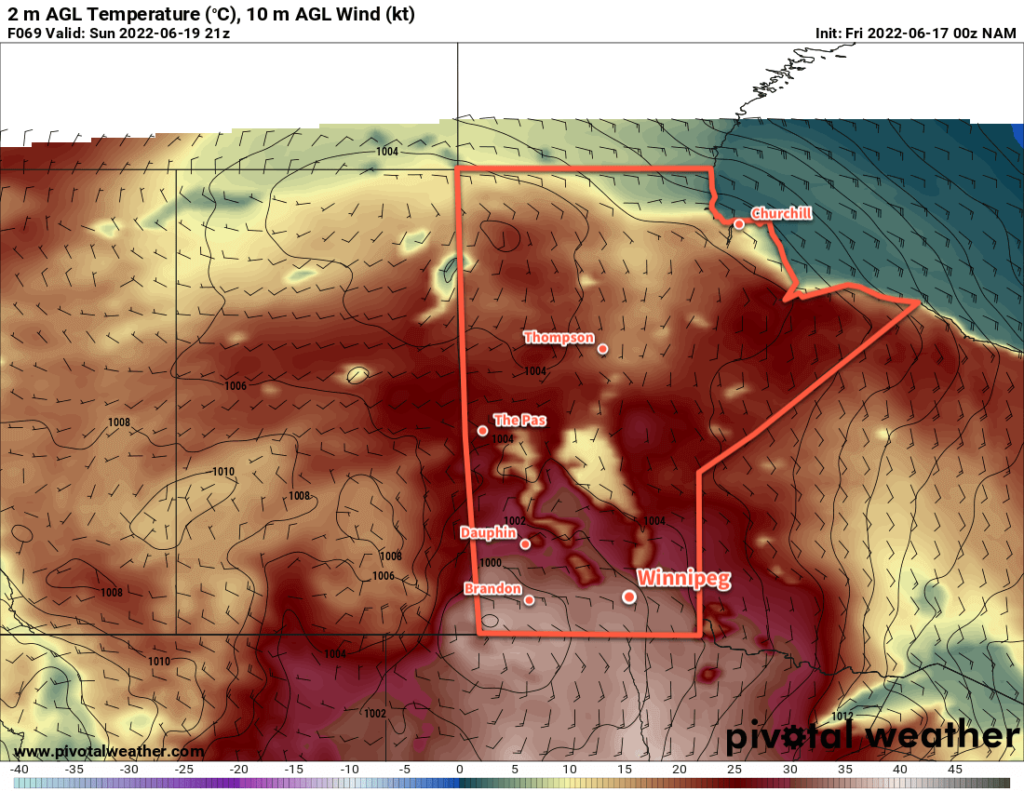 After a couple cool, windy, and showery days across the region, summer weather is quickly rebounding back into southern Manitoba. Driven by an intensifying upper ridge, Winnipeg will see near-seasonal conditions today quickly heat up into the weekend.
It will be a beautiful day in Winnipeg today with temperatures climbing to the mid-20s under sunny skies. Winds won't be much of an issue, swinging around to the east for the afternoon and picking up to around 20 km/h. Humidity will stay comfortable through the day with dew points around 10 °C. Temperatures will drop into the mid-teens tonight with some cloud moving into the area as a warm front approaches.
Saturday will bring a cloudy start to the day with some showers or thunderstorms possible through the morning into midday. Some sunny breaks will develop in the afternoon as temperatures head to a high in the upper 20s. Winds will strengthen out of the southeast to around 40 km/h with gradually increasing humidity. The dew point will climb into the mid- to upper-teens by the end of the day as the warm air continues to push into the region. Temperatures will stay very warm on Saturday night, only dropping into the low 20s with a gradually diminishing wind.
Sunday will bring dangerous heat to southern Manitoba as the mercury soars and very humid conditions develop. With partly cloudy skies, temperatures on Sunday will climb into the low to mid-30s across most of southern Manitoba. As this happens, dew points will rise rapidly as the day warms up, increasing from the mid-teens up into the 20–25 °C range through the morning. This heat and humidity will produce humidex values of 40–45, making for weather that can be dangerous to be exposed to for extended periods.
In preparation for the heat, ensure that if you have air conditioning its in working order. Limit your exposure to the heat on Sunday, drinking plenty of water and ensuring you can find breaks to cool off whether it be indoors, shade, or other cooling opportunities such as city-run splash pads (great for the kids!). If you know anyone at risk for heat-related illnesses such as elderly individuals, those without air conditioning or access to cool spaces, or some with other forms of chronic illnesses, organize a plan to check in with them or provide some way of cooling off. Be sure to check out more information about preparing for and managing heat-related illnesses.
Sunday night will also stay very warm with overnight lows only dipping into the low 20s. Some showers or thunderstorms are likely on Sunday night, but they will likely avoid the Red River Valley. They should develop well to the west-northwest and likely pose a more notable risk to the Parkland and Interlake regions.
Long Range Outlook
Hot weather will continue on Monday, but it won't be quite as extreme as seen on Sunday; highs in the low 30s will combine with dew points easing into the upper teens. This will produce humidex values of 35–40, which when combined with the second night of very warm lows may still be an issue for some. Conditions will turn more unsettled for the rest of the week as cooler air brings more seasonal conditions back to the region.
Today's seasonal daytime high in Winnipeg is 24 °C while the seasonal overnight low is 11 °C.