Winnipeg will see another day of sunny and mild conditions before cloudier, unsettled weather moves into the region.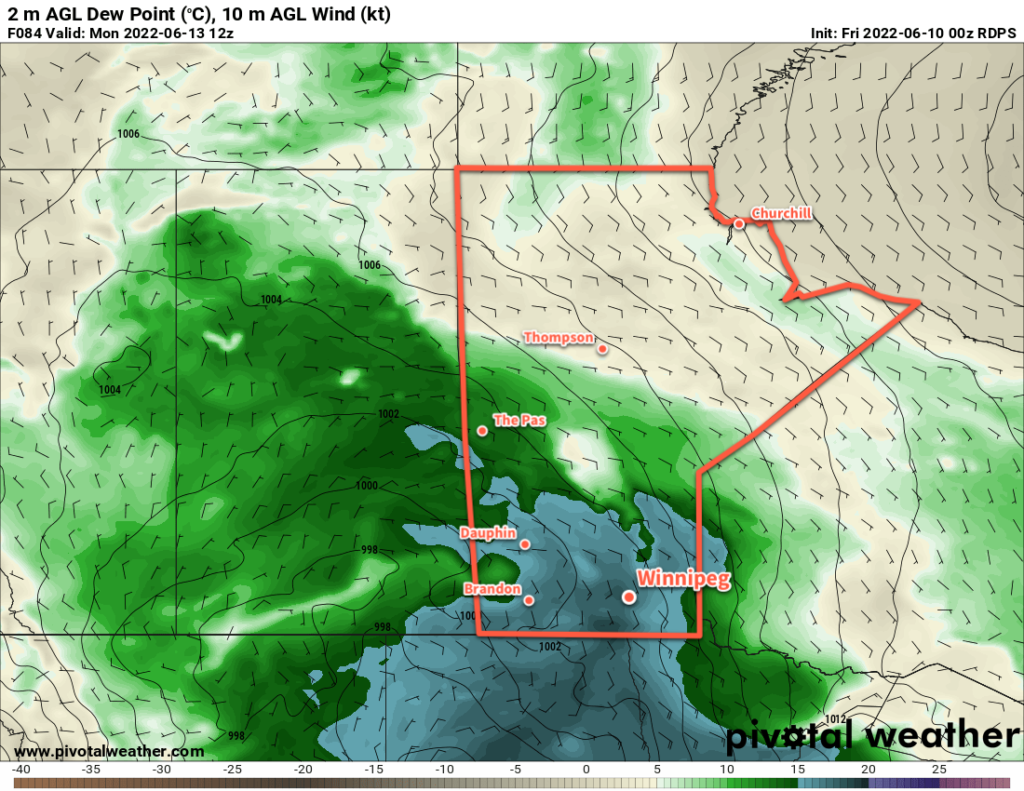 Today is Winnipeg's last day under the influence of the upper ridge over the Prairies. After a mostly sunny start to the day, temperatures will climb into the mid-20s for the afternoon. Skies will cloud over through the day as a warm front approaches from the west.
A few showers may be possible this evening, but the activity will weaken though the night. The warm front will stall southwest of the region on Saturday and continue to bring cloud to the region. A few showers may linger across the region early Saturday, but should taper off as the morning progresses.
From Sunday onwards, the upper ridge will slump southwards, allowing multiple disturbances to ride over it across the southern Prairies. While cloud will keep daytime highs in the low to mid-20s, southerly winds will raise dew points into the upper teens. This will give the region the first stretch of humid conditions this summer. Another chance of showers or thunderstorms will develop across the region on Saturday night into Sunday morning. That activity will clear out on Sunday morning, leaving behind mixed to cloudy skies for the rest of the day.
Long Range Outlook
Generally unsettled conditions will persist through the first half of next week as several disturbances roll through the region. A few periods of showers or thunderstorms will again be possible on Monday and Tuesday. Conditions will begin to improve on Wednesday with some sunshine returning the region, but there may be enough lingering instability for a few late-day showers.
Heading into the second half of next week, there's strong indications that even warmer weather will begin moving into the region. Daytime highs may climb into the upper 20s by the end of next week.
With humid and warmer weather on the horizon, it's a great time to check to make sure you have some fans in your home and that, if you have it, your air conditioning unit is working correctly. Heat stress is becoming more common in western Canada summers; ensuring that everything works before the warm weather arrives will help protect you. If there are any issues, you'll likely find what you need easier and cheaper before the heat arrives. If you live alone, think about having someone you might check in with daily this summer during periods of extreme heat, especially if you don't have access to air conditioning.
It looks like the shift into summer has finally begun; enjoy it! Especially after the winter we just had to endure!
Today's seasonal daytime high in Winnipeg is 23 °C while the seasonal overnight low is 10 °C.