The heat will slowly build over Southern Manitoba in the coming days as the region heads towards a very hot weekend.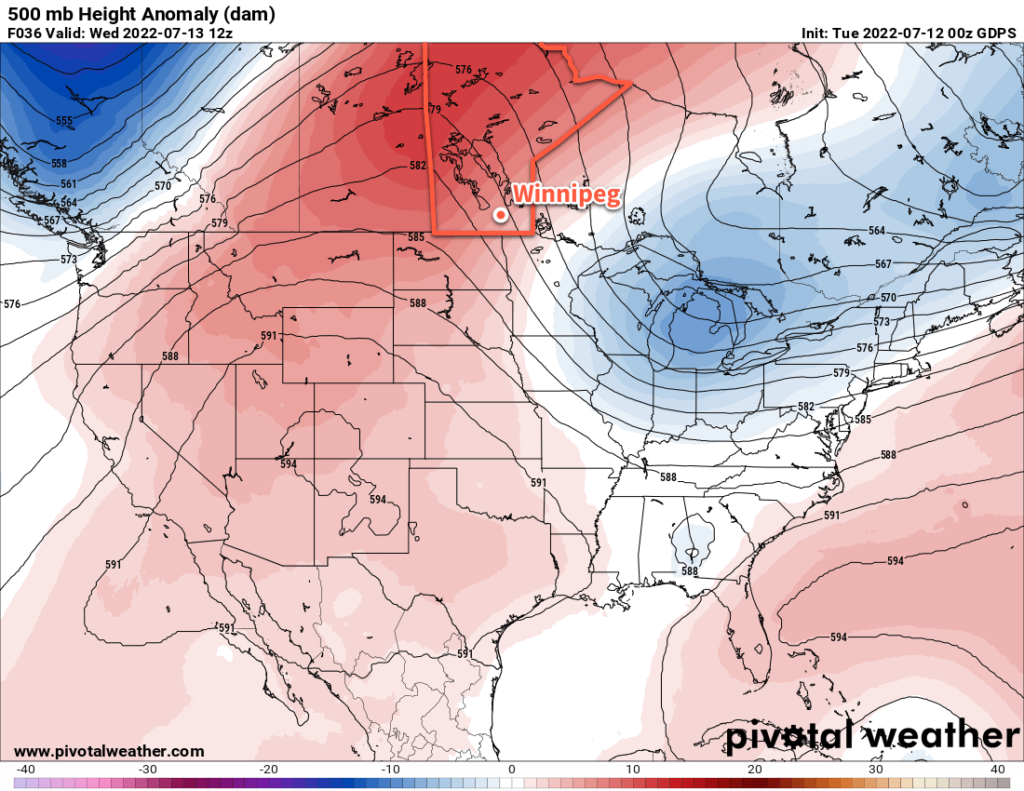 This week will see an upper ridge building into and strengthening over the Prairies. As it does, conditions will stabilize as temperatures slowly climb.
Southern Manitoba will see a sunny start to the day give way to mixed skies. Temperatures will climb into the upper 20s across the region with a bit of a northerly breeze. Some lingering instability will result in a few scattered showers that will move through the Red River Valley in the afternoon with the risk of a thundershower. Skies will clear in the evening as temperatures head to a low in the mid-teens.
Wednesday will be a beautiful day across the region with sunshine, light winds out of the south and a high in the upper 20s. Temperatures will fall to a low in the upper teens on Wednesday night.
On Thursday, an upper disturbance lifting northeastwards across the Prairies will bring some cloud to the region along with increasing heat and humidity. Temperatures should climb to the 30 °C mark with breezy southerly winds developing. The humidity will gradually climb through the day, likely beginning to feel a bit muggy by the end of the day. Showers and thunderstorms are likely across the region in the evening, and with the heat and humidity present there could be a risk of severe weather.
Long Range Outlook
The upper ridge will rebound and strengthen heading into the weekend, bringing increasing sun and even warmer weather. Daytime highs will climb into the low to mid-30s for the weekend under sunny skies. The humidity will likely be moderate to high which will help keep overnight lows mild near 20 °C.
The heat will continue into Monday before the upper ridge begins to break down, bringing slightly cooler weather and the chance of rain back to the region.
Today's seasonal daytime high in Winnipeg is 26 °C while the seasonal overnight low is 13 °C.