A low pressure system moving through tonight will bring [thunder]showers to southern Manitoba, but leave behind pleasant summer conditions for the weekend.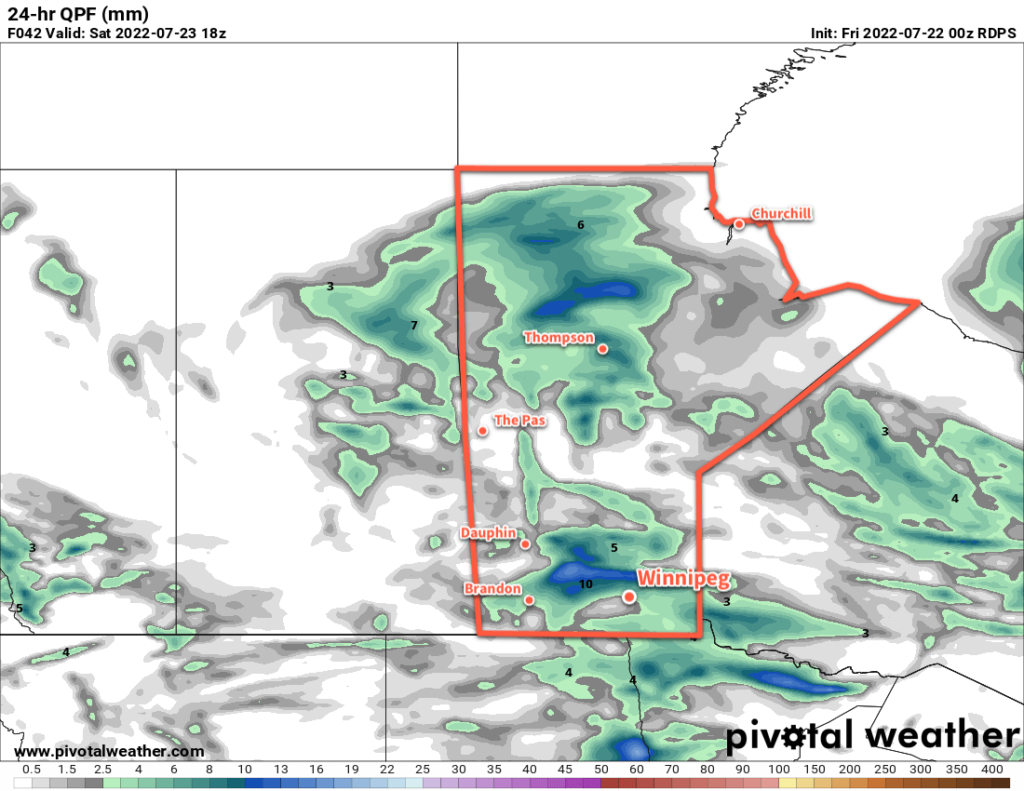 Today will start off with beautiful conditions as temperatures climb into the upper 20s under mainly sunny skies. As the low approaches later in the day, cloud cover will start to build into the Red River Valley, particularly later today into the evening. The low will pass by to the south tonight, spreading showers across southern Manitoba. There may be enough instability to produce a few thundershowers, but no severe weather threat is expected. Temperatures will head to a low in the mid-teens with showers likely continuing into Saturday morning. By the time it all tapers off on Saturday, it's likely that Winnipeg will receive at least 10 mm of rain with amounts high as 20–30 mm if some heavier showers end up developing as well.
The one exception to all this will be southwestern Manitoba, where strong to severe thunderstorms are possible later this afternoon into the evening. Be sure to stay aware of any watches or warnings issued by ECCC later today.
The cloud cover will begin to break up as the showers taper off on Saturday afternoon. Temperatures should still manage to climb into the low to mid-20s with a bit of a northerly breeze. A few clouds will linger through the region Saturday night with a low in the 10–15 °C range.
Sunday will bring mainly sunny skies to the region with a high in the low to mid-20s.
Long Range Outlook
Monday will start next week with pleasant conditions and seasonal temperatures. After that, though, the overall pattern looks to turn more unsettled. Beginning Monday night into Tuesday, the region will see mixed to cloudy skies with several chances for showers or thunderstorms that will last into later in the week before settling down again. The work week should end with pleasant conditions as sunnier skies and highs in the upper 20s return.
Today's seasonal daytime high in Winnipeg is 26 °C while the seasonal overnight low is 13 °C.