Winnipeg will see a few cold days in the wake of yesterday's Colorado Low, followed by a return to milder conditions on the weekend.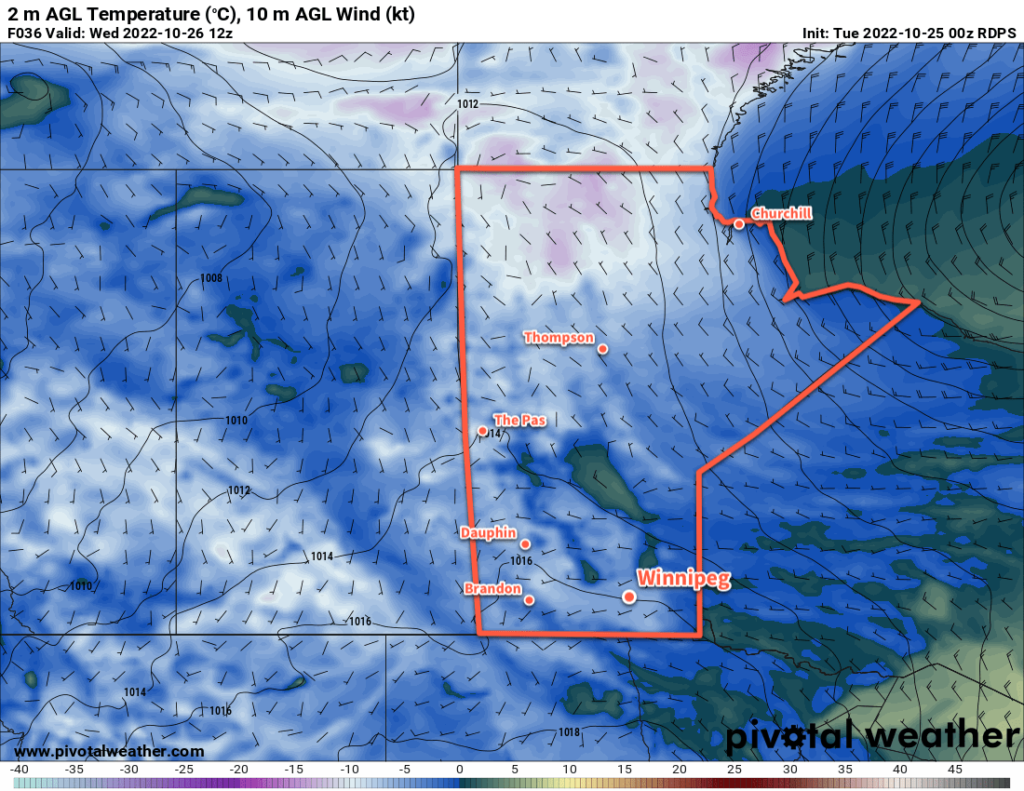 A push of colder air will settle over southern Manitoba in the wake of yesterday's Colorado Low that moved through the province. With light west-northwest winds, daytime highs will only climb into the low single digits today and tomorrow. Skies will stay on the cloudier side as well, making for a rather chilly couple days. It should stay dry, but some lake-effect snow will be possible in the lee of both Lake Manitoba and Lake Winnipeg. The city will likely miss out on this activity, but some persistent flurries will definitely be possible to the north.
The cloud cover over the region will help keep it from getting too cold at night with lows close to -5 °C on both Tuesday night and Wednesday night. If some clear patches open up, then temperatures could dip closer to -10 °C.
Later this week, a zonal flow aloft will develop over the Prairies, cutting off the pipeline of Arctic air and allowing milder Pacific air into the region. On Thursday, that should allow highs to climb back to seasonal values in the upper single digits with more sunshine. It may get a bit windier out of the south, but that will help keep lows above freezing into Friday.
Long Range Outlook
By Friday, it looks like Winnipeg and area could be enjoying daytime highs in the low to mid-teens with mainly sunny skies. This pleasant and dry pattern will persist right through the weekend with highs continuing in the low teens. Long-range forecasts show a disturbance moving through the region on Tuesday, bringing some showers and a return to seasonal temperatures.
That said, aside from the next couple days, it looks like Winnipeg will be closing out October with beautiful weather. If early indications hold, Halloween could be one of the better ones this year with temperatures near 10 °C through the evening!
Today's seasonal daytime high in Winnipeg is 7 °C while the seasonal overnight low is -3 °C.