Winnipeg will continue to see very mild November temperatures into mid-week, then a cold front will sweep through and bring seasonal temperatures back to the region.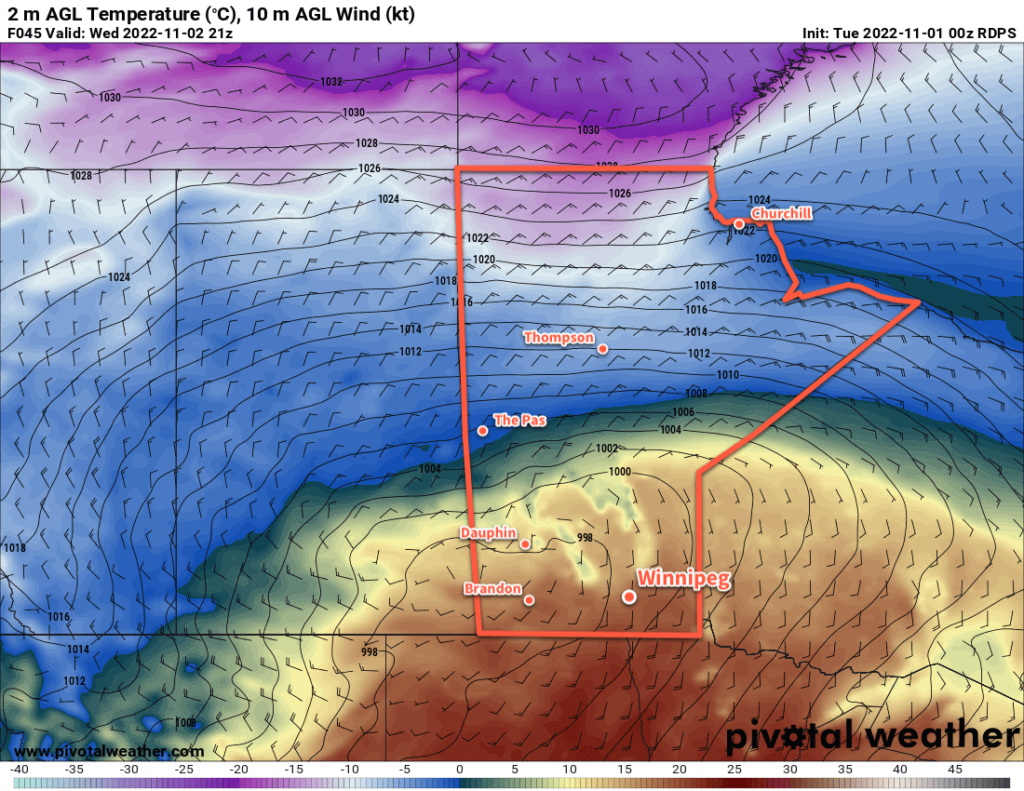 The warm weather will continue for Winnipeg as a southerly flow continues to draw mild air into the region. The skies will be partly cloudy in Winnipeg with a high in the mid-teens. As the day progresses, an upper trough will dig southwards over the Rocky Mountains. This will push more warm air northwards over Manitoba and keep overnight lows very warm (for November). Winnipeg will only dip down to around 10 °C tonight, a whole 15 °C above normal for this time of the year!
Skies should stay partly cloudy into Wednesday, but its shaping up to be a gorgeous November day. It will be a bit windy as a low pressure system developing building into SW Manitoba brings southerly winds up to 30 to 40 km/h. The upside will be the warmth, with highs climbing into the upper teens and topping out at 18 or 19 °C here in the city.
The low will pass on Wednesday night, but the cold front will stay to the west a little bit longer. While the low will bring cloud to the area, the precipitation associated this system will stay well to the west and north. Winds will shift to the west overnight with a low down into the mid-single digits.
The cold front will swing through early Thursday, shifting winds to the northwest and keeping skies cloudy for the day. Winnipeg will see temperatures recover only a few degrees with just a slight chance of a scattered shower or two. Everything should clear out on Thursday night with temperatures dropping to a near-seasonal low of -4 °C.
Long Range Outlook
Friday will bring some sunshine and near-seasonal temperatures to the region, followed by slightly warmer weather on Saturday. Things will shift beginning Sunday, though, with most weather models showing a transition to cooler weather with the first real chance of accumulating snow beginning next Monday.
Today's seasonal daytime high in Winnipeg is +4 °C while the seasonal overnight low is -5 °C.