Winnipeg will continue to see mild conditions with daytime highs close to the freezing mark through the weekend.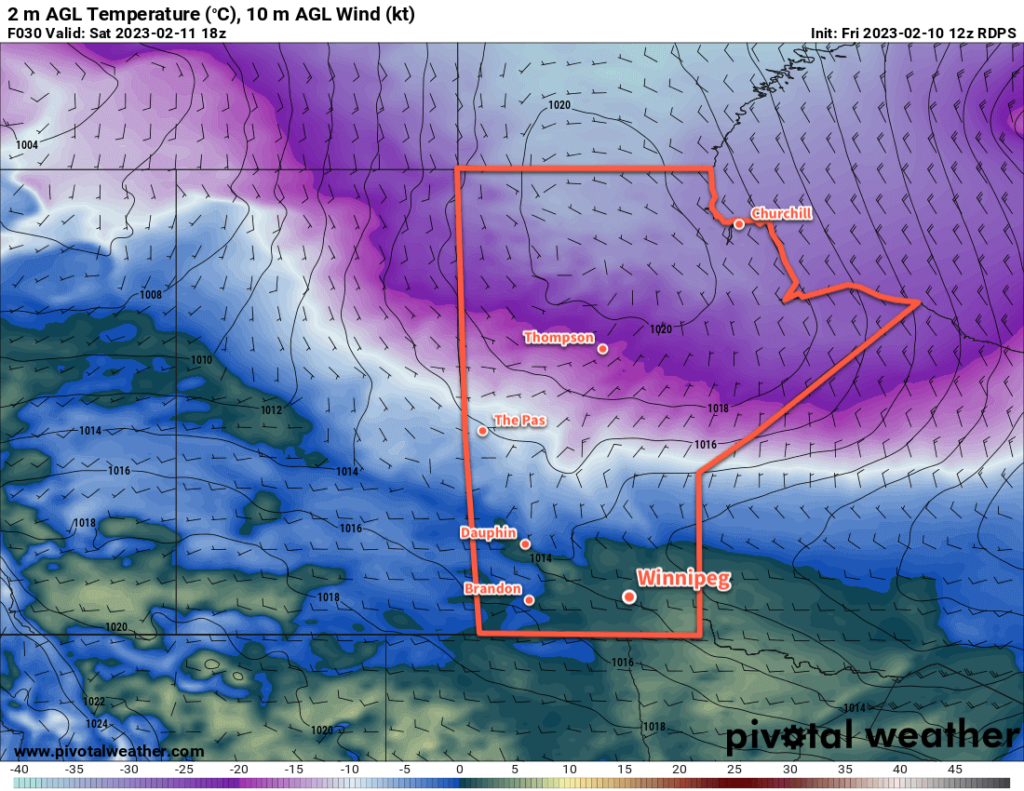 A westerly flow aloft will continue to spread mild Pacific air across the Prairies this weekend. This will keep daytime highs seasonably mild in the Red River Valley and keep the storm track just to the north. As a result, Winnipeg and area will see a very pleasant weekend.
Temperatures will climb to around -2 °C in Winnipeg today with a breezy southerly wind near 30 gusting 50 km/h. Although a low pressure system is moving into Manitoba, skies will stay mainly sunny in Winnipeg as most of its cloud stays north of the RRV.
The area will see clear skies tonight as temperatures continue to rise to around +1 °C. The wind will ease overnight and shift to the west by morning.
For Saturday, the day will start off with sunshine and mild weather as temperatures climb a degree or two more. Some cloud will work into the region later in the day as a cold front slumps southwards into the Interlake. No precipitation will fall in Winnipeg, but some light snow or even a rain shower is possible further north.
Temperatures will dip to a low in the -5 to -10 °C range on Saturday night with clear skies.
Sunday will bring more warm weather to the region with a high just a bit cooler than Saturday. The region may see some cloud in the afternoon as a weak push of warmer air moves through.
Skies will clear out on Sunday night with a low again dropping into the -5 to -10 °C range.
Long Range Outlook
More warm weather is on the way for Monday with a light south wind and a high near 0 °C. Cloud will move in on Monday night as the next disturbance to affect southern Manitoba moves into the area.
Tuesday will continue to bring mild temperatures, but some flurries are likely later in the day as a cold front sweeps through the region. Some light snow will continue to be possible on Tuesday night as north winds pick up and usher in a much cooler air mass.
The flurries will taper off mid-week with highs dropping back towards seasonal values. Temperatures will likely stay near seasonal values into the weekend.
Today's seasonal daytime high in Winnipeg is -9 °C while the seasonal overnight low is -19 °C.