After a bit of an unsettled Tuesday, sunnier skies develop over southern Manitoba with high temperatures climbing into the mid-20s!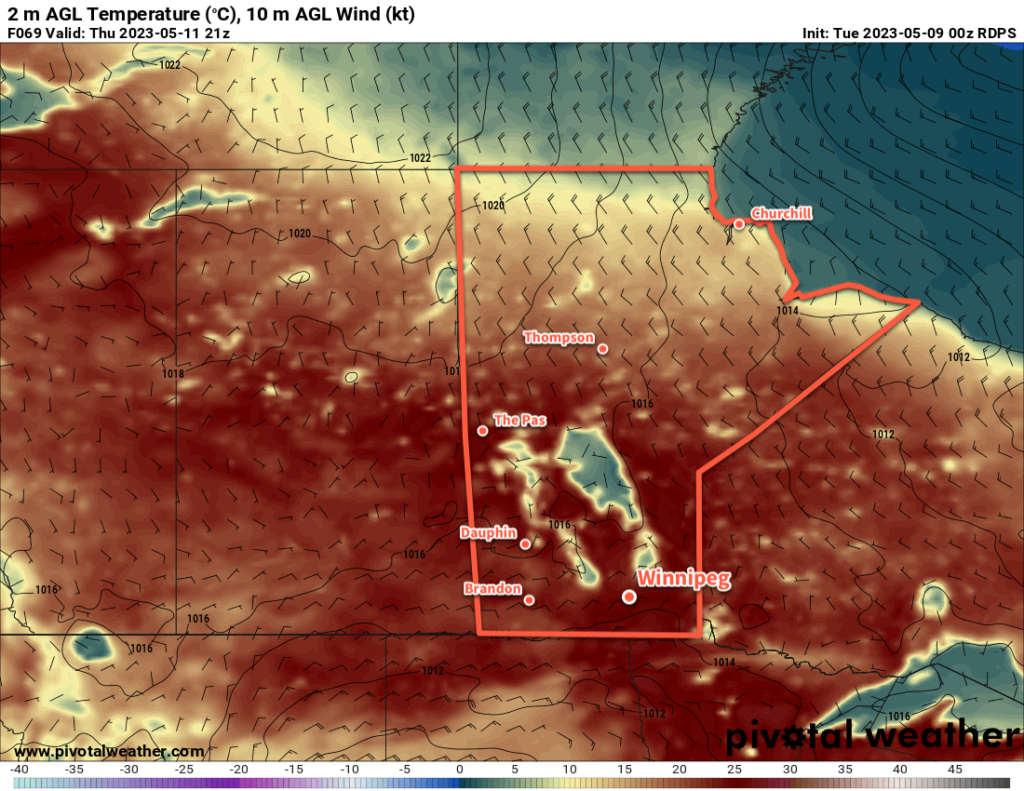 Warmer weather will arrive in Winnipeg today with daytime highs climbing back to around 20 °C. A weakening upper trough over the region will provide instability for mixed skies with some scattered afternoon showers. The odd shower might end up strong enough for a couple lightning strikes, but no notable organized thunderstorm activity is likely. A few clouds will linger overnight with temperatures heading down into the low teens.
The weather over the next few days will be shaped a building upper ridge over the eastern Prairies. This will settle conditions and push warmer weather northwards. With sunny skies on Wednesday and a bit of cloud on Thursday, temperatures will climb into the mid-20s. In addition to the warmth, dew point values will hover close to 10 °C, making for very comfortable conditions.
Overnight lows will continue to dip into the 10–15 °C range at night. On Wednesday night, there will be a small chance of some showers driven by some weak instability aloft that will persist through the night.
Long Range Outlook
Cloudier conditions will move in for Friday and Saturday in southern Manitoba. A potent low pressure system will spread rain into the northern United States, but a strong deformation zone will keep a sharp cut-off to the rain south of the Canada–U.S. border. The cloud will combine with moderate northeasterly winds to send daytime highs a few degrees cooler; Winnipeg will see daytime highs near 20 °C to wrap up the week.
Sunshine will return ton Sunday as this storm system clears. Temperatures will head back into the mid-20s with the heat persisting into next week.
Today's seasonal daytime high in Winnipeg is 18 °C while the seasonal overnight low is 4 °C.