Today will start off with flurries moving through the Red River Valley, setting the stage for a snap of cool weather that will bring temperatures well below seasonal. While temperatures will rebound slowly through the weekend, it will hardly be beautiful spring weather.
Today will be a rude awakening for many, as cold temperatures combine with a weak disturbance rolling through the region to produce widespread light flurry activity through the Red River Valley. Some places might get lucky enough to see things change over to scattered showers briefly this afternoon, but for the most part, expect some light snow for much of the morning and into the afternoon. Fortunately, the snow won't really stick and no accumulation is expected.
In addition to the snow, the winds will continue to be strong out of the northwest at 40 gusting 60km/h with a daytime high that just barely gets to 5°C.1 Temperatures will dip to near the -4°C mark tonight with clearing skies. Near the core of Winnipeg it's not as likely that there will be a hard freeze, but certainly near the outer edges of the city and into the rural areas a significant freeze is likely so you may want to take precautions if you've any sensitive plants outside already.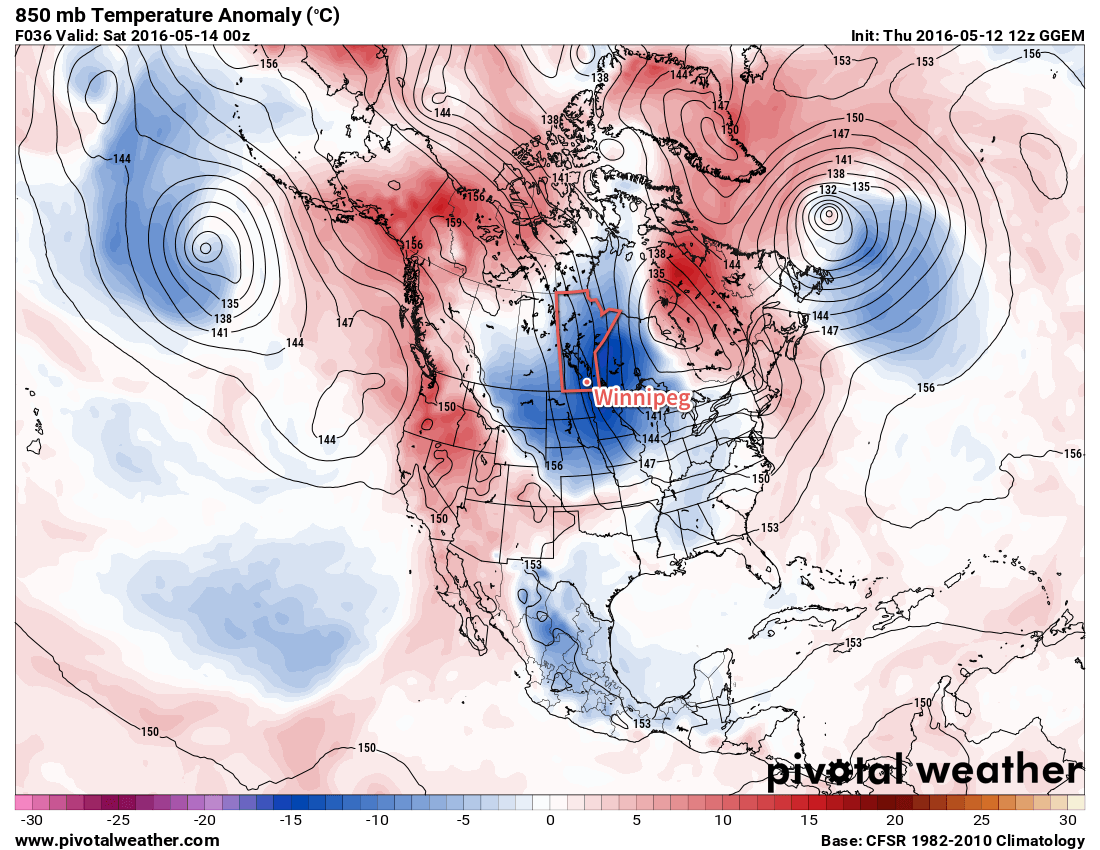 Saturday will finally bring out the sun in Winnipeg, but it will continue to be chilly with a daytime high of 9°C under mainly sunny skies. Winds will continue out of the northwest, but be slightly weaker at 20km/h or so. Expect a low near the freezing mark on Saturday night with partly cloudy skies and light winds.
Sunday will see another disturbance moving through the province in the northwest flow. More cloud will move into Winnipeg alongside slightly warmer temperatures; daytime highs are expected to climb into the mid-teens! A band of showers will likely move through in the afternoon, bringing a decent chance of precipitation to most areas in the Red River Valley. Winds will vary through the Red River Valley from light to around 30km/h. Expect a low on Sunday night near 3°C with partly cloudy skies.
Long Range: Climbing To Seasonal
Looking ahead to the start of next week, it appears that temperatures will make a continued climb back towards seasonal, however the with a stubborn upper trough refusing to leave the area, that could end up taking longer than expected. Conditions aren't expected to be too bad with a good mix of sun and cloud and highs in the mid- to upper-teens. There will be a slight chance of showers.
Winnipeg's seasonal daytime high is currently 19°C while the seasonal overnight low is 5°C.
Nearly 15°C below normal for daytime highs right now in Winnipeg. ↩