The western troughing pattern, with occasional cut-off lows that have been hanging around the west coast have done good work in eliminating the drought that was entrenched in the Southern Plains past few years. The copious amounts of rain that have fallen in the last month or so has not only taken out a large part of the drought, but caused serious flooding issues in the region. This heavy rainfall stemmed from several storm types; rounds of trailing severe thunderstorms, large areas of stratiform rain as well as slow moving storms the would drop significant amounts of rain. These have all occurred in the Oklahoma/north Texas region since the end of April.
The flooding is not only wreaking havoc on farmers in the area, whose crops are struggling due to all the rain, but also the general population as several major highways in the region have been washed out and forced to close. Lake Eufalufa, one of Oklahoma's major lakes is currently 14 feet above normal, causing many campsites nearby to be shut down. In Wichita Falls, Texas, neighbourhoods in low-lying areas were forced to evacuate ahead of the next system – the city announced they would be cutting power at all these neighbourhoods to prevent electrical fires. In Norman, Oklahoma, heavy rains from trailing storms turned parts of its Main Street into a fast flowing river this past week. It's unclear how many people have been affected since the beginning of May throughout the south but two people are known to have died in the floods. The good news is the extreme drought, which covered 29% of the region last year, is now down to 0%.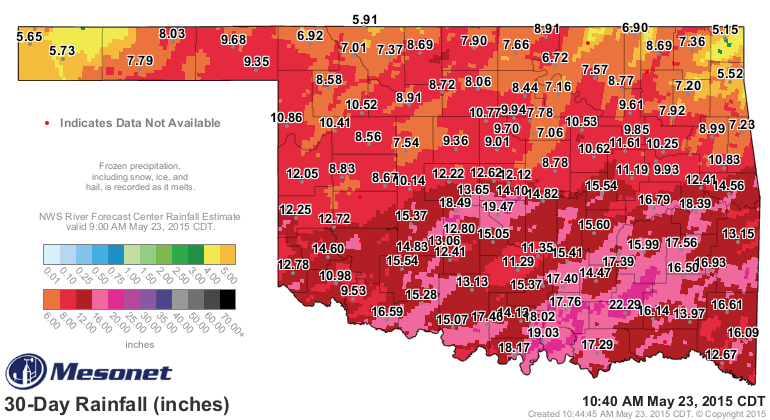 More rain is in the forecast for most of these regions this weekend – with possibly another significant rainfall in the works. In some of the hardest hit areas, such as central Oklahoma, more than 75 additional millimetres could fall this weekend; flood watches are already in effect and meteorologists are urging residents to limit travel.