Environment Canada made headlines with the special weather statement for Winnipeg issued Monday with a referential start: winter is coming. And how.
Today will mark the beginning of a harsh slide into winter after a essentially a month of temperatures well above seasonal for this time of year. The change in the pattern will be brought courtesy a rather peculiar weather setup that will see a relatively weak Colorado Low moving north through Minnesota into Northwestern Ontario merge together with an Alberta Clipper quickly moving eastwards across the Prairies. Each system is moderately potent in their own right, but when combined, they will form a new storm system that will rapidly intensify, driving strong northwesterly winds through the province alongside the first significant snowfall for many regions of Southern Manitoba.
Today will start deceptively. Relatively light winds and temperatures climbing towards 5 or 6°C will give a false sense of security betrayed only by the increasing cloud cover that will build in through mid-day into the afternoon. Some light rain will develop over the Red River Valley this afternoon, which will mark the end of our above-seasonal temperature streak and usher in winter. As the rain moves into the region, winds will pick up out of the northwest to around 50km/h sustained with gusts as high as 70–80km/h. The rain will switch over to snow sometime in the evening and likely begin piling up fairly quickly as the strong winds rapidly cool the ground and other surfaces.
The strong winds and snow will persist through tonight as temperatures dip down towards –3°C or so as colder air begins filtering into the region. With snow piling up and such strong winds in place over the Red River Valley, it's quite likely that driving conditions become quite poor as roads freeze, become ice covered, and see reduced visibility in blowing snow.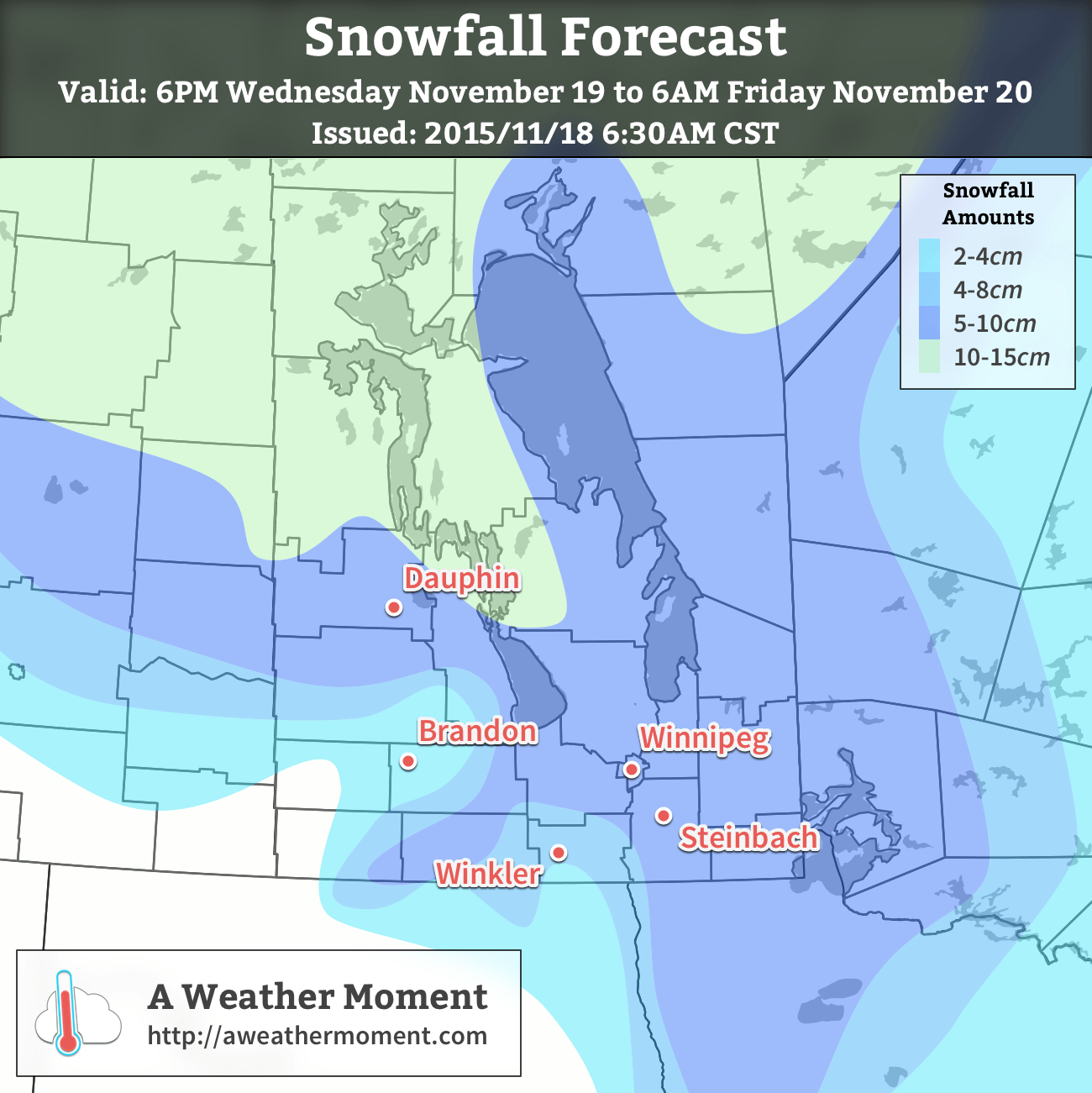 Thursday will continue to bring light snow and strong winds to the region as temperatures remain around –4°C or so. The winds will be a bit lighter than at their peak, but will likely remain near the 40 gusting 60km/h mark through much of the day before beginning to taper off in the evening. Overnight, other than some lake-effect snow streaming southeastwards off of Lake Winnipeg, there's likely to be just a few flurries lingering in the region. Temperatures will dip down to –6°C for the overnight low.
In general, around 5–10cm of snow is likely to fall with this system through southeastern Manitoba, the Red River Valley and northwestwards into Parkland Manitoba. Exact amounts will depend on the timing of the change-over from rain to snow and how quickly the snow begins accumulating instead of melting on the ground.
Friday will be a mainly cloudy day with just a very slight chance of light, scattered flurries. Temperatures will recover only a degree or two from the overnight low with highs around –4°C. There may be a few clear breaks through the Red River Valley on Friday night, but overall there will still be a fair amount of cloud as temperatures head towards an overnight low near –10 or –11°C.
Colder Weather Continues Through The Weekend
The cooler weather, which while a significant drop from what we've been experiencing is, in actuality, just a couple degrees below seasonal values for this time of year, will persist through the weekend.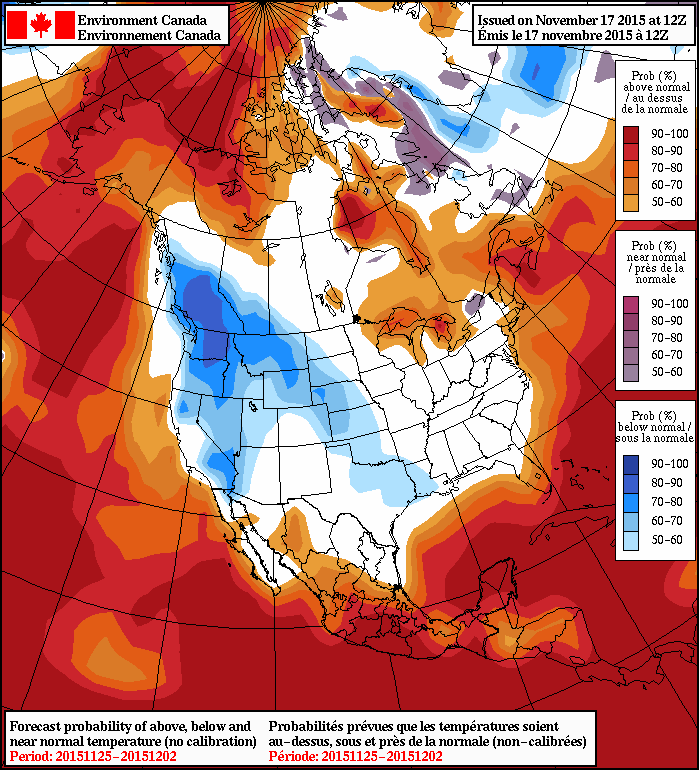 Daytime highs around –5 or –6°C will be in place over Winnipeg & the Red River Valley this weekend, with a chance of some more flurries on Saturday improving to sunnier fare on Sunday. Overnight lows will be in the low minus single digits. So, while it may be a huge change from the weather we've been having, we'll be shifting to more seasonal weather for the end of November.