Today will mark a bitterly cold end to the week, but significantly warmer weather is on the way as the jet stream pushes northwards and allows mild Pacific air to spill across the Prairies.
Unfortunately, before we get to the warmer weather, we have to make it through today which will be, generally speaking, miserable.
We're off to a cold start with an extreme cold warning as temperatures sit below -30°C with wind chill values dipping below -40. Warmer weather will attempt to push into the region today, but cold air will be pumped northwards up the Red River Valley out of the Arctic high that is now to our southeast. This combination will make today particularly uncomfortable as our freezing, but relatively calm, morning turns into a cold and uncomfortably windy afternoon.
Temperatures will climb to a high near -19°C today but winds strengthen midday out of the south to 30-40 km/h, maintaining wind chill values near -30. These strong southerly winds will likely produce areas of poor visibility in blowing snow throughout the rural regions of the Red River Valley.
Winds will taper off tonight as the warm front finally pushes through the region, allowing warmer air to finally push into the Red River Valley.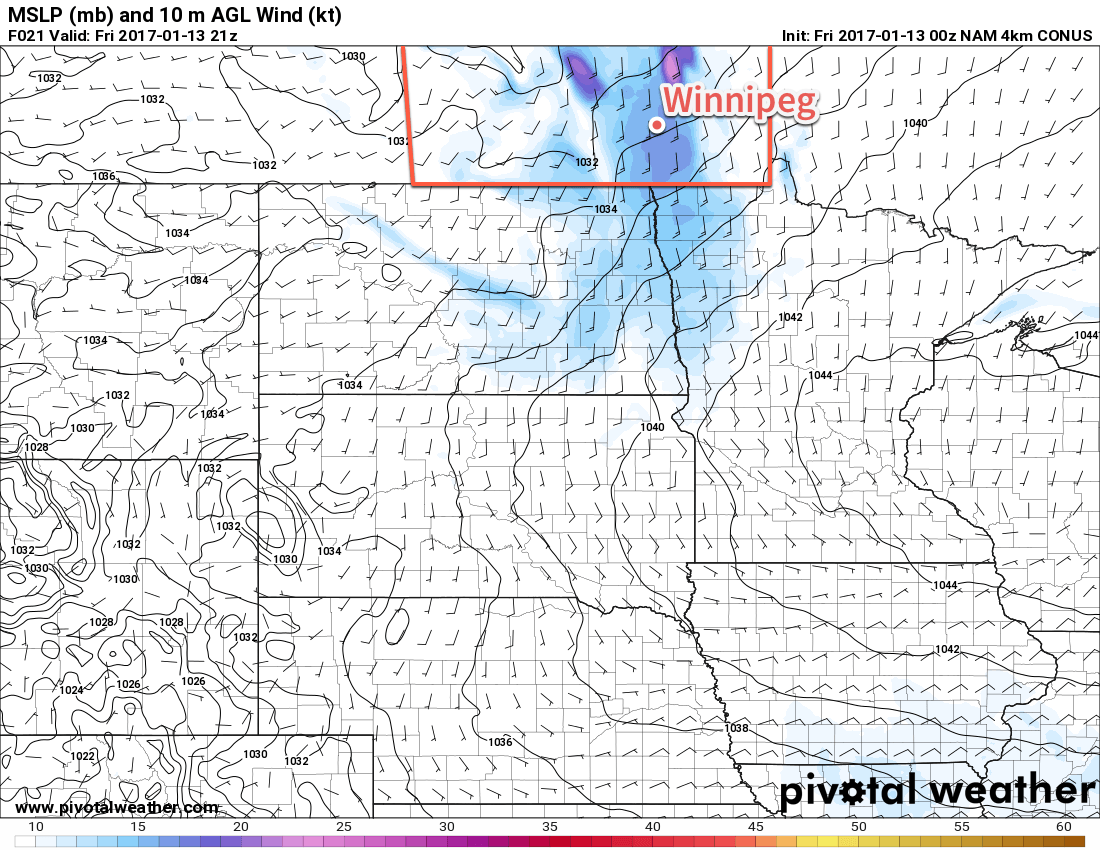 Temperatures will dip just a few degrees to -22°C tonight.
Saturday will be much nicer with winds of 10-20 km/h out of the south-southwest, just a few clouds and a high near -12°C. We'll see a few clouds overnight as temperatures drop to -15°C or so.
Sunday will be another nice day with mixed skies, winds of 15-25 km/h, and a high near -7°C. Skies will be clear on Sunday night with a low near -13°C.
Long Range
The good news is that even warmer air is on the way next week and it doesn't look like it's going to go anywhere any time soon.
There is fairly good agreement across multiple models and agencies that the upcoming pattern change will be prolonged and produce generally above-normal temperatures for the next 2-3 weeks. At the moment, next week looks warm with daytime highs climbing to the freezing mark with little precipitation expected.