Very mild temperatures will spread into Southern Manitoba this week sending daytime highs soaring to over 10°C above normal for mid-January.
The week will start with one more day with seasonal temperatures in Winnipeg & the Red River Valley as mainly sunny skies combine with light winds as temperatures climb to a high near -6°C. Temperatures will dip to around -11°C tonight as winds begin to pick up from the south in advance of an incoming warm front.
Tuesday and Wednesday will bring the arrival of warmer weather to the region as a warm front sweeps eastwards across the province. Tuesday will see winds increasing out of the south to around 30-40 km/h while temperatures climb to a high near -3°C late in the day. The winds will diminish in the evening and temperatures will dip to a low near -5 or -6°C. On Wednesday, the warm air will push even further east, sending daytime highs to the 0°C mark in the Red River Valley with fairly light winds. Expect temperatures to dip down to around -2 or -3°C on Wednesday night.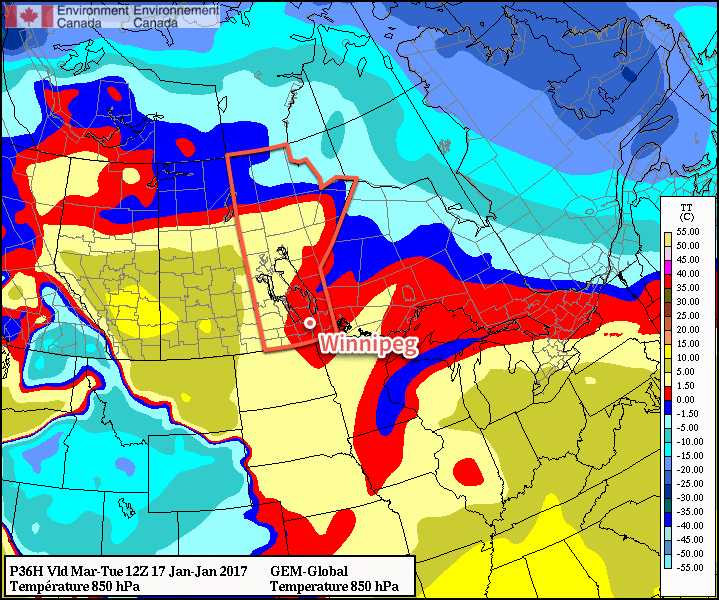 Both Tuesday and Wednesday have some uncertainty as to how much cloud will move in. At best, we could expect mixed skies, however I think it will lean towards the cloudier side than the sunnier side. Having fairly cloudy conditions as we warm up to the freezing mark in January would not exactly be uncommon for this area.
Long Range
The second half of the week will continue to bring mild temperatures with daytime highs near the freezing mark and variable cloudiness. Heading into the weekend, it begins to appear that the weather will begin to get a bit busier as the storm track shifts towards our region. It looks like, at this point, Saturday may bring a chance of rain or freezing rain, but amounts would be fairly light. The remainder of the weekend looks cloudy and mild.
Heading into the start of next week, models are beginning to converge on the development of another Colorado Low that would impact our region. It's still very early, so as usual plenty can change between now and then, but at the moment it appears that this system could bring snow into Winnipeg & the Red River Valley sometime Monday and persist through Tuesday. Forecast storm total amounts are generally in the 10-20 cm right now. We'll be keeping an eye on this system as we get closer and things begin to shape up more.
Winnipeg's seasonal daytime high is currently -13°C while the seasonal overnight low is -24°C.