The mild weather Winnipeg has seen lately will last for a few more days, but a low pressure system that tracks across the northern United States on Sunday night will usher in a major pattern change which will allow Arctic air to spill southwards across the Prairies, bringing significantly colder temperatures to southern Manitoba.
Warm, unremarkable weather is on tap for Winnipeg today and tomorrow as a slack flow remains over the region with just a few very weak upper-level disturbances moving through. A weak upper-level disturbance moving into the region will bring increasing cloudiness today as temperatures head to a high near +1°C. No precipitation is expected and winds will remain light. Temperatures will dip down to a low near -7°C tonight with the clouds clearing out by Saturday morning.
Winnipeg will see partly cloudy skies on Saturday with temperatures rebounding to a high near 0°C with light southerly winds. Temperatures will then dip to a low near -6°C on Saturday night with increasing cloudiness.
Everything begins to change on Sunday as a low pressure system develops across the northern Plains of the United States. There's still a fair amount of uncertainty associated with this low; some models want to keep it relatively progressive and move it through South Dakota, while others develop a more potent Colorado Low that lifts northeastwards towards Thunder Bay. Either way, it should bring mainly cloudy skies to the region on Sunday with a chance for snow moving in on Sunday night. Given the significant uncertainty with this system, an update on what to expect will be posted sometime Saturday evening or Sunday morning.
Long Range Outlook
Without question, the biggest aspect of the long-range forecast is the dramatic cool-down that will occur next week.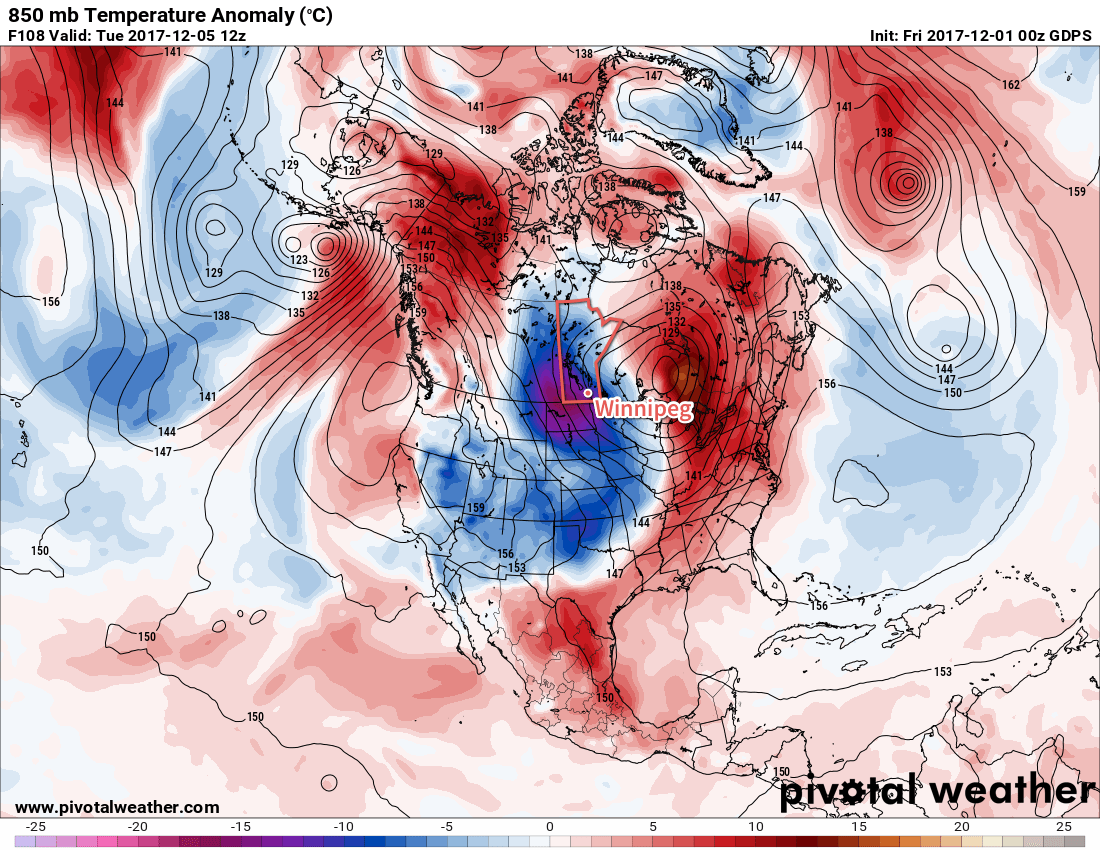 As Sunday's low pushes eastwards, a large upper-level ridge will build over British Columbia, remaining anchored over the Rockies. A large upper-level trough will develop over eastern North America, bolstered by the incoming low pressure system from the Northern Plains.
This pattern will result in a steady northwesterly flow over the Prairies, setting up an Arctic pipeline that will usher much colder air southwards into the Prairies. It appears that by mid-week, daytime highs in Winnipeg may fall into the mid-minus teens. Another way: by the middle of next week, Winnipeg's daytime highs may fall to what the seasonal overnight lows are for this time of year.
So, enjoy the mild weather while it lasts, by this time next week it will be a whole lot colder than it is now!
Winnipeg's seasonal daytime high is currently -7°C while the seasonal overnight low is -16°C.