The unseasonably cold temperatures and downright unpleasant winds that have characterized the conditions behind a Colorado Low moving through Ontario will be short-lived as seasonal temperatures push eastwards into Manitoba for the second half of the week.
It will be a cold day in Winnipeg today as an Arctic ridge pushes into southern Manitoba. Those nasty northwesterly winds will persist through this morning, but finally begin to diminish through the afternoon. Temperatures will reach a high of only -11°C or so, well below the seasonal -8°C. There will be some cloud about in the morning, but by the afternoon skies should clear out leaving Winnipeg with plenty of sunshine. Winds will taper off tonight as the Arctic ridge moves over the region and temperatures dip to a very chilly low near -18°C. Cloud cover will begin working into the region late overnight from the north as weak upper-level disturbance slumps southwards into Manitoba.
Thursday will bring mainly cloudy skies to Winnipeg and the Red River Valley with temperatures climbing to a more seasonal high near -7°C. No organized snow is expected with this system, but temperature profiles seem close enough to just right that patches of non-accumulating light snow may be possible. Winds will be light through the day as well, making for a relatively pleasant early-December day. Cloudy skies will remain over the area on Thursday night as temperatures head to a low near -11°C.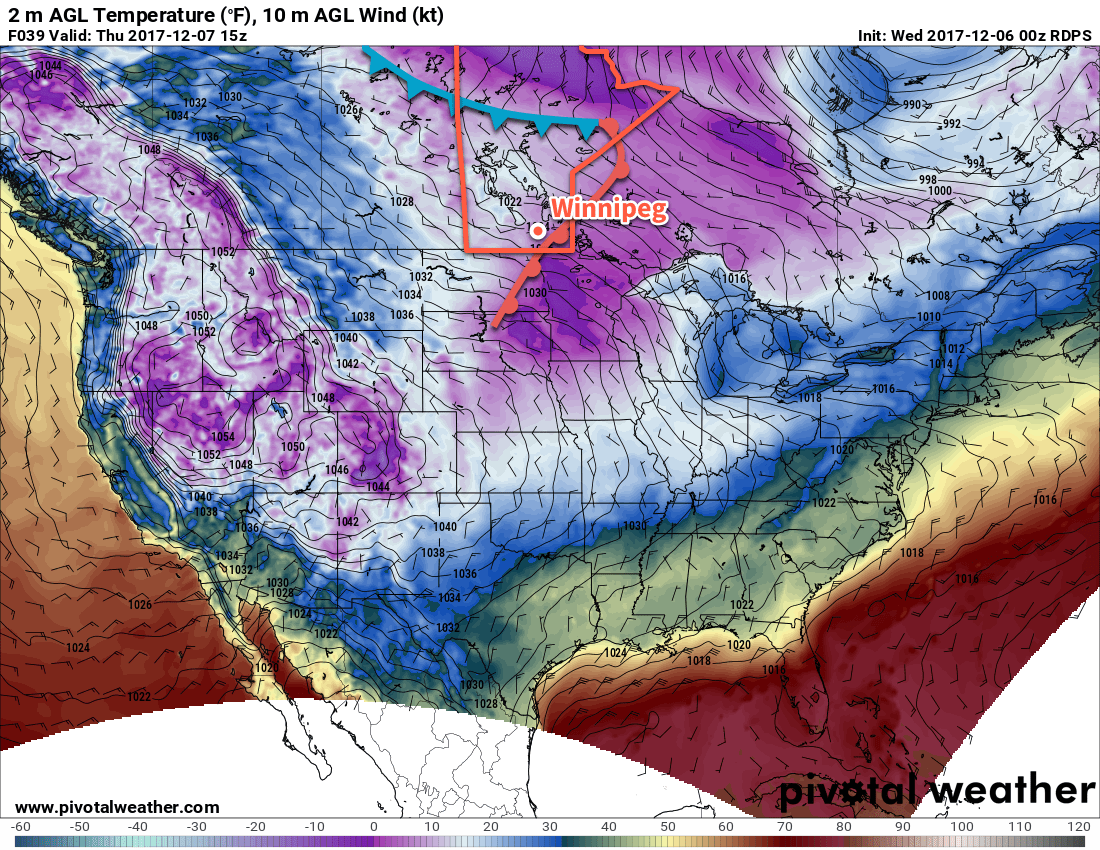 Friday will bring more cloud to Winnipeg as yet another upper-level disturbance dives southwards over the Prairies. It will nudge the warmer air slightly further east, pushing daytime highs in the Red River Valley up to around -5°C. As it moves through, there will be a good chance for some light snow, but it isn't expected to accumulate much at this point. Winds will remain relatively light until a cold front swings through in the evening, after which they'll pick up out of the north-northwest to around 30 gusting 50 km/h. Temperatures will dip to a low near -13°C on Friday night.
Long Range Outlook
Temperatures will continue above-seasonal through the weekend, with a chance of a potent push of warm air on Sunday that may bring near-freezing temperatures and some light snow, then the cold air collapses southwards once again, temperatures back to seasonal to below-seasonal for the start of next week. Light snow is possible on Sunday and several days next week, but no significant storms or accumulations are on the horizon.
Enjoy the return to more seasonal temperatures; they should – combined with calmer winds – make it much easier to get out and enjoy the winter weather!
Winnipeg's seasonal daytime high is currently -8°C while the seasonal overnight low is -17°C.