After an unsettled start early Wednesday morning, Winnipeg will see plenty of sunshine and hot weather for the remainder of the work week.
Winnipeg will see a generally unsettled morning today as a low pressure system rolls into Manitoba. The bulk of it will have occurred with the convective complex that has moved through the city early this morning, but a few more showers are possible along a cold front moving through later today. Before that happens, hot and muggy conditions will develop under mixed skies; temperatures will climb to a high near 32°C with dew points near 20°C. This will result in humidex values in the upper 30s. Once the cold front moves through, any lingering chance for showers will taper off, skies will clear, and drier air will begin working into the region from the west. Winnipeg will see a mild low near 19°C tonight under clear skies.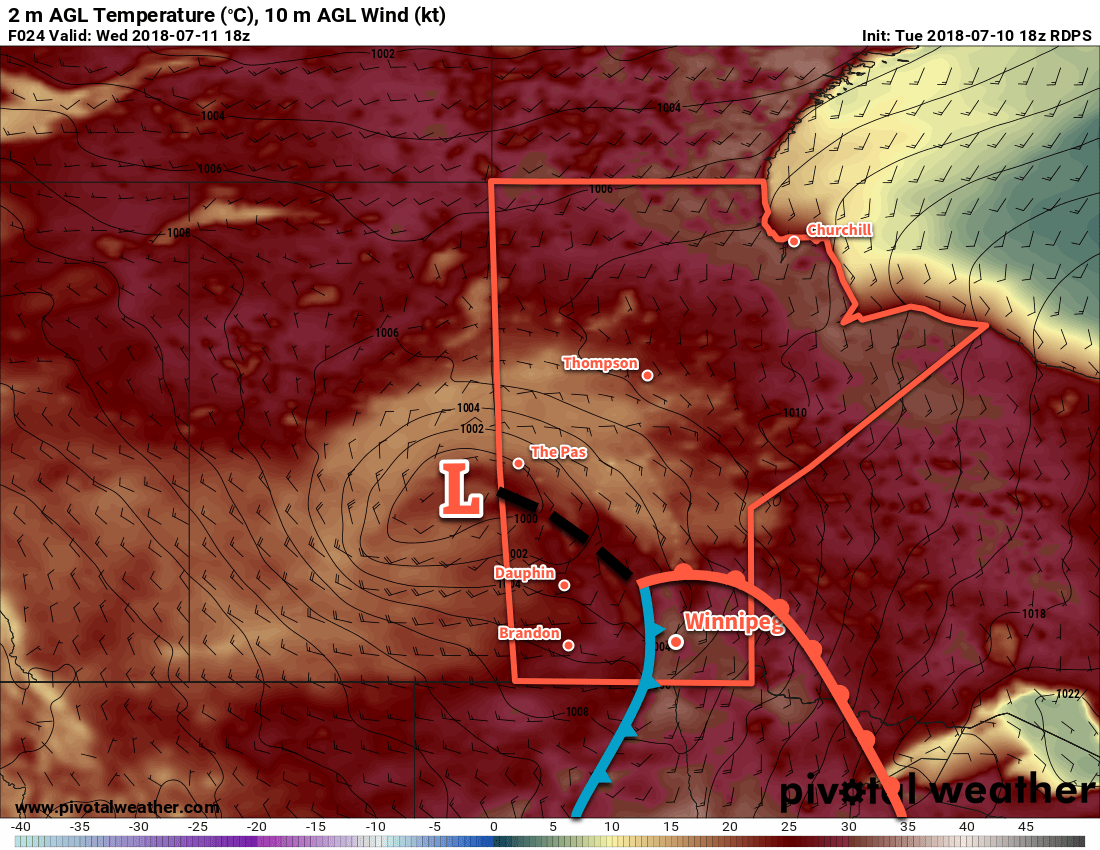 The next two days will bring more beautiful summer weather to the city as a ridge of high pressure builds in. Winnipeg will see mainly sunny skies both Thursday and Friday with daytime highs near the 30°C mark. Conditions won't be too humid, and both days will see westerly winds; Thursday should see stronger winds in the 30 to 40 km/h range while lighter winds near 20 km/h move in for Friday. Lows will continue to be mild in the 17 to 20°C range.
Long Range Outlook
More warm weather is on tap for Saturday with daytime highs once again climbing above 30°C. A strong cold front passing through on Saturday night looks to bring a risk of thunderstorms to the region, followed by the arrival of a more seasonal air mass. The start of next week looks to bring plenty of sun, daytime highs in the 23 to 27°C range, and overnight lows in low to mid-teens.
Winnipeg's seasonal daytime high is currently 26°C while the seasonal overnight low is 13°C.